Liz Cheney Jokes, Memes Erupt After Matt Gaetz Allegations Surface
Twitter users have responded to allegations of sexual misconduct against Rep. Matt Gaetz by posting memes and jokes featuring his Republican colleague Liz Cheney.
The tweets come after the Florida lawmaker campaigned against Rep. Cheney in her own state of Wyoming in January because she voted to impeach former President Donald Trump.
On Tuesday The New York Times reported that Gaetz is facing a Department of Justice investigation over allegations of a possible sexual relationship with a 17-year-old. He denies the allegations.
Gaetz has claimed he is the target of an extortion attempt by a former DoJ official who is demanding money in exchange for making the investigation "go away."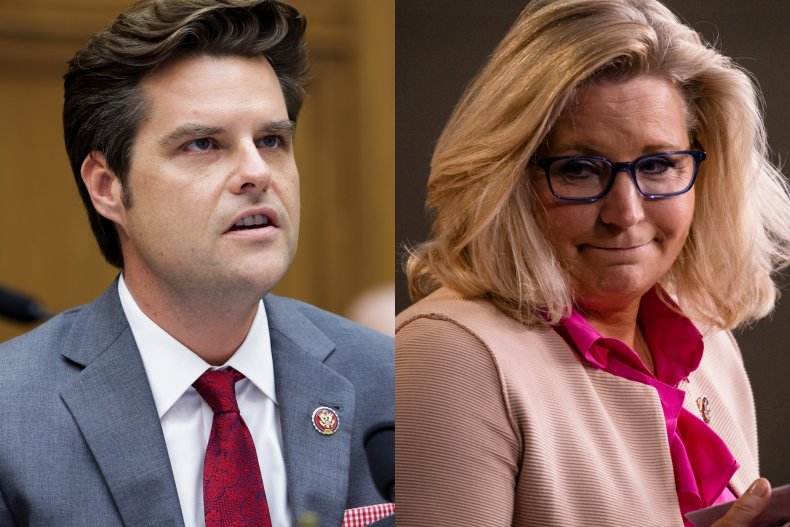 Meanwhile, Twitter users are speculating on how Rep. Cheney might be reacting to the reports.
Matt Burn, founder of consultancy Third Degree Strategies, wrote: "If you're Liz Cheney, which bottle of wine are you opening tonight?"
Gun control advocate Shannon Watts posted: "Somewhere in Wyoming, Liz Cheney is feeling herself," alongside a clip of a toddler dancing.
Healthcare advocate Kendall Brown shared an image of the Game of Thrones character Olenna Tyrell, whose final words in the show revealed that she had ordered the murder of Queen Cersei's son Joffrey.
The image has Cheney's face imposed on the character's body, with the caption: "'Tell Matt Gaetz it was me.' — Liz Cheney."
Washington Post columnist Sonny Bunch tweeted: "I like to imagine Liz Cheney sipping a fine bourbon as she crosses Matt Gaetz's name off her list."
Comedian Jen Kirkman shared a gif of Bette Davis smoking a cigarette and saying "Slow curtain, the end" from All About Eve, captioning it: "Liz Cheney tonight."
In January, Gaetz called on Wyoming voters to oust Cheney in the next election, telling a rally in Cheyenne: "We are in a battle for the soul of the Republican Party, and I intend to win it. You can help me break a corrupt system. You can send a representative who actually represents you, and you can send Liz Cheney home—back home to Washington, D.C."
Gaetz added: "I see every day the cost of the wars that Liz Cheney has advocated for. I see it in the tearful goodbyes at airports, the marriages that are destroyed, the parenting that's interrupted, the drug abuse, the veteran suicide, lost limbs, lost minds, lost lives, lost hope.
"What are the great benefits that we all get from our misadventures in Syria and Afghanistan and Somalia—places that a lot of Americans couldn't even point to on a map."
Gaetz was among the Trump allies pushing for Cheney to step down from her position as chair of the House GOP conference in the wake of her impeachment vote.