Liz Cheney, No. 3 House Republican, Dismisses GOP Calls to Resign as Conference Chair
Representative Liz Cheney, the most senior Republican in the House to support President Donald Trump's impeachment, has dismissed calls for her to resign from her leadership position.
Cheney told reporters Wednesday, "I'm not going anywhere."
The Wyoming congresswoman said, "This is a vote of conscience. It's one where there are different views in our conference. But our nation is facing an unprecedented, since the Civil War, constitutional crisis. That's what we need to be focused on. That's where our efforts and attention need to be."
Her defense came after Representative Jim Jordan (R-Ohio) said he will move to oust Cheney from her role as House Republican Conference Chair in the wake of her vote to impeach the president. Jordan is one of Trump's most loyal members of Congress and was recently awarded the Presidential Medal of Freedom.
"The conference ought to vote on that," Jordan, a member of the conservative House Freedom Caucus, told reporters on Wednesday. "We ought to have a second vote."
Jordan's suggestion comes after Representatives Andy Biggs (R-Ariz.) and Matt Rosendale (R-Mont.) also called for Cheney's removal. Biggs told Fox News that Cheney isn't "representing the Republican ideals."
Rosendale said in a statement Tuesday that by favoring impeachment, Cheney "failed to consult with the Conference, failed to abide by the spirit of the rules of the Republican Conference, and ignored the preferences of Republican voters. She is weakening our conference at a key moment for personal political gain and is unfit to lead. She must step down as Conference Chair."
Cheney was reelected to her position as chair of the Republican Conference in November after the 2020 general election.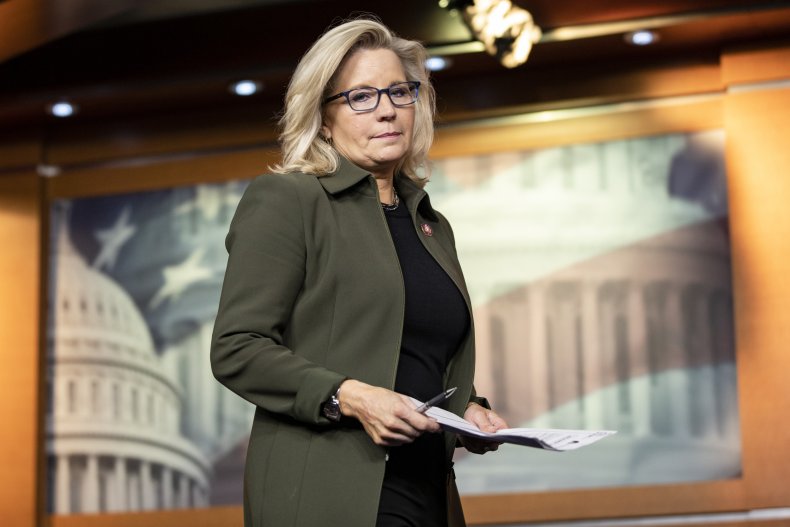 The House of Representatives convened Wednesday to vote on whether to impeach Trump on a charge of "incitement of insurrection" following the deadly riot at the Capitol last week. Supporters of the president stormed the federal building to disrupt the congressional certification of President-elect Joe Biden's victory. Five people died during the assault, including Capitol Police Officer Brian Sicknick.
At least five other Republicans voiced support for impeaching Trump ahead of Wednesday's official vote, all citing his role in the January 6 attack.
Cheney, the daughter of former Vice President Dick Cheney, explained her decision to impeach Trump on Tuesday. In a statement, she argued that what members of Congress know now "is enough" to move forward with the charge.
"The President of the United States summoned this mob, assembled the mob, and lit the flame of this attack," she wrote. "Everything that followed was his doing. None of this would have happened without the President. The President could have immediately and forcefully intervened to stop the violence. He did not. There has never been a greater betrayal by a President of the United States of his office and his oath to the Constitution."
Newsweek reached out to representatives for Cheney and Jordan for comment but did not receive a response in time for publication.