Liz Cheney Ousted From GOP Leadership as Donald Trump's Grip on Party Remains 'Ironclad'
Wyoming Congresswoman Liz Cheney has been ousted from her role as the Republican Party's conference chair over her repeated criticism of former President Donald Trump and his false claims about the 2020 election.
House Republicans held a voice vote Wednesday to purge Cheney as their third-ranking leader—in another sign that the GOP has no intention of parting ways with the former president.
"Donald Trump has an ironclad grip on the party, and to defy him is to be told you are a RINO [Republican in name only] and you have betrayed everyone in whatever fashion," Evan Siegfried, a Republican strategist, told Newsweek.
Siegfried added: "Liz Cheney has drawn the ire of Donald Trump and the base for daring to tell the truth, and that is something that they cannot tolerate."
Since the insurrection at the U.S. Capitol on January 6, Cheney has broken with the party to condemn Trump's baseless allegations that the 2020 presidential election was rigged and stolen by the Democrats.
First, she voted to impeach Trump in February on the charge of incitement of insurrection. She was one of just 10 House Republicans to do so, prompting a first wave of calls for her to be stripped of her leadership position. She survived that vote by a wide margin, 145-61.
Then last week, Cheney challenged Trump's press statement that the 2020 election would be known as "THE BIG LIE!"
"The 2020 presidential election was not stolen," Cheney pushed back on Twitter. "Anyone who claims it was is spreading THE BIG LIE, turning their back on the rule of law, and poisoning our democratic system."
She also criticized Trump by name at an American Enterprise Institute event in Georgia, where she argued that the GOP cannot "rebuild the party or the conservative movement on a foundation of lies."
Soon after, prominent Republicans began to hint at her possible removal. House Minority Leader Kevin McCarthy said conservatives were questioning whether she could "carry out the job." In a hot-mic moment, McCarthy was also caught saying he'd "had it with her."
But Cheney doubled-down, asserting that she wouldn't be intimidated to "whitewash" the Capitol riot and warning her colleagues in an op-ed for The Washington Post that history was watching them.
On the eve of the vote, Cheney delivered a defiant speech in which she pledged not to stay silent.
"Remaining silent and ignoring the lie emboldens the liar," Cheney said. "I will not participate in that. I will not sit back and watch in silence, while others lead our party down a path that abandons the rule of law and joins the former president's crusade to undermine our democracy."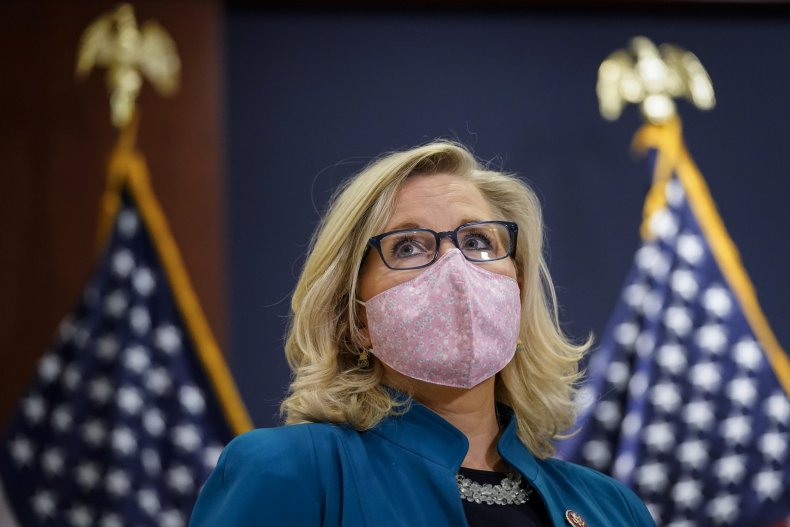 Meanwhile, Trump swiftly endorsed New York Congresswoman Elise Stefanik to replace Cheney. In several statements, Trump referred to Stefanik as a major "upgrade" and advised that replacing Cheney would be in the party's best interest moving forward.
McCarthy officially announced the vote to remove Cheney on Monday. In a letter to House Republicans, he argued that the party needed to unify its message ahead of the 2022 midterm election cycle.
"Each day spent relitigating the past is one day less we have to seize the future," McCarthy wrote.
He continued: "This is no time to take our eye off the ball. If we are to succeed in stopping the radical Democrat agenda from destroying our country, these internal conflicts need to be resolved so as to not detract from the efforts of our collective team."
Mark Weaver, a GOP consultant, told Newsweek that Cheney's removal is an indication that the party is "trying to maintain message discipline."
"When one of the House Republican leaders' message lines up nicely with that of [House Speaker] Nancy Pelosi, that's an indication that it's time for a change in Republican leadership," Weaver said.