Liz Cheney Says Republican Leaders Have Enabled White Supremacy
Republican Congresswoman Liz Cheney has accused the GOP of enabling white nationalism and white supremacy in the wake of the mass shooting in Buffalo, New York, which has left 10 people dead and three injured.
"The House GOP leadership has enabled white nationalism, white supremacy, and anti-semitism," Cheney wrote on Twitter on Monday.
"History has taught us that what begins with words ends in far worse. @GOP leaders must renounce and reject these views and those who hold them."
The man suspected of being responsible for the mass shooting, 18-year-old Payton Gendron, opened fire in a grocery store in Buffalo on Saturday after deliberately seeking out a place attended by a large number of Black people. According to police, Gendron drove over 200 miles to carry out the attack in Buffalo.
A 180-page manifesto allegedly written by Gendron has emerged after the attack, where the shooter cites the white nationalist, far-right conspiracy theory of "The Great Replacement"—which claims white people in the U.S. are being demographically and culturally replaced by non-white people—as motivating his actions. In the document, he describes himself as a fascist and white supremacist.
Officials consider the attack to be a racially motivated act and a hate crime.
Investigations have found that the teenage shooter had previously threatened to commit a murder-suicide when he was in high school, but while he underwent a hospital evaluation of one day and a half, he was later released.
The shooting in Buffalo followed in the footsteps of other racially motivated attacks that have taken place in the past few years in the U.S. and elsewhere, with Gendron following very similar patterns to those of the 2019 mosque shooting in Christchurch, New Zealand, the 2019 El Paso shooting and the 2018 Pittsburgh synagogue attack.
All the attackers involved in these cases—Brenton Tarrant in Christchurch, Patrick Wood Crusius in El Paso and Robert Gregory Bowers in Pittsburgh—were found to have been influenced by white supremacist conspiracy theories.
Just like them, Gendron appears to have been radicalized online, through far-right and white extremist conspiracy theories which have seeped through the mainstream debate in recent years. He then attempted to live-stream the attack on Twitch, as Tarrant did before him in Christchurch and Bowers did in Pittsburgh.
Then a hate-filled manifesto appeared after his attack, much like in the case of Wood Crusius in El Paso.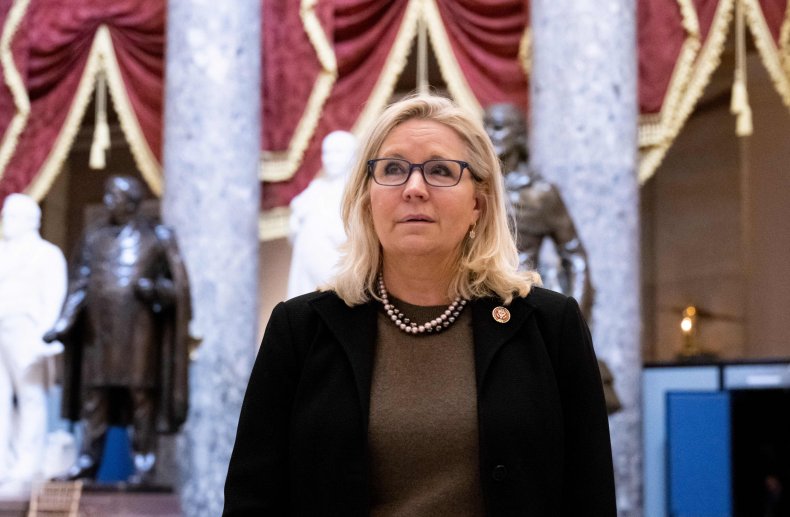 Cheney is not the only one who, following the attack in Buffalo, is pointing the finger at the way mainstream right-leaning channels have normalized talking about white supremacist and white nationalist conspiracy theories.
After the shooting, videos of Fox News host Tucker Carlson repeatedly talking about "The Great Replacement" theory have gone viral on social media, where the presenter can be heard talking about the country "being invaded" by immigrants.
Update 5/16/2022 11:15 ET. This article has been updated to provide more context.