Liz Cheney Says Trump Should Not Be 'Playing a Role' in U.S., GOP's Future Ahead of His CPAC Speech
Wyoming Republican Rep. Liz Cheney said Wednesday that former President Donald Trump should not be "playing a role" in the country and the Republican Party going forward.
While speaking to reporters, Cheney was asked if she believes that Trump should speak at the upcoming Conservative Political Action Committee (CPAC).
"That's up to CPAC. I've been clear about my views about President Trump and the extent to which, following January 6, I don't believe that he should be playing a role in the future of the party or the country," Cheney said.
House Minority Leader Kevin McCarthy was also present when reporters asked the question and in response, he said, "yes he should."
Shortly after Cheney's comments, McCarthy said, "On that high note, thank you very much," as the two walked away.
Newsweek reached out to Cheney for comment but did not receive a response in time for publication.
The comments from Cheney come just a few days before Trump is expected to speak at CPAC, which will be his first major speaking appearance since leaving office.
Cheney was one of 10 House Republicans who voted in favor of impeaching Trump for "incitement of insurrection" as many believed his rhetoric sparked the violent riot on January 6, when the then-president's supporters breached the building in protest of Congress certifying state's electoral votes.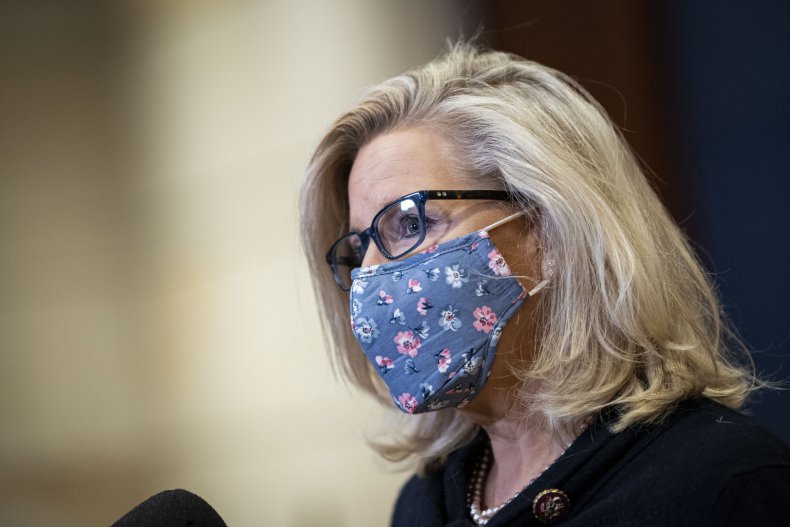 Since voting in favor of impeaching Trump, Cheney has continued to criticize the former president, prompting disagreements among Republican lawmakers on which direction the party should move.
In response to her impeachment vote and criticism of Trump, Cheney was censured by the Wyoming Republican Party and faced calls for her removal from her role as the party's conference chairwoman.
Cheney again criticized Trump on Tuesday and called on her fellow Republican lawmakers to denounce Trump's behavior as an "existential threat."
Cheney's comments on Tuesday came while she spoke at an event sponsored by the Ronald Reagan Presidential Foundation and Institute, where she urged Republicans to stand up against the January 6 riots.
"It's very important for us to ignore the temptation to look away and it's very important especially for us as Republicans to make clear that we aren't the party of white supremacy," Cheney said. "I think we, as Republicans, in particular, have a duty and an obligation to stand against that, to stand against insurrection."
According to USA Today, shortly after Cheney's comments on Wednesday, Trump's spokesperson Jason Miller said, "If Liz Cheney spent half as much time attacking Democrats as she does attacking Republicans, we'd be in the majority already!"
Newsweek asked for Trump for comment but did not receive a response in time for publication.