Representative Liz Cheney (R-Wyo.), the No. 3 House Republican, offered a short and sweet condemnation Monday of President Donald Trump's attempt to beg, pressure and threaten Georgia's top election official to overturn his loss in the Peach State.
Cheney described a roughly hour-long phone call Trump had with Georgia Secretary of State Brad Raffensperger, in which he prodded the fellow Republican to "find" enough votes to secure his victory, as "deeply troubling" and urged for Americans to listen to the recording.
"I think that it was deeply troubling, and I think everybody ought to listen to the full hour of it," Cheney said, according to a congressional pool report. The audio was published in full by The Washington Post on Sunday. "I think that's it's deeply troubling, and I'm just going to leave it at that."
As of Monday, Cheney's comments made her the highest-ranking congressional Republican to speak out about the incident that unfolded over the weekend, as most GOP lawmakers remained silent. In the last few years of his presidency, Cheney has become an increasingly outspoken critic, breaking from most of her GOP colleagues from time to time to offer rebuke for Trump's actions and remarks.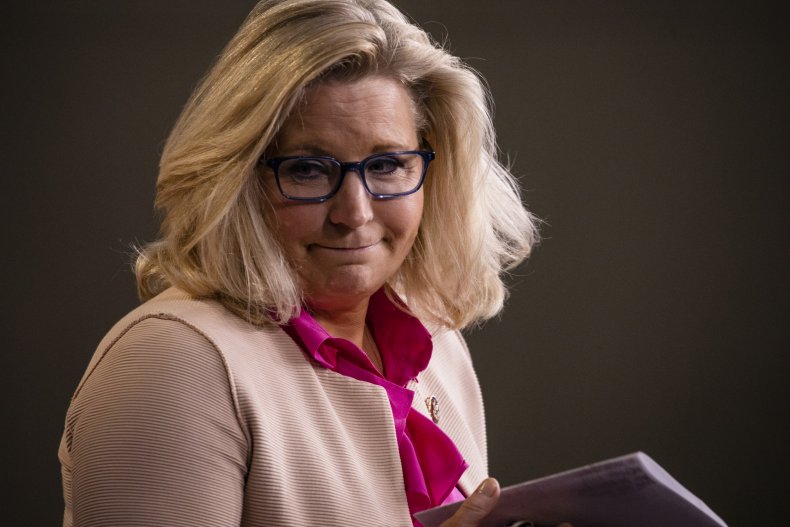 Sen. Pat Toomey (R-Pa.), who is retiring after his term ends in 2023, later issued a blistering statement, saying that Trump's actions represented "a new low in this whole futile and sorry episode."
"I commend Republican election officials across the country who have discharged their duties with integrity over the past two months while weathering relentless pressure, disinformation and attacks from the president and his campaign," Toomey added.
Cheney's father, former Defense Secretary and Vice President Dick Cheney, reportedly led an extraordinary op-ed in The Washington Post on Sunday with the nine other living former defense secretaries that called for a peaceful transition of power and said the military has no role to play in any election disputes.
House Minority Leader Kevin McCarthy (R-Calif.) ignored reporters' questions just off the chamber floor Monday about Trump's phone call, as the vast majority of Republicans on Capitol Hill have also chosen not to speak out.
Rep. Adam Kinzinger (R-Ill.) is one of the exceptions, who in recent weeks has increasingly sounded the alarm about his concerns with the effort by fellow Republicans to contest Congress certifying President-elect Joe Biden's Electoral College victory set to take place Wednesday.
"This is absolutely appalling," Kinzinger wrote in a tweet about Trump's conversation with Raffensperger. "To every member of Congress considering objecting to the election results, you cannot- in light of this- do so with a clean conscience. #RestoreOurGOP"
Raffensperger, as he's done in the past, rebuffed Trump's pleas and threats to somehow produce enough votes to erase Biden's nearly 12,000-vote win in Georgia—an act that, had Raffensperger obliged, would amount to criminal election fraud. Trump and Biden will both stump on the campaign trail in Georgia later Monday for the two U.S. Senate runoff races that will determine control of the upper chamber.
"All I want to do is this," Trump told Raffensperger. "I just want to find 11,780 votes, which is one more than we have because we won the state."
Two Democrats, Reps. Ted Lieu (D-Calif.) and Kathleen Rice (D-N.Y.), have requested that the FBI open a criminal investigation into Trump's actions, as he may have violated both federal and state law.
The Fulton County district attorney said Monday that her office will hold accountable "anyone who commits a felony violation" after a member of the state's election board requested an investigation by Raffensperger's office for potential wrongdoing.
Raffensperger has said he does not plan to pursue a criminal probe.
This story was updated to include a statement from Sen. Toomey.