Liz Cheney Urges GOP to Unite to 'Fight' Democrats' Policies After Trump Impeachment Vote
Representative Liz Cheney, a Wyoming Republican, defended her vote to impeach former President Donald Trump while also urging members of her political party to come together to "fight against" Democratic policies.
Cheney, the No. 3 House Republican, chairs the House Republican Conference and was the most high-profile GOP lawmaker to vote to impeach Trump for helping to incite the January 6 attack on the U.S. Capitol. She was joined by nine other GOP representatives, but most House Republicans opposed impeachment and some have argued that she should be removed from her leadership role.
"The survival of our republic depends upon making decisions that have to do with things like the attack that we saw on January 6 that are separate from party, that can never be partisan when you're talking about the mob attack on the Capitol," Cheney said Thursday morning during a Fox News interview. The congresswoman downplayed party criticisms of her decision and urged Republicans to unite in the face of a Democratic-controlled White House, Senate and House of Representatives.
"I think it's also important that we come together as a party now to move forward to make sure that we are fighting against the kind of policies we know the Democrats are going to put forward," Cheney added. "And also that we're putting forward a positive agenda of hope and opportunity for the future, letting people understand what Republicans stand for."
Newsweek reached out to Cheney's press secretary for further comment but did not hear back before publication.
Ahead of the impeachment vote on January 13, Cheney strongly condemned Trump's actions ahead of the violent insurrection, which left five people dead. "There has never been a greater betrayal by a president of the United States of his office and his oath to the Constitution," she said in a statement, voicing her support for impeachment.
Some Trump loyalist Republicans quickly criticized her and called for her removal from her leadership role.
"When Representative Cheney came out in favor of impeachment today, she failed to consult with the Conference, failed to abide by the spirit of the rules of the Republican Conference, and ignored the preferences of Republican voters," Representative Matt Rosendale, a Montana Republican, said in a statement. "She is weakening our Conference at a key moment for personal political gain and is unfit to lead. She must step down as Conference Chair."
GOP Representative Andy Biggs of Arizona shared a similar view with Fox News.
"I don't think she should be the chair of the Republican conference anymore," Biggs said. "The reality is, she's not representing the conference. She's not representing the Republican ideals."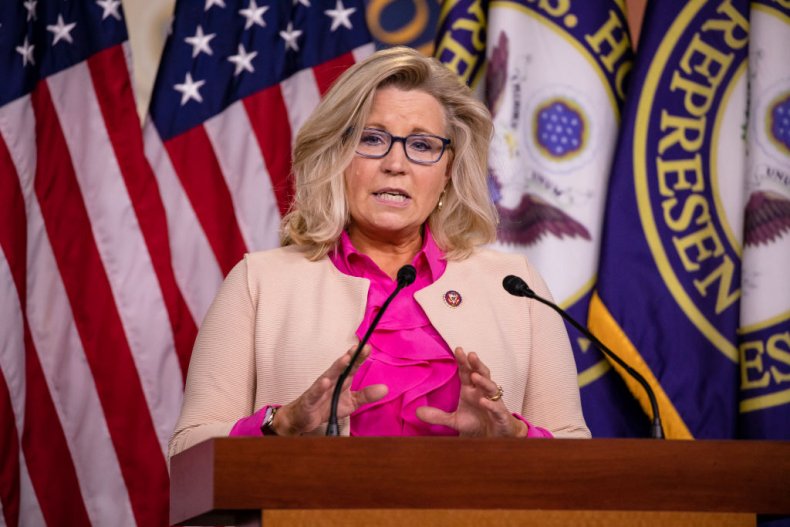 But other GOP lawmakers have defended Cheney. Freshman GOP Representative Nancy Mace of South Carolina, who did not back impeachment but condemned Trump's actions, criticized her Republican colleagues opposing Cheney.
"The irony in all of this...is that the same people that were complaining and screaming about the president being silenced on Twitter want to silence a dissenting voice within our own party," Mace told Meet the Press on Sunday. "I find that very hypocritical and very disappointing. We should embrace dissension and debate.... I support Liz Cheney."