Liz Truss Outlasted by Lettuce in U.K. Newspaper's Tongue-in-Cheek Campaign
U.K. Prime Minister Liz Truss' announcement that she would be resigning has already garnered widespread mockery from British tabloids.
The Daily Star initially launched a campaign to see which would last longer, a lettuce head or Truss in her role as prime minister.
Following Truss' announcement, the newspaper celebrated by remarking that Truss' tenure as prime minister had come to an end with a final loss to a "60p Tesco-bought lettuce."
Truss announced her resignation while standing outside No. 10 Downing St. on Thursday after 44 days in the role.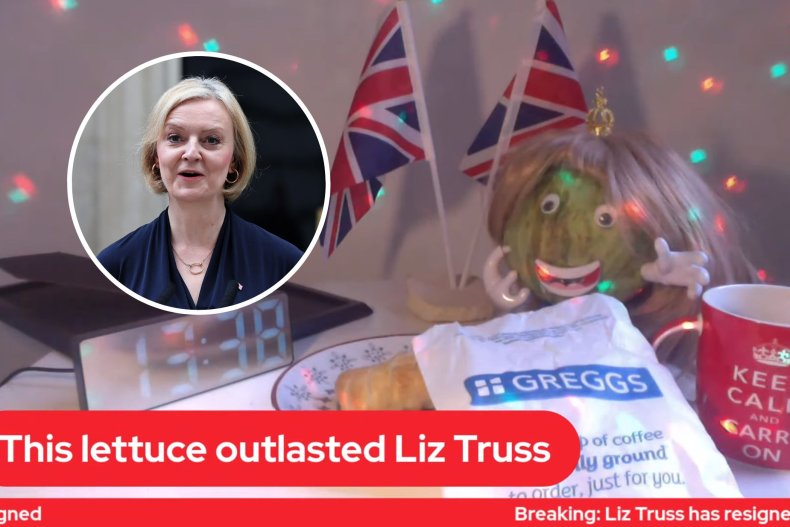 "I came into office at a time of great economic and international instability. Families and businesses were worried about how to pay their bills," Truss said as she began her resignation speech.
"Putin's illegal war in Ukraine threatens the security of our whole continent. And our country had been held back for too long by low economic growth.
"I was elected by the Conservative party with a mandate to change this. We delivered on energy bills and on cutting national insurance. And we set out a vision for a low-tax, high-growth economy that would take advantage of the freedoms of Brexit.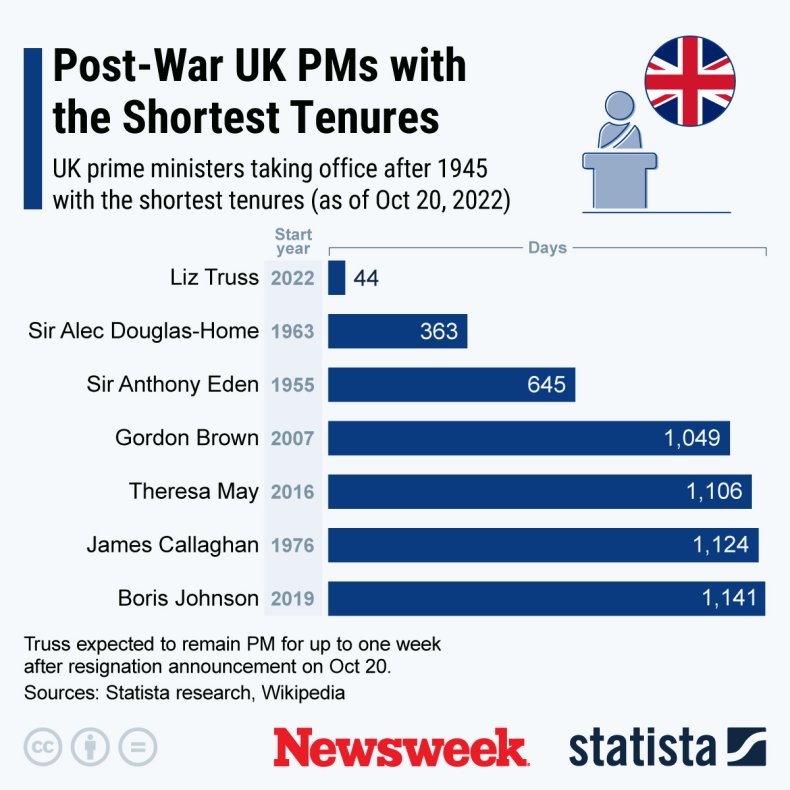 This chart, provided by Statista, shows UK prime ministers taking office after 1945 with the shortest tenures (as of Oct 20, 2022).
"I recognize, though, given the situation, I cannot deliver the mandate on which I was elected by the Conservative party.
"I have therefore spoken to His Majesty the King to notify him that I am resigning as leader of the Conservative party. This morning I met the chair of the 1922 Committee, Sir Graham Brady. We have agreed there will be a leadership election to be completed in the next week.
"This will ensure we remain on a path to deliver our fiscal plans and maintain our country's economic stability and national security. I will remain as prime minister until a successor has been chosen."
Leader of the opposition, the Labour Party's Sir Keir Starmer has called for an immediate general election, rather than another Conservative leadership contest.
The last contest was triggered after the resignation of former Prime Minister Boris Johnson in July. Truss was able to win this contest after defeating former Chancellor of the Exchequer Rishi Sunak.
However, as prime minister, Truss came under intense pressure after a mini-budget was announced on September 23, introducing billions of pounds worth of unfunded tax cuts. This led to a loss of market confidence in the U.K. economy and the value of the pound plummeting.
In response, Truss fired Chancellor Kwasi Kwarteng, and reversed most of his tax cuts. Following this, Kwarteng, alongside other Tory MPs claimed that Truss' days in the role were numbered.