'Lizzie McGuire' Reunion: How to Watch the Cast's Bra Episode Reenactment
This week is the 19th anniversary of "Between a Rock and a Bra Place," a classic episode of Lizzie McGuire that saw Lizzie (Hillary Duff) and Miranda (Lalaine) buying their first bras. To celebrate this milestone, the cast has reunited digitally to perform a live table read of the episode.
For those who want to watch the reenactment, it can be watched in full on Hillary Duff's Instagram. The actor posted the 40-minute video on May 11, with the caption: "LIZZIE MCGUIRE retro table read!
"Some fun for you this Monday! Hope you guys have fun watching this! We could not stop laughing reading lines from tween us...this is the first time we were all "together-ish" in almost 18 years! This week marks the 19th anniversary of this episode 'Between a Rock and a Bra Place!' Do excuse our delayed singing...we will be taking singing lessons as a group to work on our craft!!"
Duff managed to assemble much of the main cast of the show, with the following former series stars appearing:
Hillary Duff - Lizzie McGuire
Adam Lamberg - David 'Gordo' Gordon
Lalaine - Miranda Sanchez
Jake Thomas - Matt McGuire
Robert Carradine - Sam McGuire
Hallie Todd - Jo McGuire
Ashlie Brillault - Kate Saunders
Davida Williams - Claire Miller
Kyle Downes - Larry Tudge
This reenactment comes after the proper Lizzie McGuire reunion has stalled at Disney+. After fellow Disney+ show Love, Victor was moved to Hulu for not being "family-friendly enough," Duff posted the news story on Instagram with the note "sounds familiar." It was then revealed that series creator Carly Minsky was fired from the show after two episodes.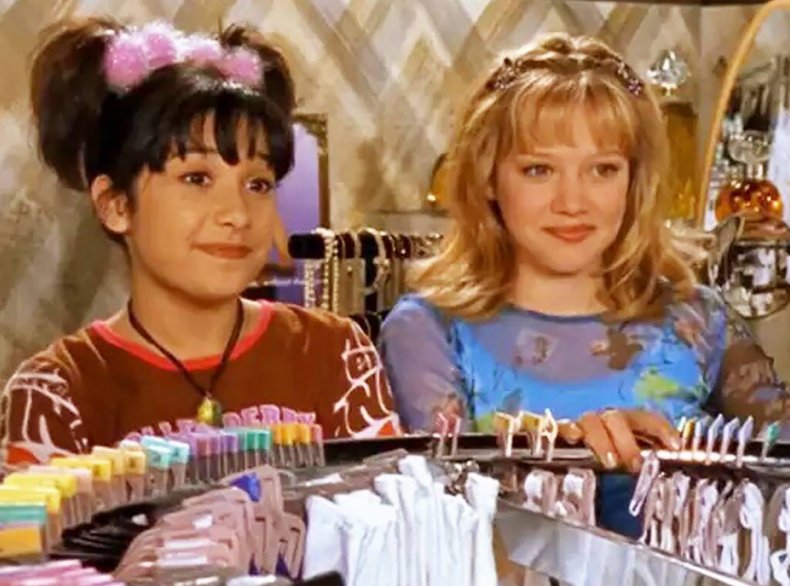 Speaking to Variety, Minsky said: "I am so proud of the two episodes we did. Hilary has a grasp of Lizzie McGuire at 30 that needs to be seen. It's a wonderful thing to watch. I would love the show to exist, but ideally I would love it if it could be given that treatment of going to Hulu and doing the show that we were doing. That's the part where I am completely in the dark. It's important to me that this show was important to people. I felt like I wanted to do a show that was worthy of that kind of devotion."
At the time of Minsky's dismissal, Disney released the following statement: "We paused production on Lizzie McGuire a few weeks ago to allow time for some creative re-development. Our goal is to resume production and to tell an authentic story that connects to the millions who are emotionally invested in the character, and a new generation of viewers too."