Lloyd Austin Admits It's 'Troubling' to See 'Same Folks' in Taliban Cabinet in 9/11 Interview
U.S. Defense Secretary Lloyd Austin said Saturday that it is "troubling" to see some of the "same folks" in the Taliban's newly formed Cabinet, after noting that several of the government leaders are linked to terrorism.
Speaking during an interview with MSNBC on the 20th anniversary of the September 11 terrorist attacks, Austin acknowledged that the Taliban's new government includes members of the Haqqani network, a designated foreign terrorist group that has been directly linked to violent attacks against Americans.
"It's troubling. As you look at their lineup thus far, it looks like the same folks that we saw before. I would point to the fact that they are cooperating with us in terms of our efforts to get our American citizens out of the country, but I would not from that infer anything for the future. They're cooperating with us on this narrow set of issues and we'll take it for what it is," Austin said.
Sirajuddin Haqqani, the Haqqani network's de facto leader, was appointed acting interior minister of the Taliban's new government on Tuesday. Haqqani is currently wanted for questioning by the FBI in connection with a January 2008 attack on a hotel in Kabul. The State Department has offered a $10 million reward for information that leads to his arrest.
Other newly appointed Cabinet members include Mullah Hasan Akhund, who headed the Taliban government during its previous rule in the 1990s, and Mullah Abdul Ghani Baradar, who signed the agreement with the U.S. to withdraw from Afghanistan. Akhund will serve as interim prime minister and Baradar will be one of his two deputies.
Mohammad Yaqoob, the son of Taliban founder Mohammad Omar, will serve as acting defense minister.
Earlier this week, Austin told reporters that while these are certainly "people that I don't look favorably upon," the U.S. doesn't "get a vote" regarding the new Taliban government.
"I think the whole international community was hopeful that they would be inclusive as they kind of said they would be weeks and months ago," Austin said, according to ABC News. "But we've not seen evidence of that early on, and so it appears to be many of the same actors."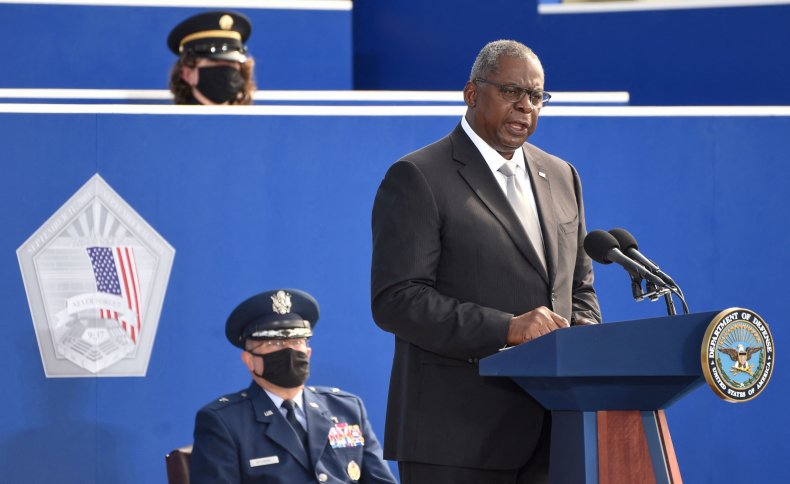 When the Taliban took control of Afghanistan in August, the militant group vowed they would take a different, more inclusive approach from their strict Islamic rule two decades ago. However, no women or non-Taliban figures have been named to the interim Cabinet, prompting fears that women, journalists and those who were allied with the previous Afghan government will be put in danger.
On Saturday, Austin said that U.S. will remain focused on counterterrorism operations and ensuring that terrorist groups such as Al-Qaeda or ISIS-Khorasan (ISIS-K) will not have the ability to carry out attacks.
"The issue will be making sure that we maintain a laser focus on networks and adversaries capabilities and that we don't lost that focus," Austin told MSNBC. "Al-Qaeda or ISIS-K, you name it, our goal is to make sure that they don't have the ability to export terror from that space in Afghanistan or any other space into our homeland. And we're going to maintain focus on that."
The Taliban raised their flag over the Afghan presidential palace on Saturday, the Associated Press reported, less than one month after they took control of the country and sent the U.S. and other foreign nations into a chaotic flurry of evacuations. The milestone coincides with the 20th anniversary of the September 11 attacks, when 2,977 Americans were killed after four commercial planes were hijacked by Al-Qaeda, led by Osama bin Laden.
Newsweek contacted the White House for additional comment, but did not hear back in time for publication.