Trump Tariffs: New England Lobster Businesses Slumping Under Trade War Pressure
Treasure that lobster roll while you still can.
The economic consequences of President Donald Trump's trade war with China are far-reaching, and now they're hitting the Northeast. In New England, a lack of lobster exports to Asia have led to a string of price slumps and layoffs.
Just months ago, China was one of the largest importers of U.S. lobsters, but a sky-high tariff imposed by Beijing has led buyers north to Canada instead. The result is a slumping wholesale market and layoffs.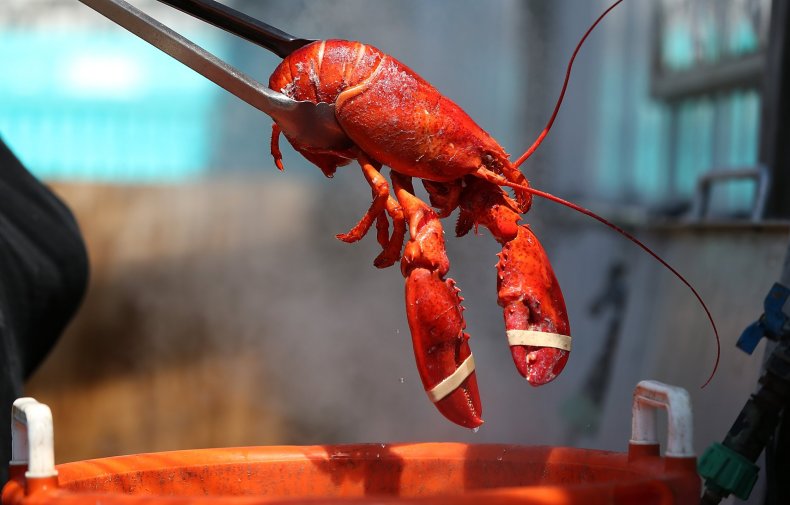 The Lobster Company of Arundel, Maine recently had to get rid of 25 percent of its wholesale staff.
"I can cut my variable costs and tuck my head in and see if this storm passes," said Stephanie Nadeau, the company's owner, to the Daily Hampshire Gazette. "What they've done is made it so everybody is fighting over the remaining customers. Price goes down, margins go down."
"I can't replace China, that's the reality," Nadeau told Bangor Daily News. "No one knows what to do because we don't know how long this is going to last."
For now, tourist season is keeping her company afloat but as the state's temperatures drop next month and visitors go home, she worries that business expenses will become unmaintainable. The company might live through fall, she said, but it won't survive the winter.
On July 6th, China imposed a 25 percent tariff on the import of live lobsters coming from the U.S. in retaliation to the trade actions of the Trump administration. Lobster from Canada, meanwhile, only comes with a 7 percent tariff.
The change quickly stemmed a rapidly growing business in Maine. In 2016, Maine shipped nearly 3 million pounds of live lobster to China. By 2018, that number grew to 12 million.
"To have such growth suddenly halt is like an airport aborting a takeoff," explained John Sackton, editor of seafoodnews.com.
America's live lobster sales to China hit a two-year low in July, the first month the tariff went into effect. Sales sagged a whopping 64 percent between June and July alone.
Domestic consumers may notice a temporary decrease in the cost of their lobster, but as supply companies fold under the weight of declining profits, the red meat will become increasingly rare, and eventually, more expensive.
Lobstermen also worry about their livelihoods being lost. "It's like any other crop or harvest with supply and demand," Lobsterman Bob Morris told the Boston Globe. "It's always the farmer or the fisherman who ends up paying."