Local Anchor Blasts NFL Fans For Booing Andrew Luck's Retirement: 'Some People Are Just Too Stupid To Breathe'
Dallas sportscaster Dale Hansen didn't mince words during a Monday night newscast.
The veteran sports anchor at WFAA-TV used his segment, Dale Hansen Unplugged, to address to the retirement of Indianapolis Colts quarterback Andrew Luck. ESPN initially announced Luck's plan on Saturday as the Colts took on the Chicago Bears in a pre-season game.
As expected, the news spread like wildfire, with some fans learning about the quarterback's plans as Luck stood on the sidelines watching his team play. Luck, a four-time Pro-Bowler, was unable to play in Saturday night's game due to an ankle injury.
But it was the boos that accompanied Luck as he walked off the field after the game that prompted Hansen to devote his segment to the 29-year-old's decision to leave professional football.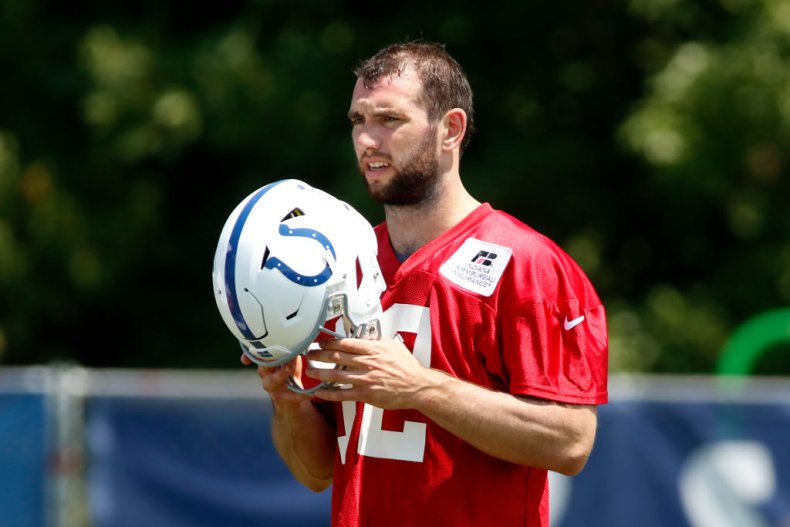 "How stupid do you have to be? How bad does your life have to be that you think booing Andrew Luck or even criticizing him, as some guy on FOX did, is somehow the right response?," Hansen asked during the segment, just a portion of his monologue that supported Luck's decision.
In a post-game press conference, Luck told reporters that he didn't make the decision lightly, but felt it was the best choice given a career riddled with injuries.
"I haven't been able to live the life I want to live. It's taken the joy out of this game ... the only way forward for me is to remove myself from football," Luck said. "This is not an easy decision. It's the hardest decision of my life. But it is the right decision for me.''
The list of injuries are significant for Luck, including a concussion, a lacerated kidney and a shoulder injury that required surgery in the offseason and prevented him from playing in 2017.
Hansen referred to some of those in his segment, saying, "Luck has a long list of injuries from playing this game: a concussion, a lacerated kidney, torn cartilage in a shoulder that kept him out a year, rib and ankle injuries too. So he decides to walk away while he still can ... and fans at the Colts game Saturday night actually booed him as he walked off the field."
"Some people are just too stupid to breathe the same air we breathe, and a lot of them live in Indiana," Hansen added later. "But a lot of them go to football games everywhere too."
Hansen, who has been a fixture at WFAA since 1983, also panned the NFL's issues with domestic violence and drug use.
"Football fans who will cheer the player who beats up a woman or drives drunk and kills people, who will cheer the player who uses illegal drugs, and who will cheer the player who cheats to win will boo a 29-year-old man who has been in constant pain for four years because he chooses his life over money," he said. "I might be as stupid as so many of you tell me I am, but I have never been that stupid."
Luck was the number one pick in the 2012 NFL Draft and began his career as the Colts' play-caller. In his first three seasons, he led the team to three straight NFL playoff appearances and two AFC South division titles.
In his professional career, Luck threw 171 touchdown passes and had an overall completion rate of 60.8 percent. In the air, Luck threw for 23,671 yards and posted 1,590 rushing yards and 14 rushing touchdowns.