Cleveland Community Leaders Press Judge in Tamir Rice Case to Arrest Officers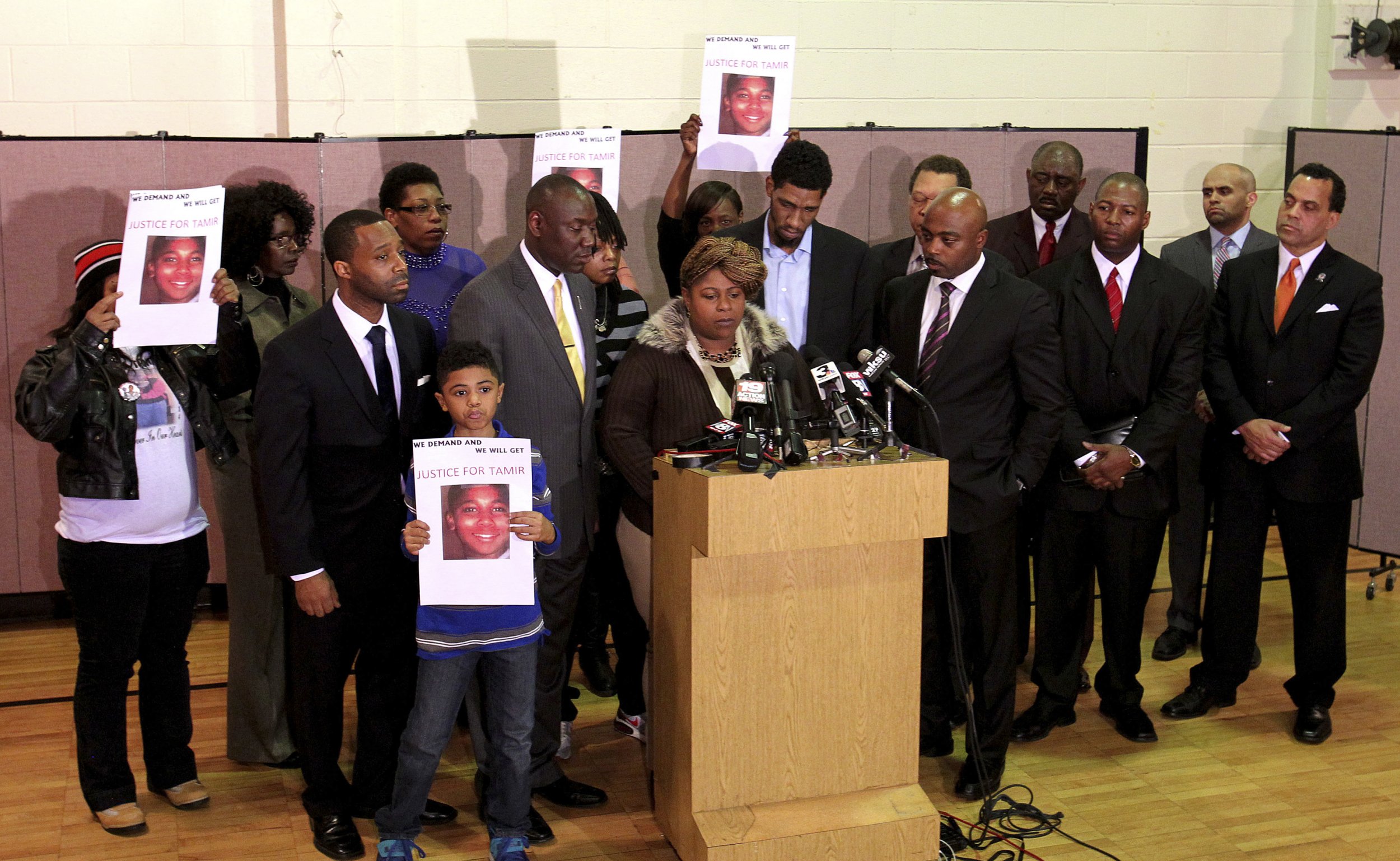 Updated | Eight community leaders in Cleveland, Ohio, on Tuesday filed an affidavit in court requesting the arrest of two policemen responsible for killing 12-year-old Tamir Rice last November.
The group, which consists of leaders, activists and concerned citizens, told reporters the officers' actions were unconscionable, reprehensible and criminal.
"We believe that these officers charged to enforce the law themselves stepped outside of the law, and therefore are subject to the same process of scrutiny, examination and expedience of the judicial process as each member of our nation," one of the eight leaders said Tuesday morning during a press conference. "We are taking this matter and the matter of justice into our hands using the tools of democracy as an instrument."
They chose not to wait for prosecutors to decide whether the officers will face charges for killing the African-American child. Their action is allowed by a decades-old Ohio statute, rarely used, that allows residents to request an arrest without permission from police or prosecutors.
Since the law has existed for 60 years, their request isn't extraordinary, Walter Madison, an attorney for the Rice family, tells Newsweek.
"They did the most American thing I have ever seen in my life. They took ownership of their community and directly went to a judge indicating that they perceive an injustice," he says.
Rice was shot outside of the Cudell Recreation Center on November 22 and died the next day at a local hospital. Officers Timothy Loehmann and Frank Garmback had responded to a 911 call about a man apparently holding a weapon. When they arrived, they mistook Rice's toy pellet gun for a real firearm. Loehmann fired his weapon.
Madison, who stood with the leaders at the news conference, says they don't have confidence in the system, and their decision fosters engagement and transparency. Members of the group, the self-proclaimed "Clevelend Eight," expect the court to follow the statute.
Grand juries in other high-profile police shootings, including in Ferguson, Missouri, and Staten Island, New York, decided not to indict the officers responsible for the deaths of Michael Brown and Eric Garner, respectively. Ferguson Officer Darren Wilson fatally shot Brown last August, and Garner died in July after an apparent chokehold, captured on cellphone video, by New York Police Department Officer Daniel Pantaleo.
Upon the request of the Rice family, authorities released a surveillance video that showed the officers arriving at the scene in a police cruiser and shooting the boy. Earlier this year, the family's attorneys synched a stopwatch with the video footage to show that Loehmann shot Rice less than a second after the police vehicle stopped moving.
Details later emerged that Loehmann had been deemed unfit for duty in a previous role at a small suburban police department.
An autopsy report completed in December revealed the boy died from a single gunshot wound to the torso.
The U.S. Department of Justice found reasonable cause to believe that Cleveland's police department has used excessive force in past high-profile incidents. In the wake of the report's conclusion, Cleveland Mayor Frank Jackson acknowledged his city's police force has issues.
Rice's family has sued the city of Cleveland over the 12-year-old's death.
Rice's case last week was handed over to the county prosecutor from the Cuyahoga County Sheriff's Department.
Recent killings by officers have renewed a national conversation about community policing and law enforcement procedures. In Baltimore, Freddie Gray died earlier this year after sustaining spinal injuries while in police custody. Over the weekend, in McKinney, Texas, witness video depicted an officer throwing a 14-year-old to the ground and pointing his gun at other juveniles.