Local Natives Want to Use Music to Spark Change on Issues Like Global Warming, Equality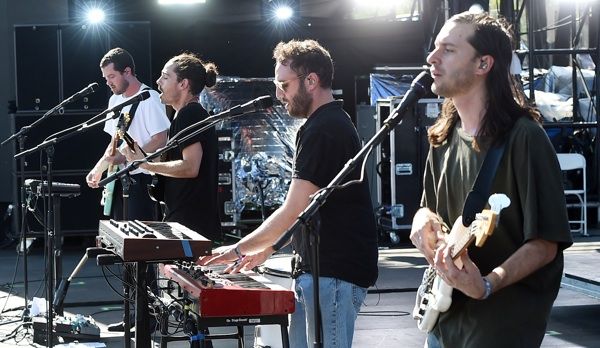 The members of the indie band Local Natives are guys who grew up in Southern California with a passion for the outdoors, and for people like them President Donald Trump's recent decision to pull the United States out of the Paris Climate Agreement was a shocking and heartbreaking moment.
Despite being upset over the president's refusal to move forward with an agreement aimed at combating climate change—a problem that nearly every other country in the world has made a commitment to fight—to Local Natives, Trump's move was just another reason to work to get younger generations to speak out and do more to incite change around the globe.
Since emerging on the U.S. music scene in 2010 with their debut album, Gorilla Manor, Local Natives—composed of guitarist Taylor Rice, guitarist-keyboardist Kelcey Ayers, multi-instrumentalist Ryan Hahn, drummer Matt Frazier and bassist Nik Ewing—has consistently used that platform to encourage a loyal league of followers to use their voices and stand up for the issues that matter most to them. According to Rice and Ayer, who spoke with Newsweek ahead of their 2017 Governors Ball Music Festival performance Saturday, it is the millennials and Generation Z kids who have the power to change the way the world works.
"Change doesn't come from the old white guys that have been around forever. It's these babies. They come in the world, they don't have any the typical stupid shit weighing them down that has been part of our history for better or for worse," Ayers told Newsweek.
Their latest single, "The Only Heirs," is another example of the band's effort to spark more activism throughout the country and unity between people of all colors, classes and orentations. After the band wraps up festival season and heads back to the studio, it is likely they'll be creating even more cuts pertaining to important issues like climate change and racial, sexual and social equality.
Check out Newsweek's full interview with Ayers and Rice below and find out more about the way Local Natives is using their music to stir up activism among millennials and young people around the world: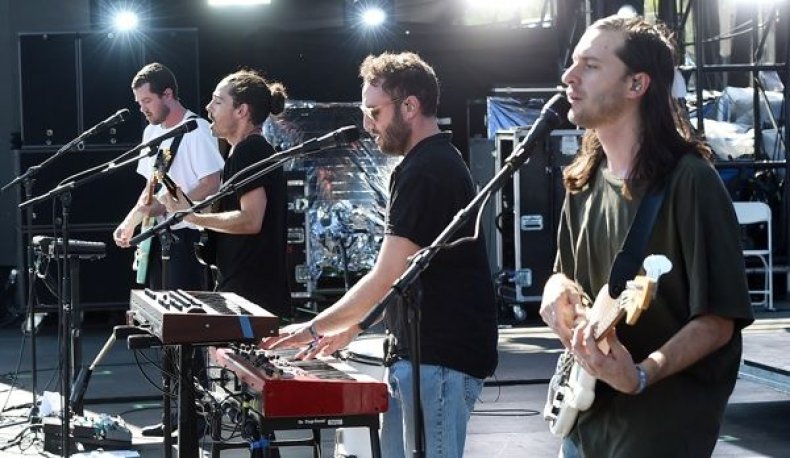 I feel like I cry a lot to your music. Is that what your songs are supposed to do?
Kelcey Ayers: That's all we're going for
Taylor Rice: Sometimes it's good to cry. I like it, especially because Kelcey and I are the more ballad kind of guys.
KA: We're the most kind of people that want to make you cry, basically.
Outside of the love songs, a lot of messages behind your music is very millennial-forward, almost like a call to do more than what we're doing right now. Is that what you have in mind when you're making music?
TR: I think there's something that's sort of aspirational that's an underlying thing [in our songs]. I think of a song like, 'Who Knows Who Cares,' which is on our first record, that sort of has some of those themes on it. And then maybe even on this newer song that I think is born out of this feeling of just like all of us going on this crazy epic journey together and wanting to get as much out of life as we possibly can. I think that's like a valid, important thing to do when you're a human being and you have this time here.
KA: I think on this newest record we thought a lot about kind of our own upbringing in Southern California and just looked back on that, but also we're kind of looking forward. I think we were talking a lot with each other as we were writing the lyrics and stuff about how it's always these younger generations of people who know where the future should be going. And it just kind of feels important that we shine a light on that or [get more] people to shine a light on that.
Do you feel the impact of things happening in the country right now—is that what drives you to sort of push your messages forward?
TR: So much. There have been youth movements over time. Obviously in the '60s and civil rights and Vietnam and all these things. And our generation, us as kids we had the troubles in the Middle East and 9/11 and things like that, but a lot of time at home feels like it's been pretty good. And we had the Obama years from our perspective. And there's maybe some sort of sense of complacency. The world is on this great path. Not everything's perfect, but we're moving forward.
But actually this record, as Kelcey's saying, we very much tapped into [driving change]. This thing where you're born and you think that the world is set up this kind of way, like, 'This is how it is.' But at some point you realize, 'Oh actually, the world's totally malleable.' And if you push on it, there's an effect. Your choices as an individual and how we connect with each other, that is literally how the world is made up...of all these tiny little things coming together to form these big streams and movements. And I think right now I'm very hopeful that all these movements that are geared towards building certain values that I really care about, whether it's like unity and love for all types of people, women and civil rights, LGBTQ rights, these movements continue to happen. There are all these things that are starting to become the forefront of a worldwide dialogue.
Paris climate agreement. We pulled out of that climate agreement deal this week. We all knew it was coming, but it's just so surreal. I was so passionate and kind of sad and angry with just seeing the final words and knowing that that had happened. But I have this hope that all these cities and different companies who are like, 'We're sticking to those standards anyways,' keep pushing forward. I think we feel like we have a responsibility and a part to play in that. I feel like we are connected to what I hope is a movement to one of the things to save the planet that we all live on. It's literally at that point where thousands of species are dying off, and it's like, what can we do to prevent that for our grandchildren?
We're here at this festival and there are thousands of different people from all backgrounds and different upbringings. How does it feel to be a part of something that brings so many people together?
TR: It's amazing. We all grew up in the suburbs of Southern California. And everybody has their bubble, but ours was like going to college for the first time and then experiencing diversity. And then being musicians, one of the things about it is you get to travel so much. And that's what's amazing about festival culture right now. It's bringing together all these genres and types of people that normally wouldn't of been so mixed up. I love that. I think what's just an incredible thing about the music culture and what's happening right now is that we can all learn from each other. And that includes us, like us being exposed to all these electronic and hip-hop acts and all these things that wouldn't be in our normal world as well. It's really amazing to see those cultures and connect with them and draw from them. Equally. We get as much out of it as we're excited to spread what we do to people who normally wouldn't be there.
You guys just released a new song. Does this mean there's a new album coming out soon?
KA: So much of pop and hip-hop are sort of like [release] single space. Not even having to be like hit singles but just putting out tracks. So we're trying to embrace that a little bit. We have some songs from the last record that didn't feel like B-sides but they didn't feel ready for the album either, and so we finished them and were like, 'Fuck it. Let's just put it out.'
Other than singles, what's next on the agenda, then?
TR: We actually are going to start working on another album. Soon.
KA: We do wanna make another album in time.
TA: We have a lot of awesome festivals that we're doing this summer. But we're already planning on making another record and getting ready for that.