Local, Oregon State Police To Keep Acting as Federal Officers Despite Portland Mayor's Request
Some Oregon police officers will continue to function as federal deputies despite Portland Mayor Ted Wheeler's request that the deputation be rescinded, the Department of Justice said Wednesday.
The officers were made deputies in advance of expected demonstrations at a rally by far-right group Proud Boys which took place in Portland on Saturday. Anticipating violence, Oregon Governor Kate Brown issued an executive order allowing local and county law enforcement to handle the event. While some protests did occur, the rally lasted roughly 90 minutes before ending.
Mayor Wheeler's office said in a Tuesday statement that it had asked the office of the U.S. Attorney to remove the deputation. On Wednesday, District of Oregon Billy J. Williams and U.S. Marshal for the District of Oregon Russ Burger denied Wheeler's request.
"The U.S. Marshal will not cancel the cross-deputation of local and state law enforcement officers," read a joint statement from Williams and Burger on Wednesday.
Burger and Williams cited Portland's "months of nightly criminal violence and destruction" as reasons for keeping the officers as federal deputies.
"Federal cross-deputation of Oregon State Police, Multnomah County Sheriff and Portland Police Bureau personnel underscores the importance of providing accountability and deterrence for these criminal acts," the statement continued. "Importantly, the federal deputation supports front line law enforcement officers and their families in a way that they have not seen from City Hall."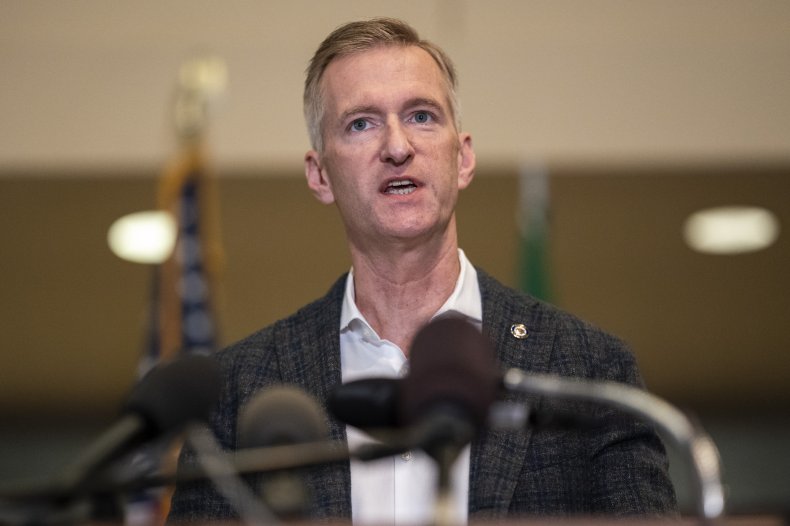 "Portlanders, and Oregonians in general are sick of the boarded-up and dangerous conditions prevalent in downtown Portland due to a lack of leadership," the statement added.
Newsweek reached out to Mayor Wheeler's office for comment.
The officers are expected to remain classified as federal deputies until the end of 2020. Among those deputized by federal authorities were 56 officers on Portland's Rapid Response Team and 22 Multnomah County Sheriff's Office deputies. Portland serves as the Multnomah County seat. Approximately 50 members of the Oregon State Police were also deputized by federal law enforcement authorities.
According to a Tuesday statement by Wheeler, individuals that "assault a federally deputized official could be subject to federal charges. Fortunately, I am confident the Multnomah County District Attorney will continue to prosecute anyone who assaults or otherwise harms police officers or others."
Portland City Commissioner Jo Ann Hardesty tweeted Tuesday that she supported Wheeler's request and that the deputized officers "not be out responding to the protests. Portlanders have been clear: we don't need more deputized officers; we need de-escalation."
President Donald Trump has criticized the Portland local government for not being more forceful in its attempts to stop protests. In July, Trump deployed federal agents to the city to protect government assets drawing criticism from some Democratic lawmakers. During Tuesday's presidential debate, Trump claimed he had received the support of Multnomah County Sheriff Mike Reese.
Sheriff Reese tweeted on Tuesday that Trump's claim was false. "As the Multnomah County Sheriff I have never supported Donald Trump and will never support him," Reese wrote.