One of the rallying cries from Donald Trump's 2016 presidential campaign bid resurfaced Saturday as Republican Rep. Jim Jordan lashed out at current Speaker of the House Nancy Pelosi.
Jordan spoke at a "Save America" rally in Wellington, Ohio this weekend, and the "Lock Her Up" chant that became notable during Trump's campaign was audibly noticeable again in 2021.
Jordan spoke about giving a speech in Amarillo, Texas, to the New Mexico Republican Party because "in their own state they weren't allowed to meet. That should never happen in this great country."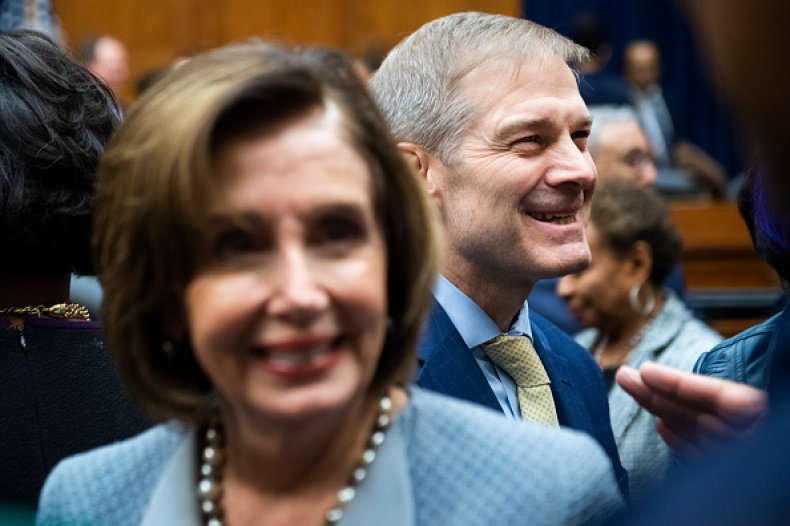 "You're right to petition your government, so am I, so that's why we've got to keep fighting," he said. He went on to say, "You can't go to your capital to petition your member of Congress to redress your grievances because Nancy Pelosi won't let you in."
There was a loud chorus of "boos," and Jordan started talking about "freedom of the press" before getting overtaken by the crowd's chant:
"Lock her up, lock her up, lock her up," they chanted in the Texas panhandle.
Jordan went on to talk about Vice President Kamala Harris' recent trip to the Texas-Mexico border, saying she probably wouldn't have made her trip to El Paso if Trump hadn't made plans to visit the border next week.
Although "Lock her up" chants by the pro-Trump crowds were typically directed at Hillary Clinton during the 2016 campaign, the mantra has shifted to Pelosi.
This particularly gained momentum after Pelosi ripped apart Trump's speech for the January 2020 State of the Union Address behind the president's back on national TV.
After that moment, Trump said that Pelosi was "mumbling" and that it was "distracting."
"I had somebody behind me who was mumbling terribly. Mumbling," Trump said while mocking the Speaker of the House. "Very distracting."
Trump talked up a crowd in New Hampshire a couple of weeks later, saying Pelosi was "angry."
"It was very distracting. I'm speaking, and a woman is mumbling terribly behind me, angry."
Pelosi's actions after that State of the Union dominated the news cycle for the next week, but Trump supporters spewed their hatred for Hillary Clinton toward Pelosi.
The "Lock Her Up" chant became notorious during the 2016 Trump presidential campaign against Clinton, but the chant picked up more steam in 2020 against the antics of Pelosi.
Trump has reportedly scheduled a visit to the U.S.-Mexico border within the next week.
-