Lockdown Extended in Shanghai as All 26M Residents Are Tested for COVID
Chinese authorities have extended a strict COVID-19 lockdown in Shanghai while they study the outcomes of an effort to test all of the city's 26 million residents for the coronavirus.
The lockdown measures were initially supposed to conclude Tuesday at 5 a.m. local time, Reuters reported. The city did not say how long the extension would last.
While many countries are transitioning into a pandemic phase in which they hope to learn to live with the virus in some capacity rather than eradicating it, China has largely stayed on course with its tough mitigation measures.
The massive testing effort and corresponding deployment of medical personnel to Shanghai was China's largest-scale public health initiative since the first coronavirus wave in Wuhan at the start of the pandemic, according to Reuters.
The People's Liberation Army (PLA) sent more than 2,000 medical personnel to Shanghai on Sunday, Reuters reported, citing an armed forces newspaper. At the time of the Wuhan outbreak, the PLA dispatched over 4,000 medical personnel to the province where Wuhan is located.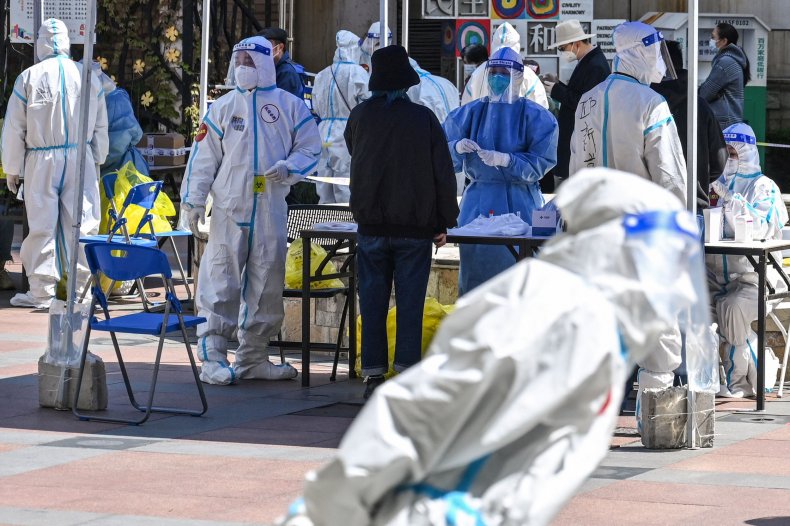 Shanghai's lockdown began on March 28. It took effect in two stages, beginning in the city's eastern districts. It then was widened to encompass the full municipality, according to Reuters.
Shanghai confirmed the new lockdown extension on its official WeChat account.
"The city will continue to implement seal and control management and strictly implement 'staying at home,' except for medical treatment," the city wrote.
The strict lockdown, as well as previous lockdowns in China, have proved to be a major disruption for residents and businesses in the nation's important financial hub. In anticipation of the measures taking effect, Shanghai residents were seen in videos fighting over groceries as they flocked to stores to prepare.
In addition to the personnel deployed by the PLA, Chinese state media reported that roughly 38,000 health care workers had been sent to Shanghai from the capital city of Beijing and provinces such as Jiangsu and Zhejiang.
The massive testing and mitigation effort amid the ongoing lockdown in China's most populous city may test the nation's adherence to its strict "zero-COVID" policy. On April 3, the city reported 425 symptomatic coronavirus cases and 8,581 asymptomatic cases, according to Reuters.
Newsweek reached out to China's national health authority and the Ministry of Foreign Affairs for comment but did not hear back by publication time.
Update 4/4/22, 12:30 p.m. ET: This story was updated with additional information and background.