New COVID-19 cases raise questions about future lockdowns and while the method may be effective at saving lives, health experts aren't confident people will abide by the restrictions now that the country has reopened and people are vaccinated.
As the Delta variant, a much more transmissible mutation of the virus, spreads throughout communities, states are seeing cases and hospitalizations rise. While spikes are predominantly found in areas with low vaccination rates, Los Angeles County, where nearly 70 percent of people have received at least one dose of the vaccine, has re-implemented its mask mandate because of a concerning number of new cases.
Returning to the days of restricted socializing and limited in-person experiences could be an effective way to stop the Delta variant in its tracks. But, William Schaffner, a professor of preventive medicine and infectious diseases at Vanderbilt University Medical Center, told Newsweek if officials close down, it's likely to be "largely ignored."
"Americans are interested in opening up as all of our travel and going to restaurants testifies," he said. "Lockdowns are not going to be accepted very widely by populations here in the United States."
An estimated 160 million Americans have been vaccinated against COVID-19 and the protection against the virus has given people a sense of security. A June Axios/Ipsos poll found the number of Americans socially distancing fell below 50 percent, the first time since the pandemic began.
Vaccinated Americans are also more inclined to take off their masks than they were before they received the shot and the number of people visiting their friends and going out to eat continues to rise.
The initial round of lockdowns drew ire from those who saw it as an encroachment on their personal freedoms and some business owners pushed back on restrictions they considered to be arbitrary decisions made by government officials. Americans were already growing weary of the possibility of additional restrictions in November and a Gallup poll found less than 50 percent would "very likely" stay home if public health officials recommended, a decline by about 17 points from spring 2020.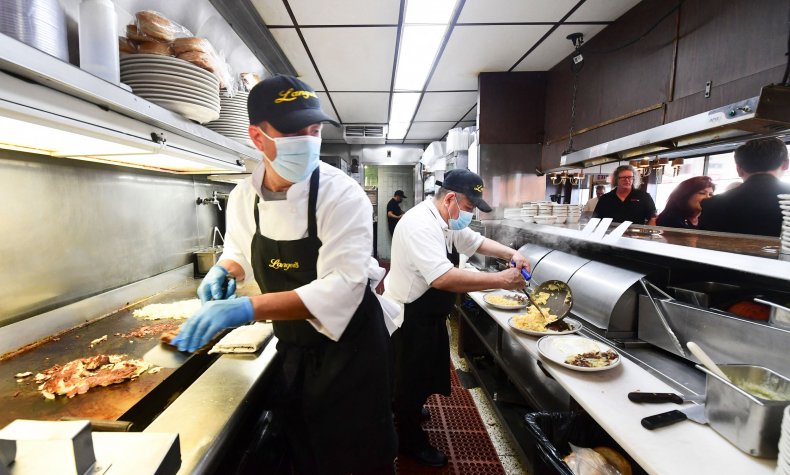 At the time the Gallup poll was taken, no one had received the vaccination and now that nearly 70 percent of Americans have been inoculated, Daniel Havlichek, former chief of the College of Human Medicine's Infectious Diseases Division at Michigan State University, said it'll be hard to convince people of the merits of a lockdown.
"Now that you have data that says half a person's state has been fully vaccinated and even if a vaccinated person was to contract the Delta variant, they likely aren't going to die or even be in the hospital, they'll just be home for a few days, it's going to be a difficult sell," Havlichek explained.
The Delta variant has proven to hone in on those who are unprotected and in some places, unvaccinated individuals account for more than 90 percent of hospitalizations. Dr. Anthony Fauci, director of the National Institute of Allergy and Infectious Disease (NIAID), called the Delta variant the "greatest threat" to defeating COVID-19 but officials have few options to convince people to get vaccinated and shots being administered plateaued in many places.
People being vaccinated would be more effective than a lockdown, as it would both protect individuals from being hospitalized and help prevent future mutations that may prove harder for the vaccine to fight from taking hold. However, in America, officials can't force people to be vaccinated, but they can require them to stay home, Havlichek noted.
Vaccinations aside, Jon Andrus, professor of global health at George Washington University, backed lockdowns as the "way to go" in most situations, although he acknowledged there may be exceptions. Assuming officials can't convince people to stay home, he advocated for people to wear masks, social distance and implement effective programs to test, contact trace, quarantine and isolate people.
It's something America hasn't fully figured out a way of doing effectively, partially because of how its Democratic society functions. Having a uniform approach to public health would help the United States respond to future epidemics, according to Havlichek, and emerging variants that may not have the low case fatality rate that we've seen so far with COVID-19.
About 605,000 people have died from COVID-19 in the United States, representative of about 1.7 percent of total cases. That death toll could rise as the Delta variant, which could be more deadly, and other mutations emerge, putting even vaccinated individuals at potential risk. But, where America goes from here is uncertain.
"We've boxed ourselves into a corner. We're not so keen on masks and social distancing, and we've reinstituted large group events both outside and inside. That leaves us with vaccination," Schaffner said. "We recognize vaccination has had very considerable success but we've now run into great difficulties because we cannot progressively, in a rapid fashion get a higher proportion of people vaccinated."