'Locke and Key' on Netflix Locations: Is the Keyhouse Real?
Netflix's version of Locke and Key does a great job of bringing the locations of the Joe Hill graphic novel to life, with the mysterious and magical Keyhouse at the center of the series. When they were shooting the show, the creators used a mixture of real locations in Canada alongside some locations created using studio sets and CGI.
Unfortunately for Locke and Key fans who want to take a visit to the real-life Keyhouse, it is one of the fake locations, recreated in multiple places that are made to look like one using some camera and computer magic.
The exteriors were shot outside of Toronto, Canada, where part of the house was constructed as a facade, which was then completed using CGI. Though the makers of Locke and Key have not revealed exactly how much of the Keyhouse was actually built, stills from the filming of the Netflix show reveal that at least the front doorway of the mansion was actually constructed.
As for the interiors of the Keyhouse, they were actually built in the Cinespace Film Studios in Toronto, Canada.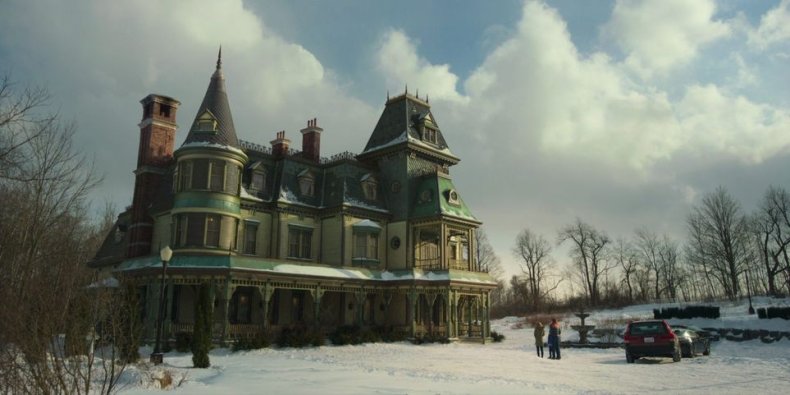 A description from a set visit by GamesRadar reveals some of the rooms that were created in this studio: "The main floor consists of a large, open foyer and a greeting room where portraits line the walls. Through the doorway lies a cosy chamber, complete with a piano, fireplace and the Mending Cabinet… Other rooms include a study, an enormous kitchen and a basement—all spaces that hide either a key or a deep, dark secret."
Although Locke and Key is set in the fictional Matheson, Massachusetts, it was filmed in a real town in Canada. Lunenberg, a port town in Nova Scotia, became the location of the Locke home for the Netflix show. The town, founded in the mid-18th century and now with a population of over 2,000, was named a World Heritage Site in 1995.
It was likely chosen as a filming location because it maintains a lot of its original architectural look from when it began to grow as a town in the 1800s.
Speaking to The Chronicle Herald, Genevieve Kang, who plays Jackie Veda in the Netflix series, said of the filming location: "We shot out there twice: once in March and then we went back out there in June.
"It was just so tranquil... The people there are lovely. It almost felt like a soundstage that was built specifically for our filming because the aesthetic of it is so neat and charming."
Locke and Key is streaming now on Netflix.