'Locke and Key' Release Date, Cast, Trailer, Plot: Everything We Know About the New Netflix Series
After Fox and Hulu's attempts to bring Joe Hill's Locke & Key series of graphic novels to the screen came to nothing, the show is now finally coming to TV, with Netflix due to release the first set of episodes in February.
Connor Jessup, Emilia Jones and Jackson Robert Scott lead the cast of the series as the Locke siblings, who move to the mysterious and magical Keyhouse. The trailer for the Netflix show, released in January, gives just a glimpse of the many fantastical situations the Lockes discover as they explore the house and find its many keys.
When is Locke & Key out on Netflix?
The first season of the fantasy-horror will be released on Friday, February 7 at one minute past midnight PT; 3:01 a.m. ET for those on the east coast and 2:01 a.m. for those on Central Time. On Feb 7, all 10 episodes of the show will be released at once, all of which are expected to be around an hour long.
Who is in the cast of Locke & Key on Netflix?
Central to the plot of Locke & Key are the eponymous Locke family, who move to a new town after the death of their father Rendell (played by Bill Heck of The Ballad of Buster Scruggs). The Lockes are mother Nina (Darby Stanchfield of Scandal) and her three children Bode (Jackson Robert Scott of It), Tyler (Connor Jessup, Falling Skies) and Kinsey (Emilia Jones, Horrible Histories: The Movie).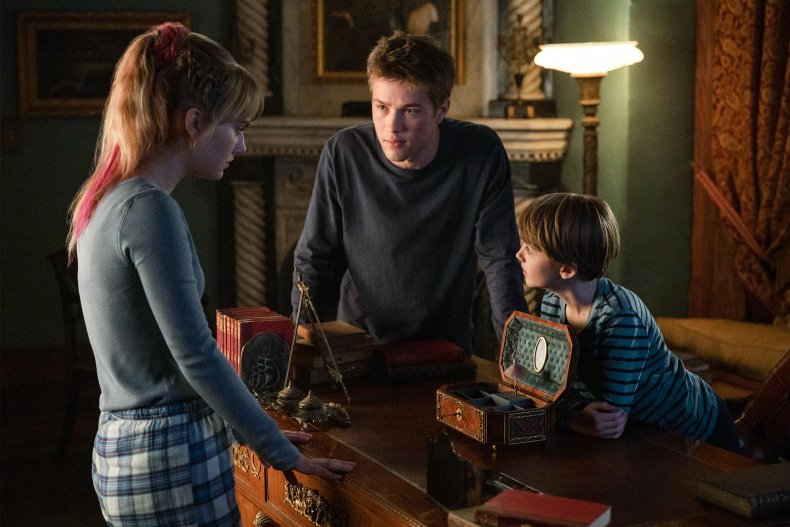 However, the trio may look slightly different to how some viewers imagined them. As Jessup noted in a Decider interview, "Physically, I'm different...He [Tyler] is much thicker, and both physically and emotionally... He is maybe in a deeper register. And that just doesn't come super naturally to me."
Joining them in the cast of characters in the Netflix show is Dodge, a villainous being in the graphic novels, portrayed by Laysla De Oliveira. The siblings also make some new friends in their new home, including Rufus Whedon (Coby Bird), Sam Lesser (Thomas Mitchell Barnett) and Gabe (Griffin Gluck).
What will happen in Locke & Key?
The official Netflix synopsis reads: "Based on the best-selling graphic novels, Locke & Key follows 3 siblings who, after the murder of their father, move to their ancestral home only to find the house has magical keys that give them a vast array of powers and abilities."
The Deadline article announcing the show added, "Little do they know, a devious demon also wants the keys, and will stop at nothing to attain them."
According to an interview with co-showrunner Meredith Averill, the show will dial back some of the grislier elements of the graphic novel series.
She said to SFX (per GamesRadar): "We decided we wanted to make it more of a family drama with this coming-of-age story with our younger teen characters and focus it more on fantasy rather than horror. The comic is very much in the horror vein, which is a genre I love coming off of The Haunting Of Hill House.
"In many ways, it was a great training ground for this because that is a show about this family dealing with this trauma and you are unpacking the mystery of what happened to them 20 years ago."
Locke & Key is released on Friday, February 7 on Netflix.