Locked-Out Chicago Teachers Going Door-to-Door to Sign Families Up for COVID Testing
Despite system lockouts and canceled classes being extended until Friday, many Chicago teachers are trying to spread education to families by educating parents on COVID-19.
Newsweek previously reported that teachers throughout Chicago were unable to log into remote-learning systems on Wednesday — an issue that will continue the rest of the week. This lockout came after the Chicago Teachers' Union voted to revert to remote learning amidst the current COVID-19 surge. Although tensions between the CTU and Chicago authorities continue to rise, the union announced early Thursday morning that they will be visiting neighborhoods to sign families up for COVID-19 testing while unable to access systems.
"Less than half of CPS students are vaccinated, at the same time that city numbers for vaccinations among Black and Brown children remain dismal," wrote the CTU in the statement. "CPS has refused to release school-by-school vaccine numbers, at the same time that few students are getting weekly COVID tests at hundreds of schools, with parents complaining that CPS is not even testing students who HAVE been signed up."
Because of this, teachers were poised to meet at Back of the Woods High School before dispersing to nearby neighborhoods. The CTU hopes this event will demonstrate the importance of proper COVID-19 testing and protection protocols, something that they accuse Chicago Public Schools of not providing.
"The mayor's CPS team has repeatedly failed to meet even its own modest promises in testing and contact tracing, refused to stand up a robust student vaccine program, refused to document HVAC safety, failed to maintain even 3-foot social distancing, failed to improve serious problems with sanitation and cleanliness, and continues to reject a science-based metric to determine when there's too much COVID to learn in-person safely," concluded the statement.
Meanwhile, Chicago Mayor Lori Lightfoot and CTU President Jesse Sharkey had sharp words for each other regarding online learning. These remarks came before Chicago Public Schools announced that classes will also be canceled Friday, with limited classes and activities being available in select schools.
"Enough is enough," Lightfoot said during a Thursday television interview. "I'm tired of the Groundhog Day appearance of everything that goes on with the Chicago Teachers Union leadership. We need partnership, we don't need conflict."
Sharkey responded to this interview in an email obtained by The Associated Press, saying the union has attempted to achieve a partnership with the government but has been refused.
"We haven't shifted the goalposts one bit; in fact, we've been saying the same thing for months," he wrote. "Please, work WITH us to set up comprehensive testing, work with us to vaccinate students, and work with us to establish basic guard rails."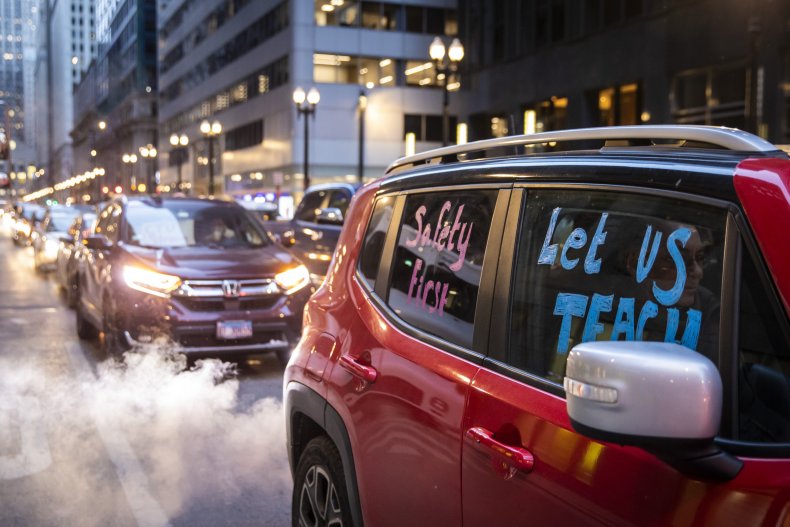 The district said roughly 10 percent of about 21,620 teachers came to work Wednesday and by Thursday it was nearly 13 percent. By Thursday afternoon, some city schools had already started notifying parents that they didn't have enough employees to open to students Friday.
Lightfoot's first term as mayor has been marred by three high-stakes clashes with the teachers' union, including the 2019 strike that lasted for 11 school days and disagreement over COVID-19 safety protocols to begin the 2020 school year.
The district argued in a complaint filing to the Illinois Educational Labor Relations Board that the union's actions are an illegal work stoppage, and sought a cease-and-desist order and a ban on future illegal strikes.
The union's complaint argued members have a right to refuse "hazardous work assignments" and accused the district of an illegal lockout by canceling classes and barring access to remote-teaching tools. It asked the board to order Chicago schools to allow remote instruction until a new safety agreement is reached.
It was unclear Thursday when the board may act, but the process could take weeks to play out.
In December 2020, the board rejected the union's request to block the district from resuming in-person instruction in January 2021.
Talks are focused on metrics that would trigger school closures and more COVID-19 testing. For instance, school leaders support remote learning only at the classroom and school level when there are outbreaks, as has been the case this year, versus a district-wide switch to remote learning which the union supports.
The Associated Press contributed to this report.