How One Protester Made Sure Lockheed Martin Never Forgets Its Role In Deadly Yemen School Bus Bombing
The boys were on a field trip, celebrating their graduation from summer school with a visit to a cemetery, one of the few green spaces left in the Yemen governorate of Saada, when their school bus was destroyed by a Saudi-led airstrike on a farming town market. The blast killed ten adults and 44 kids on the bus, all under the age of 15, with most between six and eleven years-old, scattering their limbs, later gathered for a mass funeral, over hundreds of yards.
The bomb that destroyed the children was a 500 pound, laser-guided device built by Lockheed Martin, the world's largest arms dealer, and one of thousands sold to Saudi Arabia by the United States. The U.S. has backed the theocratic kingdom's ongoing bombing campaign against Yemen with intelligence, targeting support and aerial refueling, in addition to weapons.
It was the date of their deaths, August 9, 2018, along with a single word—"Yemen"—that Bryce Druzin, 34, spray-painted in blood-red across Lockheed Martin's Advanced Technology Center in Palo Alto, California, in a non-violent protest of the Yemen War.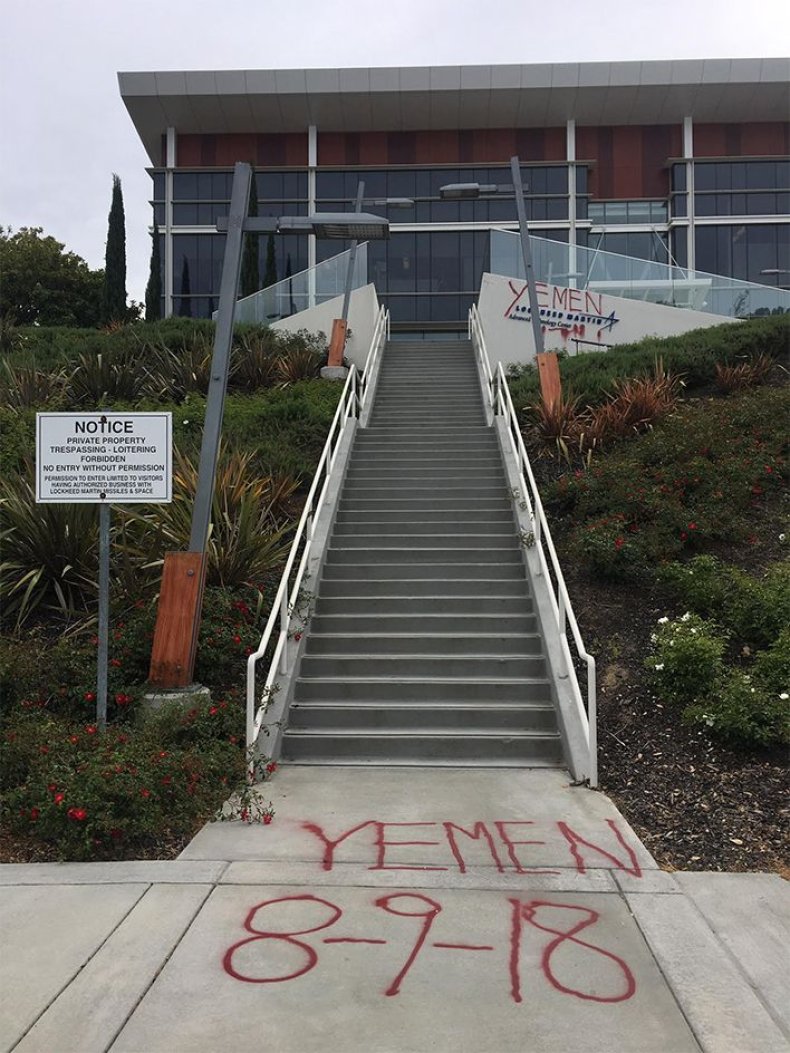 "It's where I grew up, it's where I lived most of my life," Druzin told Newsweek, comparing Lockheed Martin to bad neighbors. "There's a company in my hometown enabling it. I felt an obligation."
Druzin, a stand-up comedian now living in San Francisco, parked nearby and walked on to the Lockheed Martin campus on Saturday, April 27. After painting "Yemen" in the parking lot and on Lockheed Martin signage, he called Palo Alto police, who took him into custody and charged Druzin with felony vandalism (his court date is June 26). "The message is more effective when there's a person taking responsibility and explaining why they did it," Druzin wrote on Facebook. "It's in line with non-violent principles. I didn't want Lockheed employees wondering 'Who did this? What will he do next?'"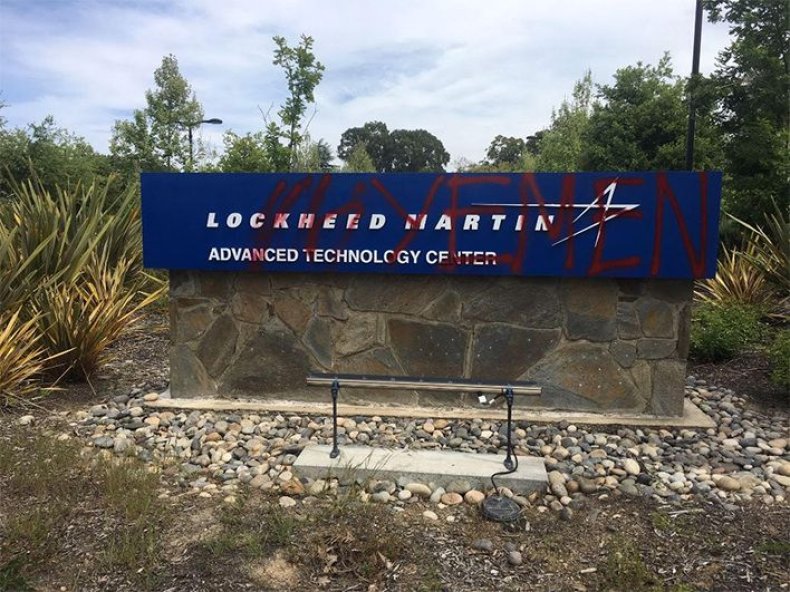 Lockheed Martin declined to comment before publication.
"I don't want people to be motivated by hate. I want us to oppose the war because it hurts to see people suffering," he told Newsweek. "I wish I had spray-painted a heart next to 'Yemen.'"
This wasn't an impulsive decision for Druzin. He described multiple factors pushing him toward action, including a friendly visit by Saudi Crown Prince Mohammed bin Salman to a Lockheed Martin office, which had prompted a friend of Druzin's to leave the company. Druzin was also inspired by congressman Ro Khanna, who represents the district adjacent to Lockheed Martin's Palo Alto office. Khanna sponsored a bill to end U.S. support for the Saudi-led coalition war on Yemen.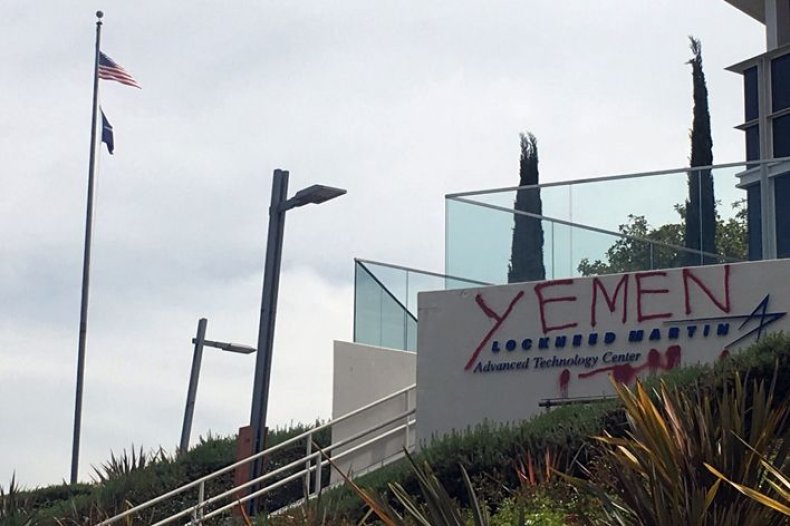 After Khanna's bill passed the House in February, presidential contender Bernie Sanders sponsored a version of the resolution that passed in the Senate. President Donald Trump used his second veto in office to defeat the resolution. On Thursday, the Senate failed to muster enough votes to overturn the veto.
"The Saudi-led war in Yemen impacts not only Yemenis struggling for survival on the ground, but also energized a generation of peace advocates across the world who are working tirelessly to end the conflict. While I do not condone vandalism, I support everyone's right to free speech and peaceful protest," Representative Khanna said in a statement to Newsweek. "The pain the Saudis and this administration inflicts on the innocent Yemenis cannot be overlooked. In this year's National Defense Authorization Act, the Defense Appropriations bill, and other forms of legislation, I will continue to work with my colleagues in Congress, stakeholders, and the peace groups to end this brutal war."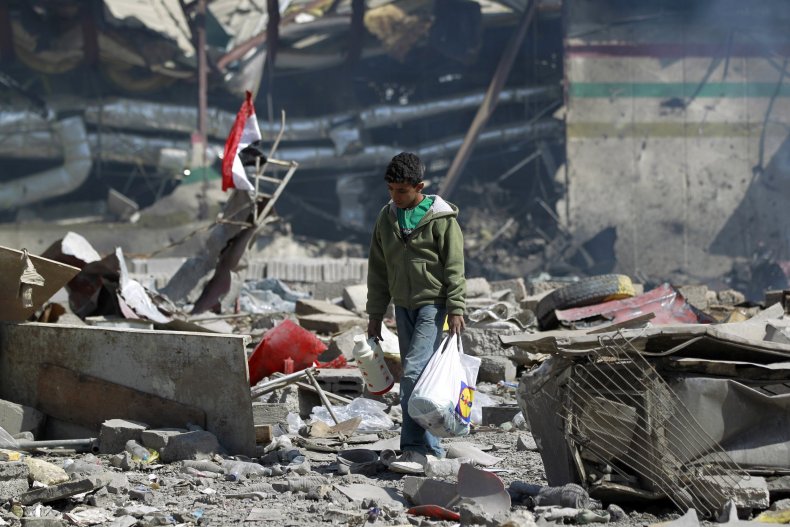 Saudi Arabia seeks to overthrow the Houthi government and reinstall authoritarian president Abdrabbuh Mansour Hadi, who fled to Saudi Arabia in 2015 after Houthi rebels captured Yemen's largest city, Sanaa. The Saudi-led coalition has used bombings and blockades to starve more than 85,000 children and threaten 13 million with starvation to further that goal, in what the United Nations has declared "the worst famine in the world in 100 years."
In addition to protesting the U.S. and its corporate partners' ongoing support of the Saudi military campaign against Yemen—"Stop selling weapons to Saudi Arabia and move your office out of Palo Alto," he said, stating his position toward Lockheed Martin directly—Druzin wanted to demonstrate that anyone is capable of political action.
"If you care about an issue, you can do something," Druzin said. "I've never done anything like this before. I'm not an activist. I feel it's a term that divides people into two different groups—people who do political action and people who don't. I'm just a guy who got fed up; you don't have to be an activist to do something."