Loeffler Calls Warnock 'Most Radical Candidate in America' as Georgia Senate Campaign Heats Up
Republican Georgia Senator Kelly Loeffler, who is expected to face Democrat Reverend Raphael Warnock in a run-off election in January, decried Warnock as a "radical" in a political advertisement released Thursday.
Loeffler was appointed by Georgia Governor Brian Kemp to fill the seat left vacant by the retirement of Georgia Senator Johnny Isakson, who left the Senate due to health reasons. In November, Loeffler defeated fellow Republican Doug Collins in order to face Warnock for the seat.
Warnock, who serves as the pastor of Atlanta's Ebenezer Baptist Church, is challenging Loeffler in his first bid for public office. Loeffler's campaign has accused Warnock of anti-Semitism and adhering to radical beliefs.
In a Thursday tweet, Loeffler called Warnock the "most radical candidate in America." Attached to the post was a video which purported to show Warnock expressing support for Chicago pastor Jeremiah Wright.
Wright became a controversial figure after a sermon he gave in 2003 surfaced. In footage of the sermon, Wright appeared to voice anti-American sentiment. Former President Barack Obama had attended Wright's church and performed the marriage ceremony between Barack and Michelle Obama.
Loeffler's campaign video shows a snippet of Wright's sermon in which he can be heard saying, "Not God bless America, [but] God damn America."
A television clip of Warnock follows. In it, he claims that Wright "is doing what he should do. He's a preacher and a prophet." Loeffler's clip ends by declaring Warnock "a radical's radical."
Newsweek reached out to the Georgia Democratic Party for comment.
In a Thursday interview with MSNBC, Warnock denied Loeffler's allegations. "I know Reverend Wright," Warnock said. "I'm not an anti-Semite. I've never defended anti-Semitic comments from anyone and Kelly Loeffler knows better."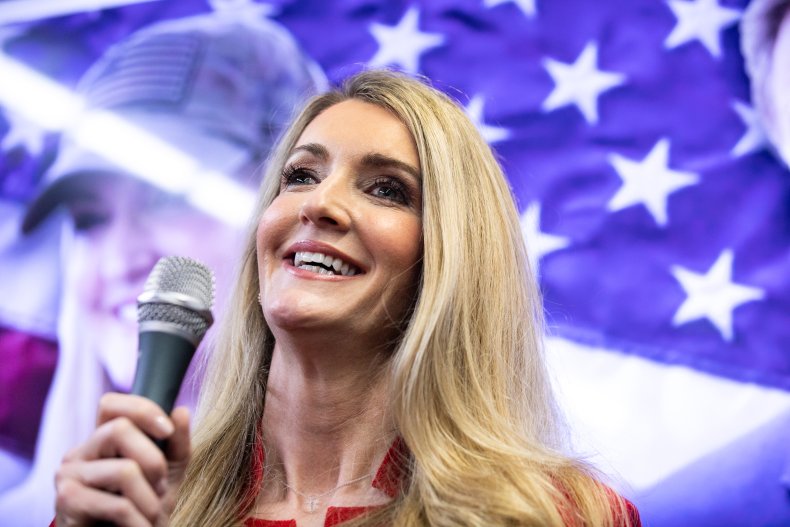 Warnock accused Loeffler of using the advertisements to distract from attempts by the Republican party to overturn the Affordable Care Act.
"If [Loeffler] wants to know what I think," Warnock said, "she can find me in the scripture. Love your neighbor as yourself. And for me, in practical terms, that means you don't get rid of health care in the middle of a pandemic."
During a Thursday press conference, Warnock criticized Loeffler for embracing an October endorsement from current Georgia U.S. Representative-elect Marjorie Taylor Greene. Greene gained a measure of notoriety for a video in which she espoused QAnon conspiracy theories. In November, Loeffler and Greene appeared together at a rally in Smyrna, Georgia.
Warnock told reporters that Loeffler "accepts the endorsement of a candidate who traffics in the QAnon conspiracy theory that is rife with hatred and bigotry. It is shameful."
A November poll by the Remington Research Group shows that the race between Warnock and Loeffler could be a close one. Loeffler had 49 percent of the vote while Warnock was only one percentage point behind with 48 percent of the vote.
The poll was conducted between November 8-9 from a pool of 1,450 individuals likely to vote in the runoff election. The poll's margin of error is plus or minus 2.6 percent.