Actors Dylan O'Brien and Logan Lerman have sparked an online frenzy after they were photographed hanging out together this weekend.
Lerman, beloved for starring in the Percy Jackson movies and The Perks of Being A Wallflower and O'Brien of Teen Wolf and Maze Runner fame were spotted walking their dogs together, prompting a huge reaction from fans.
In a viral photo shared by Twitter account, Film Updates, the two actors were seen out walking their dogs when they stopped to take a picture with fans.
The photo has amassed almost 25,000 likes at the time of publishing with the newfound friendship sparking a wave of memes and jokes, as fans express their wish for the two to work together.
The pair have long been considered lookalikes of each other so seeing them together has garnered a huge reaction from fans.
"imagine meeting dylan o'brien AND logan lerman at the same time MY LIFE WOULD BE COMPLETE," one fan tweeted.
While another added: "LOGAN LERMAN AND DYLAN O'BRIEN HANGING TOGETHER EVERYBODY MOVE."
Another fan commented: "Imagine meeting Dylan O'Brien AND Logan Lerman AT THE SAME TIME?!?!?! How lucky do you have to be?!?!"
Another said of the fans who ran into the stars: "Those girls will be telling their grandchildren about this moment."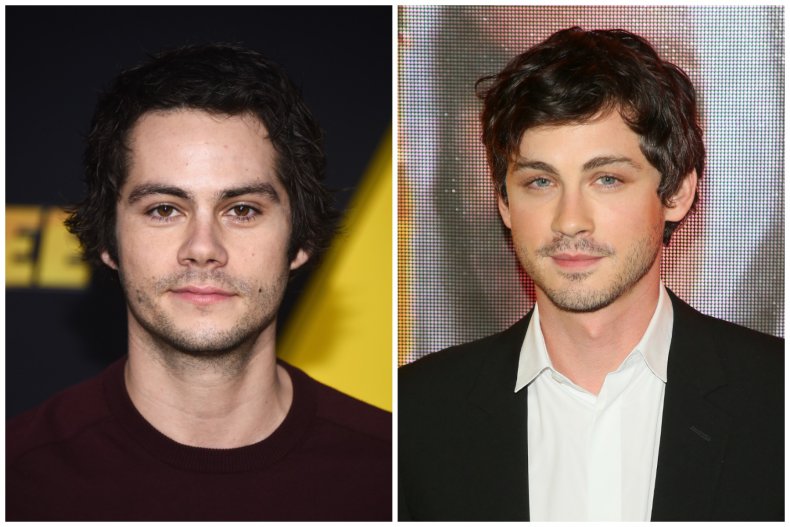 While many shared their hope for O'Brien and Lerman to collaborate, with one person tweeting: "thinking about how if dylan o'brien and logan lerman were in a movie together they would break the internet... praying to get what we deserve."
Lerman, 29 and O'Brien, also 29, have had somewhat of a similar career trajectory but have never acted together.
Lerman is due to star in the upcoming film Bullet which is set for release in 2022 alongside Brad Pitt.
Meanwhile, O'Brien is starring in two movies set for a 2022 release—The Outfit and Maximum Truth.
Another fan even photoshopped the picture of the pair to remove the fans, joking: "hey besties if you want that photo of logan lerman and dylan o'brien without the fans i tried my best but it looks good for the most part so here."
"how am i suppose to behave now that i know that logan lerman and dylan o'brien aka white boys of the decade are friends??" asked another.
While another fan tweeted: "What do you mean Dylan O'Brien and Logan Lerman are in the same picture ???? IS THIS A FEVER DREAM??"
"i just want to say that i will never get over dylan o'brien & logan lerman being friends and walking the dogs together, we win," joked another.