Logan v. Mayweather: Fans Spot Weakness That May Help Logan Win the Match
There's a pretty good chance that former YouTube star Logan Paul could defeat Floyd Mayweather in their upcoming match. One fan shared a video from the fight the 50-0 boxing great had against UFC fighter Conor McGregor in 2017. In the video, the right-handed punch stuns Mayweather, placing him at an advantage.
"Floyd Mayweather showed vulnerabilities in the McGregor fight, with McGregor landing an uppercut early & visabliy [sic] shaking Mayweather," one fan noted on Twitter this Thursday. "If Logan Paul lands his uppercut early, who knows what kind of affect it'll have on Mayweather. #boxing"
Boxing fanatics agreed. "I'd have Logan favourite despite giving away so much size to the huge floyd frame, floyds one of greatest light heavies ever but I'd still fancy Logan here," one person wrote.
"Logan's defence [sic] is too good and I think he'll put muscle and out box Mayweather. I predict Logan on points," another chimed in. "Logan is a cruiserweight bordering on a heavyweight... I (sic) unironically think he could win..." a third added.
One fan noted that Mayweather hadn't boxed since 2017. Mayweather being out of practice may be advantageous to the YouTube star-turned-boxer. "Logan Paul has bigger biceps he's the bigger man and mayweather hasn't boxed since mcgregor he way rusty n past it got to put Logan Paul who in his 20s fresh hungry dangerous as clear favourite."
However, some fans don't think Logan stands a chance against Mayweather, despite the fact that he hung up his boxing gloves years ago. "It'll have 0 affect because Logan has been boxing for like 3 years and hasn't won once. Why is this a question?" one user posited.
"I don't understand it," another fan admitted. "Are people forgetting that Mayweather is an actual boxer who is 49-0 against other actual boxers, and Logan Paul, isn't an actual boxer who is 0-1-1 against people who aren't actual boxers!?"
"Floyd will win. Floyd will win in whatever round Floyd chooses. Floyd has beaten 50 boxers, 28 of which were world champions. Floyd is the goat. Floyd has never lost. This is another freak show fight that I really hope doesn't happen," a third said.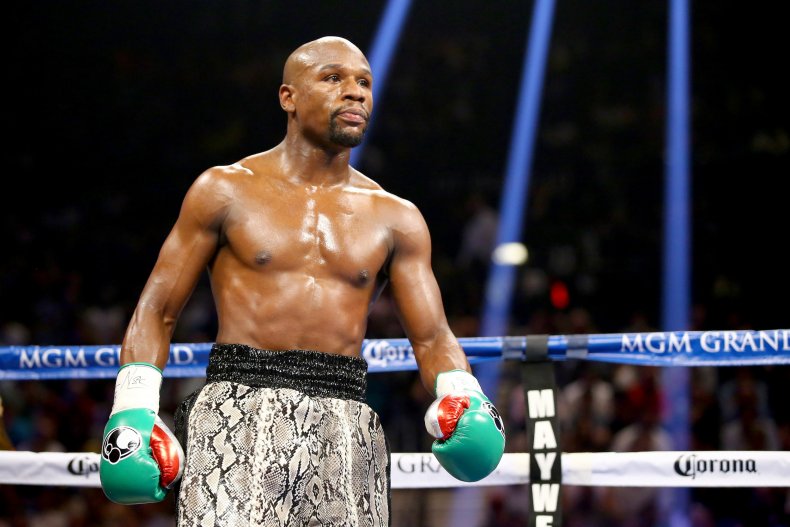 SportBible also noted that the uppercut can be a dangerous maneuver for a taller boxer against a shorter boxer. Paul towers over Mayweather at six-foot-two, versus Mayweather's five-foot-eight stature.
Paul is also in the prime of his career. He is 25 years old, and has been actively fighting. Mayweather, meanwhile had retired in 2015, but came out of retirement to fight McGregor in 2017. He also boxed with Japanese fighter Tenshin Nasukawa in October 2018 in an exhibition match which ultimately lasted 140 seconds.
The YouTube star challenged the boxing legend to a fight in 2019, and fellow YouTuber Keemstar (whose real name is Daniel Keem) confirmed the news on Twitter. "Mayweather vs Logan Paul this year! No joke... that's boxing insider just told me," he wrote on Wednesday.
Mike Feinberg also claimed to have seen the signed documents, confirming Mayweather's agreement to battle it out with Paul. "I don't understand the fight. Logan Paul has tried his hand at professional boxing—couldn't the other nobody [that] nobody's ever heard of before," Feinberg admitted in a YouTube video shared to The Fighting News channel.
"[Paul's] now zero and one. He's going to be fighting one of the best in Floyd Mayweather. It's going to be a joke of a fight, but it's signed. It's official. I heard it from a reputable source today and even saw the signed picture of the signed contract where Floyd signed on the dotted line for this exhibition match."