#LoganPaulIsOverParty Trends as Americans 'Cancel' YouTuber Over Anti-Abortion Remarks
The hashtag #LoganPaulIsOverParty began trending on Twitter on Monday afternoon as tens of thousands of Americans discussed the "cancellation" of YouTuber Logan Paul over an anti-abortion comment he made during a press conference with YouTuber KSI.
Ahead of their scheduled boxing match next month, Paul and KSI—whose real name is Olajide William "JJ" Olatunji—appeared together at a press conference in East London on Monday night local time to trash talk and lob insults at each other before the event.
KSI raised the stakes by bringing up Paul's controversial Aokigahara forest vlog from early 2018, in which the YouTuber showed his 15 million subscribers a dead body in what is referred to as the Japanese suicide forest. KSI also teased his opponent by bringing a dog that looked similar to Paul's former Pomeranian, who was killed by a coyote earlier this year.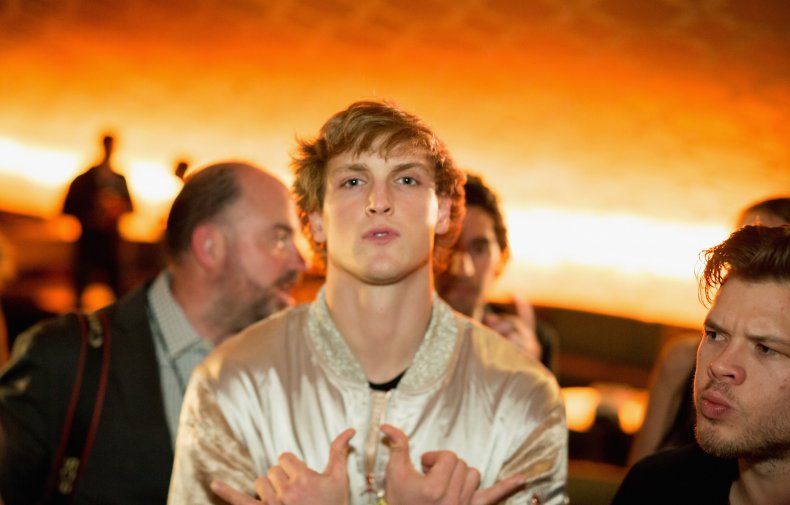 Paul responded with an abortion diss. "Y'all may not know it but JJ's on his fifth abortion. His fifth. That's five babies dead," he said. "And I think I might return the favor. And I might kill you. I might end you. I'mma light you on fire, bro." It is unclear whether Paul's diss is true.
KSI did not respond to the remarks, but social media quickly moved to condemn Paul for shaming his opponent for having multiple abortions, with more than 18,000 Twitter users calling for or celebrating the YouTuber's "cancellation." As of Monday evening, the hashtag #LoganPaulIsOverParty became the second most-trending topic on the social media platform in the United States.
"Idk why men think they have so much say when it comes to a woman's body, and her choices on what she wants to do with HER body. you don't see women telling y'all where to stick your dicks. #LoganPaulIsOverParty," Twitter user @parkyourjimins wrote.
Many users pointed out that Paul has previously been "cancelled" multiple times but fans still watch his content on YouTube.
"This dude literally filmed a d**d person and laughed at him and yall are cancelling him NOW bc he is against abortion? #loganpaulisoverparty," Twitter user @yslhao wrote.
"Why is #loganpaulisoverparty trending? He was over when he filmed a dead body and uploaded it to his child audience," Twitter user @wokestofscrolls wrote.
"This is like the 17th time y'all canceled this mf. so is it [for real] this time, or just a temporary cancellation? #loganpaulisoverparty," Twitter user @trilogytae wrote.
"So y'all will cancel him for being against abortion but turn a blind eye when he films a de*d man and laughs about it? #loganpaulisoverparty," Twitter user @vant7e wrote.
"#LoganPaulIsOverParty so I guess ya'll un-cancelled him after we cancelled him like 4 times already, so can he stay cancelled this time? Thanks," Twitter user @btsarmyshan wrote.
Other users used the trending hashtag to encourage Twitter users to stan other, allegedly more deserving celebrities.
"#loganpaulisoverparty he's been over for a while now. stan the unproblematic king frank ocean," Twitter user @cosmoscorbyn wrote, alongside a clip of Frank Ocean singing.
"If only yall stop giving attention to irrelevant people and start giving attention to little mix #LoganPaulIsOverParty," Twitter user @sidetobass wrote.
"#loganpaulisoverparty anyways stan oscar winner miles morales," Twitter user @nataliascap wrote.
"Wbk hes trash! stan kurtis conner! #LoganPaulIsOverParty," Twitter user @tourdevessel wrote.
"Stan lesbian legend robin buckley instead of his trash ass #loganpaulisoverparty," Twitter user @alphinebbarnes tweeted.
"About time he's cancelled. stan aj mitchell #loganpaulisoverparty," Twitter user @mindofhailey wrote.