Everything to Know About Why Logic Decided to Go Exclusively With Twitch
Logic is making his grand return to social media—well, sort of.
The rapper, whose birth name is Sir Robert Bryson Hall II, announced his new partnership with live streaming video network Twitch on Monday. Speaking with The Verge, the 30-year-old said through his exclusive collaboration with Twitch he'll stream a few hours each week on the site. While music will certainly be a part of what fans get to see from him on the site—he's expected to release his last LP No Pressure during his first streaming event on Tuesday at 8 p.m. ET—followers should expect to see some gaming fun too.
"I'm not this rapper guy, man," he said. "I'm just a nerd. I love video games."
Logic added: "I'm blessed enough to have millions of fans and followers. So it is a great partnership. I'm going to bring new eyes to their service, they're going to bring new money to my bank account, and—I'm just kidding."
Although the streaming platform is coughing up a cool seven-figures for the new partnership, Logic's probably already earned his due. Despite going A.W.O.L. on social media sites like Twitter and Instagram in 2018, he's remained an active user on Twitch for nearly five years now. The rapper credited Twitch's modernization and customization tools as its biggest's attractions, noting how the streaming network enables users to block trolls and online bullies from spewing hateful rhetoric in chats at their leisure. "I think it's a powerful platform that allows me to connect with my fans in the best way possible. And the safest way possible for someone in my position," he said.
So how else does Logic plan to utilize the platform? Along with music releases and some gaming, the new father claims he'll mostly be using Twitch to relax with his fans. That means no "political debates" or rants about salacious news headlines.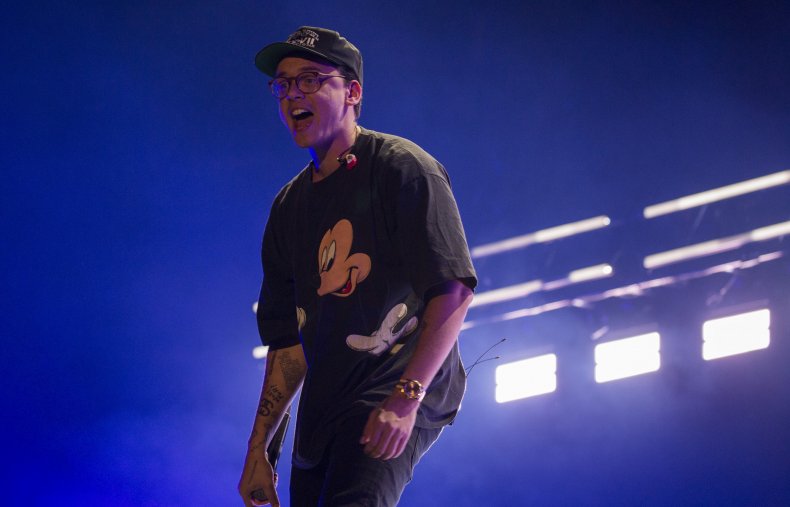 "This is the place where if you want to interact with me, you're going to do it here," Logic said. "I'm going to be on Twitch, helping people after they've had a day of protesting or political debates, unwind and laugh and smile. And if you want to know how I feel about the world, you listen to my music."
Logic first announced he was quitting social media in 2018 to reevaluate his success and his own mental health needs following the massive success of his suicide prevention awareness single, "1-800-273-8255," and divorce from his first wife Jessica Andrea. In a lengthy Instagram post, which has since been deleted, Logic explained some of the anxieties he was dealing with sparked by feelings of inadequacy, which he blamed on the "daily scroll" and endless critical comments from spectators and followers on Twitter and Instagram.
He did make a brief return to platforms in 2019 to announce the arrival of his son with his new wife Brittney Noell.