To call Lois Smith a theatrical treasure would be trite. So consider yourself warned. You may not know Smith by name, or associate her name with a face, but chances are you have seen her sometime over the past 60-plus years. She has acted in such classics movies as East of Eden, Five Easy Pieces and Lady Bird, to name a few. Depending on one's generation, TV audiences will recognize her from appearances on Route 66, ER or True Blood. And theater audiences have a wealth of memories, Foremost among them are The Grapes of Wrath, The Trip to Bountiful, The Old Friends, Marjorie Prime (in a role she reprised for the movies) and now The Inheritance. Some of the names she can drop are James Dean, Jack Nicholson, Greta Gerwig and Jon Hamm, and that's just from her work in the movies.
Even a casual glance at her résumé on the theatrical, movie and television databases would lead one to believe that she is a workaholic. She has hundreds of credits, and the lists are incomplete to say the least: No regional theater credits are available. She says it's because "I'm old," but there are no gaps, and each list features a bunch of boldface names.
Smith got interested in theater in perhaps the most subtle of ways: She acted in her father's church plays. "He loved it," she says. "He never went to the movies. I was the youngest of six children, and I used to go with him. I went to the rehearsals, and I am sure I was in some of those plays—though I don't remember. And then I happened to go to a high school where they did plays a lot."
Things really got serious when she got to the University of Washington. After marrying and moving to New York, she was quickly cast in the Broadway comedy Time Out for Ginger opposite another drop-worthy name: Melvin Douglas. It lasted a season and toured afterward, which was a good barometer of success at the time.
Soon after that, she was in The Wisteria Trees by Joshua Logan, a transplanting of Anton Chekhov's The Cherry Orchard to a plantation in the antebellum South, which starred, among others, Helen Hayes, Walter Matthau and Ossie Davis.
Russia With Love
And Chekhov in many ways has been special to Smith. "I did quite a bit of Chekhov. I did Nina, at the University of Washington. We had a semester where we did Chekhov. I got to do Uncle Vanya twice. I did Helena, and I did Sonya; so I got to do both girls in Vanya. Then later I got to do Ranevskaya in The Cherry Orchard for Irene Lewis at Center Stage in Baltimore.
"I did The Seagull, which has been my favorite since college. I always wanted to do Nina, but I never did. I had been work on Arkadina and got to do it at the Guthrie. I love to do classics and new plays. How can you choose? I often went to regional theater to do classics. I never had a chance to do them in New York."
She asks, "Did you see [Richard Nelson's] Uncle Vanya?" His adaptation of Vanya ran off-Broadway last year (which I did see).
Smith, who worked with Nelson in Vienna Notes in 1985, has become a huge fan, especially of his recent work. She cites Nikolai and the Others. "I so loved that. It's about all the Russians who had congregated in Connecticut. Composer Nikolai Nabokov is the one who everybody in the play knows." These include choreographer George Balanchine, composer Igor Stravinsky, conductor Serge Koussevitsky and painter–set designer Sergey Sudeikin.
"I really enjoyed that production a lot." When Smith gets enthusiastic, she doesn't hold back.
As for his take on Chekhov, Nelson "simply put Uncle Vanya into what has become his form." Nelson's "form" is familiar to anyone who has seen his Apple family plays, the Gabriel plays and The Michaels. It utilizes very low-key conversational staging. The audience almost feels as if it were eavesdropping, and it worked extremely well in Vanya.
A Foote in the Door
One of the highlights of New York theater in the past 20 years, and beyond really, was Smith's portrayal of Carrie Watts in Horton Foote's The Trip to Bountiful. It was a moving show. The play had originally been produced in 1953 on Broadway—at Henry Miller's Theatre, now the Stephen Sondheim—and on TV starring Lilian Gish. It was also made into a movie in 1985 starring Geraldine Page, John Heard, Carlin Glynn and Rebecca De Mornay.
One thing Smith did not have to do was block out any memories of previous actresses playing Carrie Watts. "I had seen the movie, but it was a long time ago. And I had never seen the play; I'm not sure I had ever read it. I got acquainted with it originally by myself, and I worked on it by myself."
For a modern audience Foote reworked the play. With a little snipping and little restaging Bountiful went from a three-act, multiset play to a 90-minute, one-act flexible set piece, with apparently nothing lost in the transition.
"It was most satisfying," she says. "When you try to do something like that and it really works, when every time you think there is a reason it won't, you fix the reason.
"Harris Yulin directed, and he did a truly wonderful job, just even imagining its journey, which I thought was extraordinary. It's been 50 years, and Horton started with many larges sets and a three-act play. And they discussed making it one act with no intermission. They made some cuts, and they were able to do that."
The major change came at the end of the first act.
"At the end of that time in the apartment," says Smith, "when Jessie Mae has gone off to the coffee shop, Carrie has already packed her bag and was ready to go. I had the suitcase, and I was going to go out the door at the back of the set. But there was a reason to move forward, which is to look out the window [to see Jessie Mae]. And then the whole set starts to move. When that happened the first time, the rocking chair started to rock. So we had to do something about that. I said, 'I think I can just hold onto it.' And I moved downstage and did that. Now the whole Act One apartment disappears, and the bus station begins to accumulate on stage. And I take one step, and I am in the bus station."
Most satisfying.
In addition to tightening the play, she explains, it added a dimension: "It's almost as though she invents the trip. Every time the scene changes—there must be six or seven of them—[the setting] just moved away and re-formed."
Making Trip to Bountiful a one-act play is bigger deal than it might seem: It improved the play. And while Foote was always recognized as an excellent playwright and screenwriter, his reworking of Trip to Bountiful and, later, the plays that comprise The Orphans' Home Cycle, as well as a re-worked version of The Old Friends which also starred Smith, all helped to elevate Foote's reputation so that he is now in the conversation as one of the best U.S. dramatists.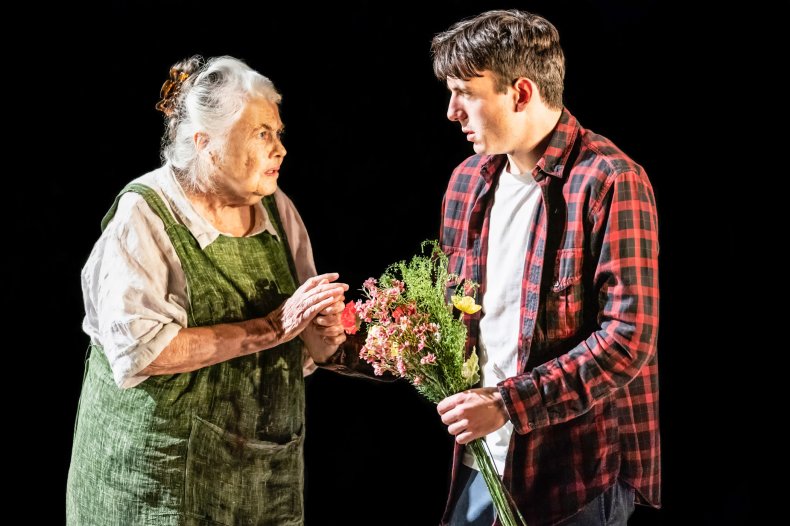 Now she portrays Margaret in Part 2 of The Inheritance, which is a wonderful tapestry of a play by Matthew Lopez on Broadway. It weaves the history of the AIDS epidemic and its aftermath with elements of E.M. Forster's Howards End. The novel is one of Smith's favorites. She waxes enthusiastic about it and all its characters.
She even made it a point to see the recent Masterpiece adaptation on PBS that was scripted by her friend, playwright Kenneth Lonergan. She is well aware of the references in the play to the novel and how those references inform the play and give in an added dimension. The play "is about the inheritance of one generation to the next, to teach, to take care of, to bring the story down from one generation to the next."
To hear Smith talk, you just know she could probably teach a class on Forster's novel right now.
As often happens this was a long journey for Smith and the play. She came in early to the project, participating in workshops. "It changed and kept evolving well into the London production. So it changed. It is daunting. Still I think I've gotten a lot better over time."
She also can sense the difference in an audience when a lot of people have seen the whole show in one day. "There are so many references both verbal and story-wise that you'd notice when are fresh. There are so many [Angels in America references]. I love Angels in America. The last time I saw it [with Nathan Lane and Andrew Garfield], I was sitting with my daughter and at the first break I nudged her and said "best play ever written." You may not get all the references, but if you have seen both, you will get some. The Inheritance is its own play, not an homage.
But Smith almost did not get the part of Margaret. When it moved to London, she was not ready to move with it. Vanessa Redgrave took over as Margaret. At that point, Smith put it out of her mind. But when the show moved to Broadway, Redgrave did not come with it, and Smith was offered the part.
That said, The Inheritance is not typical Broadway fare. It's long. It's two parts. It's about AIDS. And yet, Smith notes, "it moves. Stephen [Daldry's] staging is amazing." And while there are some rough emotional patches, the play is not a downer. When someone told Smith that "having heard about your play I just realized I can't come see it, having gone through this time," she says she understood where he was coming from. Anyone who lived through the AIDS epidemic could. Coming from someone who lived in New York and was around, if not working in, the theater, it seems that no one was untouched. But she wrote him a note him a note saying, "You don't have to avoid it. It's a balm, not an occasion for grief."
Salving Grace
In fact, for a lot of people, Smith is the balm. In Part 2, Smith tells her story: why she came to the house that has become a safe haven for victims of AIDS and why she stayed. If people have found the play rough going up to this point, her presence is maternal, nurturing and caring. She does have a story to tell, and it is a mother of a story. Which is fitting because she is the mother of this story. For almost anyone who knew someone who had AIDS, Margaret's story is their story. Margaret struggles to cope with her son's sexuality and his disease. She moves from misunderstanding to understanding to coping. Her struggle is a penance and a therapy.
As for the production, Smith has nothing but respect for her fellow cast members: "The guys in my company, they work so hard!" she says. "Both plays are long, and three times a week they do Parts 1 and 2."
As does she.
While Smith's time on the stage might seem short in relation to the show's running time, hers is no cameo appearance. In the script, some of Margaret's speeches fill the page. And on the Barrymore's bare stage, there are no places to hide any crib notes. Smith is up there without a net, and it is a marvel to watch her give a Tony-worthy performance. Like a Stephen Sondheim song, Margaret's part is a perfectly integrated one-act play. And Smith is a powerful presence. She comes and soothes the nerves of the characters and the audience.
Talking with Smith for even a short time one can see where this comes from. She is confident and calm, and she exudes fervor and goodwill. After more than 60 years in show business, she is not the least bit jaded. She can still get worked up like a young Midwestern drama student over an Inheritance, a Horton Foote, Matthew Lopez or Greta Gerwig. And that innate excitement and openness spills over into her performance.
For anyone on Team Lois, which is a big team, she truly is a treasure. (You can't say you weren't warned.)
The Inheritance and The Inheritance Part 2 are playing at the Ethel Barrymore Theatre through March 15. For more information on scheduling and tickets go to TheInheritancePlay.com.