'Loki' Episode 4: Post-Credits Scene Explained
Loki Episode 4 featured the Disney+ series' first post-credits scene, and it was well worth the wait.
After a frantic episode of action, twists and turns, the post-credits scene opened up a world of new story lines and introduced at least three new characters that are sure to shake up the rest of the season.
Spoilers only from here on out as we dissect the mind blowing post-credits scene seen at the end of Loki Episode 4.
What Happens in the Post-Credits Scene?
The final set piece of Episode 4 is bad news for the titular hero Loki (Tom Hiddleston) as he's pruned, i.e. evaporated, by Judge Ravonna Renslayer (Gugu Mbatha-Raw) of the TVA. It's the same fate that Mobius M. Mobius met earlier on in the episode and we're led to believe that both are now dead.
Maybe there's life in them both yet, as the post-credits scene opens on Loki's face, gasping for breath. He's alive.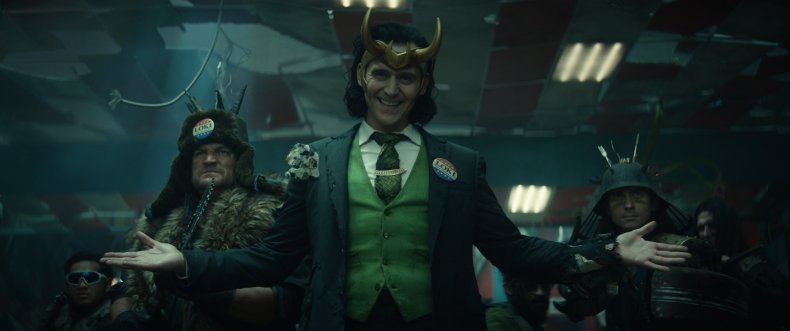 Without seeing his surroundings, he says aloud "is this hell? Am I dead?" before a mysterious voice off screen tells him "not yet."
Loki slowly looks up and sees three Asgardian figures, with two of them wearing strikingly similar clothing to Loki himself.
In the background they appear to be surrounded by earth buildings that have been demolished. One of the buildings which sits askew in the top right corner of the screen bares a resemblance to the Avengers Tower which suggests this could be New York City in an alternative reality and timeline.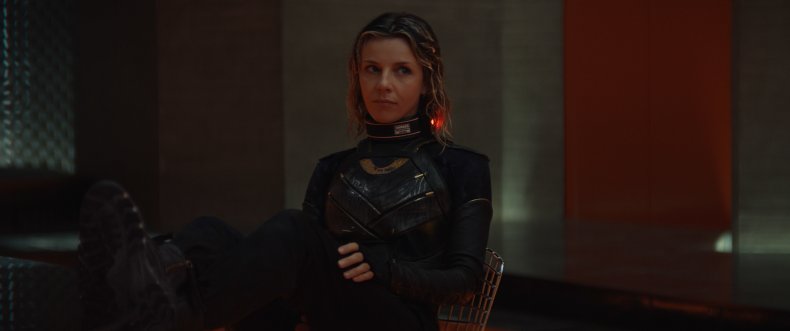 Who Are the Characters We See in the Post-Credits Scene?
The three figures may be familiar to Marvel fans who know the comics.
The central figure looking over our Loki is a lot younger than him and he's holding a crocodile which is wearing the Loki head guard. It's safe to assume that this a character known as Kid Loki or Young Loki from the comic books. In Loki, this character is being played by British actor Jack Veal.
Standing to the right is a man wearing a costume that looks like a dated superhero outfit, similar to Vision's Halloween costume in Wandavision. He's also wearing Loki head gear. What's notable about this character is that he's played by Oscar-nominated actor Richard E. Grant who's making his MCU debut. It was known prior to the series launching that Grant would be joining in an unknown role but Marvel had remained tight-lipped on the name of his character.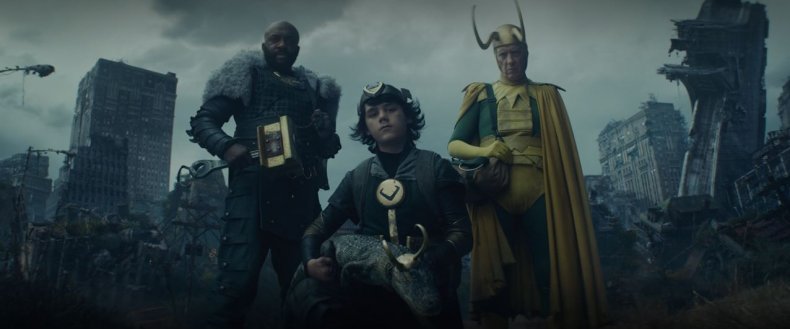 Finally the figure on the left of the final shot looks very different to Loki but he could still be Asgardian. He's a bald Black man with a beard dressed in warrior garbs. Interestingly he's holding some sort of large hammer that has a metal head. An Asgardian wielding a large hammer—could this be an alternate version of Thor? Whoever he is, this character is played on screen by DeObia Oparei who previously appeared in Game of Thrones and Sex Education.
What Happens in 'Loki' Next?
Episode 5 of Loki, the penultimate episode of the season, arrives on Disney+ next Wednesday July 7, 2021.
With only two episodes left, the series has a lot of questions to answer in that time as we find out who created the Time-Keepers, what happened to Mobius M. Mobius, and who the three strangers standing above Loki are.