Lola Bunny's Desexualized 'Space Jam 2' Redesign Sparks Intense Debate
Lola Bunny looks a little different in the new Space Jam movie Space Jam: A New Legacy and her new desexualized appearance has sparked a debate on social media.
In the original 1996 Looney Tunes movie, starring Michael Jordan, the anthropomorphic rabbit Lola Bunny had more of an hourglass figure and wore small shorts and a cropped sports top. Around the release of the first film in 1996, animator Tony Cervone said: "We kind of pumped her up more in the feminine attributes department."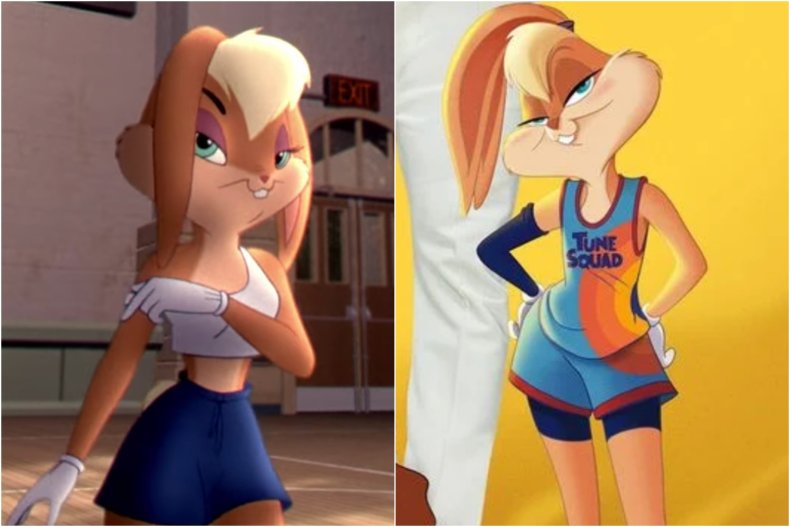 But director of Space Jam: A New Legacy, Malcolm D Lee, told Entertainment Weekly that he was caught off guard by the first movie's "very sexualized" depiction of Lola Bunny, and said: "This is 2021. It's important to reflect the authenticity of strong, capable female characters."
The new movie, which stars LeBron James and will be released in the U.S. on July 16, 2021, sees Lola Bunny transformed into a less sexualized character, with her body appearing less womanly and more rabbit-like. The new Lola has also switched out the mini shorts and sports bra for a baggy jersey and shorts outfit.
However, Lola Bunny's new appearance has sparked a debate on Twitter, with some users upset with her new look, while others are claiming that her appearance is only part of why she was sexualized.
Actress Liz Katz shared an image of a fanart drawing of original Lola Bunny (which has been drawn to look even more human-like) next to the modernized version side by side and said: "The Pandemic hit Lola Bunny hard."
Although the new Lola Bunny appears to be less sexualized, the fanart drawing—which accentuates Lola Bunny's features—is being shared widely on Twitter, making it appear as though the makeover is more extreme than it is.
YouTuber Jenny Nicholson said: "Will Space Jam 2 take the Sonic Movie approach and bow to fan pressure, delaying production a year and forcing animators to crunch to make Lola Bunny's design much much hornier".
Comedian Rajat Suresh said: "Space jam 2 scene: / LeBron James: hello Lola you do not make anyone horny. I respect you for basketball / Lola bunny: thank you"
Some fans may be wondering if the modernized version of Lola Bunny will extend to how her character is perceived by the other characters, like film critic Scott Mendelson, who said: "Everyone's pissed about Lola Bunny cause [half] of us are complaining about PC cancel culture and the other [half] knows the 'problem' wasn't how Lola looked in Space Jam but how she was viewed and treated (sexualized love interest and a damsel) by the filmmakers and the other characters."