Lolita, the famous captive orca at Miami Seaquarium in Florida, has fallen ill with an unknown condition.
The Miami Seaquarium confirmed on February 7 that 56-year-old Lolita had some abnormalities in her bloodwork as she began to feel "under the weather," the Palm Beach Post reported. The statement, which was attributed to head veterinarian at the park, Shelby Loos, said that despite her advanced age, she is steadily improving and feeling much better.
Lolita, also known as Tokitae, was brought to the Miami Seaquarium in 1970 when she was four years old. When she first came to the Seaquarium, she lived alongside another orca called Hugo.
They lived together for about 10 years until Hugo died of a brain aneurysm in 1980. Since then, she has lived alone without other orca for company.
Orcas are highly social animals. They live in pods in the wild, alongside family members.
Lolita is one of the most famous orcas living in captivity today. She is the last surviving orca out of 45 that were captured and delivered for display in aquariums between 1965 and 1973. These were some of the first orcas ever kept in captivity.
Captive orcas have been used primarily to perform in shows, however this stopped after a series of incidents. SeaWorld's captive orca Tilikum killed three people during the time he performed in the park's theatrical shows. The 2013 documentary Blackfish, which told Tilikum's story, caused widespread outrage and eventually lead to SeaWorld ending its orca breeding programme, and phasing out shows.
Lolita is one of around 20 orca remaining in captivity in North America today.
Her health was flagged by the People for the Ethical Treatment of Animals (PETA) in a statement released on February 6. PETA claimed that the orca was "deathly ill" with pneumonia.
The aquarium has not confirmed what condition Lolita is suffering from, the Palm Beach Post reports. Loos said she is working closely with a "dedicated, loving team of veterinarians and caregivers" in nursing the orca back to health. They are also consulting with several other expert veterinarians including Michael Renner, who has worked with Lolita for years.
On 8 Feburary, the aquarium held a Facebook live, which can be seen here, talking about Lolita's health and wellbeing.
Newsweek has contacted the Miami Seaquarium for a comment.
The conflicting reports on Lolita's health has caused concern among animal welfare groups.
Charles Vinick, Executive Director of the Whale Sanctuary Project, which has been campaigning for better conditions for the whale, told Newsweek that the reports underscore an "urgency" for a thorough evaluation.
We have seen PETA's statement that she is deathly sick, and the Miami Seaquarium's video with their trainers commenting on how well she is," he said. "The
only way for the public to fully know her condition and to trust what we are hearing from so many divergent sources is for the Miami Seaquarium and the authorities to welcome an independent assessment of her health and to help determine what is best for her future welfare. We, in the Whale Sanctuary Project, are prepared to help in every way."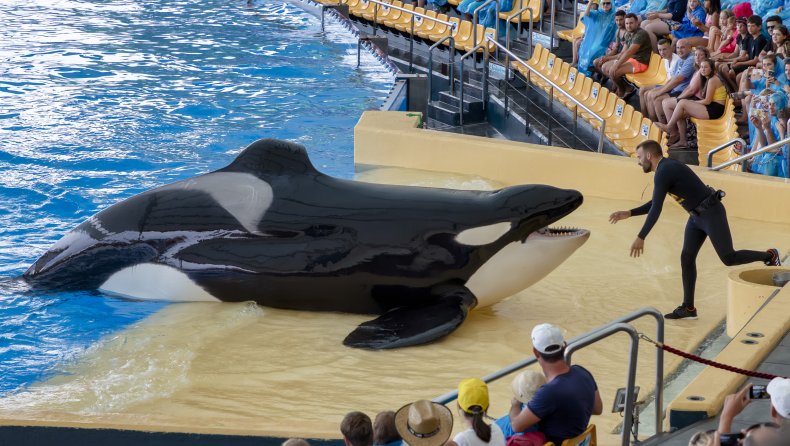 Lolita's situation has been a source of controversy among animal rights activists for years. The Whale Sanctuary Project, said that her living conditions at the attraction were "legally and ethically unacceptable."
In October 2021, a report from the United States Department of Agriculture (USDA) raised concerns following an inspection of the aquarium conducted in June. It said that the Seaquarium's management had been ignoring the recommendations of its in house veterinarian who at the time was Magdalena Rodriguez. Rodriguez left the post shortly afterwards.
Naomi A Rose, a marine mammal scientist at the Animal Welfare Institute, told Newsweek said she was concerned for Lolita's health and the conditions she is kept in: "The size of her tank doesn't allow her to behave in anything even approaching a natural way," she said. "The June inspection report was the worst I have seen in my career—and described conditions that were far worse than I even imagined they were. If in fact Lolita has pneumonia, she is in grave danger and, in my opinion, [the USDA] absolutely must step in directly to protect her now."
This article has been updated to include quotes from Charles Vinick and Naomi A Rose