Lollapalooza has dropped DaBaby from its lineup after the rapper made homophobic comments onstage at the Rolling Loud Miami music festival.
"Lollapalooza was founded on diversity, inclusivity, respect, and love," representatives of music festival said in a tweet. "With that in mind, DaBaby will no longer be performing at Grant Park tonight. Young Thug will now perform at 9:00pm on the Bud Light Seltzer Stage, and G Herbo will perform at 4:00pm on the T-Mobile Stage."
Newsweek reached out to representatives for DaBaby and Lollapalooza for further comment but had not heard back Sunday afternoon.
DaBaby—whose given name is Jonathan Lyndale Kirk—made widely condemned comments about gay people and people living with HIV/AIDS.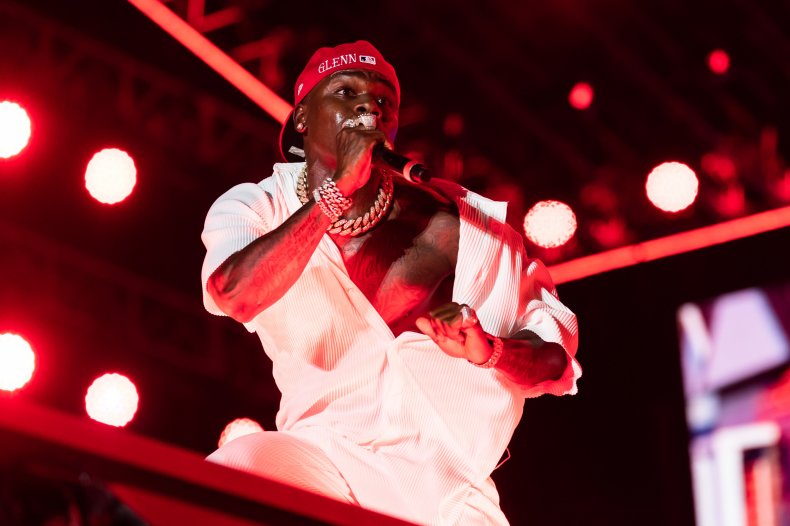 "If you didn't show up today with HIV, AIDS, any of them deadly sexually transmitted diseases that'll make you die in two or three weeks, put your cellphone light in the air," the rapper said during his Rolling Loud Miami set.
"Ladies, if your p**** smell like water, put your cellphone light in the air. Fellas, if you ain't suck a n**** d*** in the parking lot, put your cellphone lights in the air. Keep it f****** real," he told the audience.
His comments sparked widespread criticism.
Rupaul's Drag Race Star Trinity K. Bonet tweeted: "Hey @DaBabyDaBaby undetectable = untrabnsmittable ... U = U ...that will educate you on at-least one of them dumb a** comments you made.."
Dua Lipa, who collaborated with DaDaby on her hit song "Levitating," said in an Instagram story that she was "horrified" by his comments.
"I am surprised and horrified at DaBaby's comments. I really don't recognise this as the person I worked with," she wrote. "I know my fans know where my heart lies and that I stand 100% with the LGBTQ community. We need to come together to fight the stigma and ignorance around HIV/AIDS."
Elton John also condemned the remarks on Twitter.
"We've been shocked to read about the HIV misinformation and homophobic statements made at a recent DaBaby show. This fuels stigma and discrimination and is the opposite of what our world needs to fight the AIDS epidemic," he wrote.
The rapper doubled down on his comments in a series of Instagram stories in response to the backlash: "What I do at a live show is for the audience at the live show," he said. "It'll never translate correctly to somebody looking at a little five, six-second clip from their god**** crib on their phone. It just don't work like that."
He went on to say that he had gay fans at the show, and that they "don't got AIDS."
"My gay fans, they take care of theyself, they ain't going for that. They ain't no nasty gay n*****. They ain't no junkies on the street," he said. "I said, if you ain't sucking d*** in the parking lot, put your cellphone light up. You know what my gay fans did? Put that mother******* light up. My gay fans, they ain't going for that. They got class. They ain't sucking no d*** in no parking lot. You gotta get a room, a good one—five-star hotel.... Even my gay fans got standards."
He has since apologized for the remarks on Twitter.
"Anybody who done ever been effected by AIDS/HIV y'all got the right to be upset, what I said was insensitive even though I have no intentions on offending anybody. So my apologies," he wrote. "But the LGBT community... I ain't trippin on y'all, do you. y'all business is y'all business."