London Attack: Donald Trump Offers 'Full Support' to Theresa May as World Leaders Condemn Violence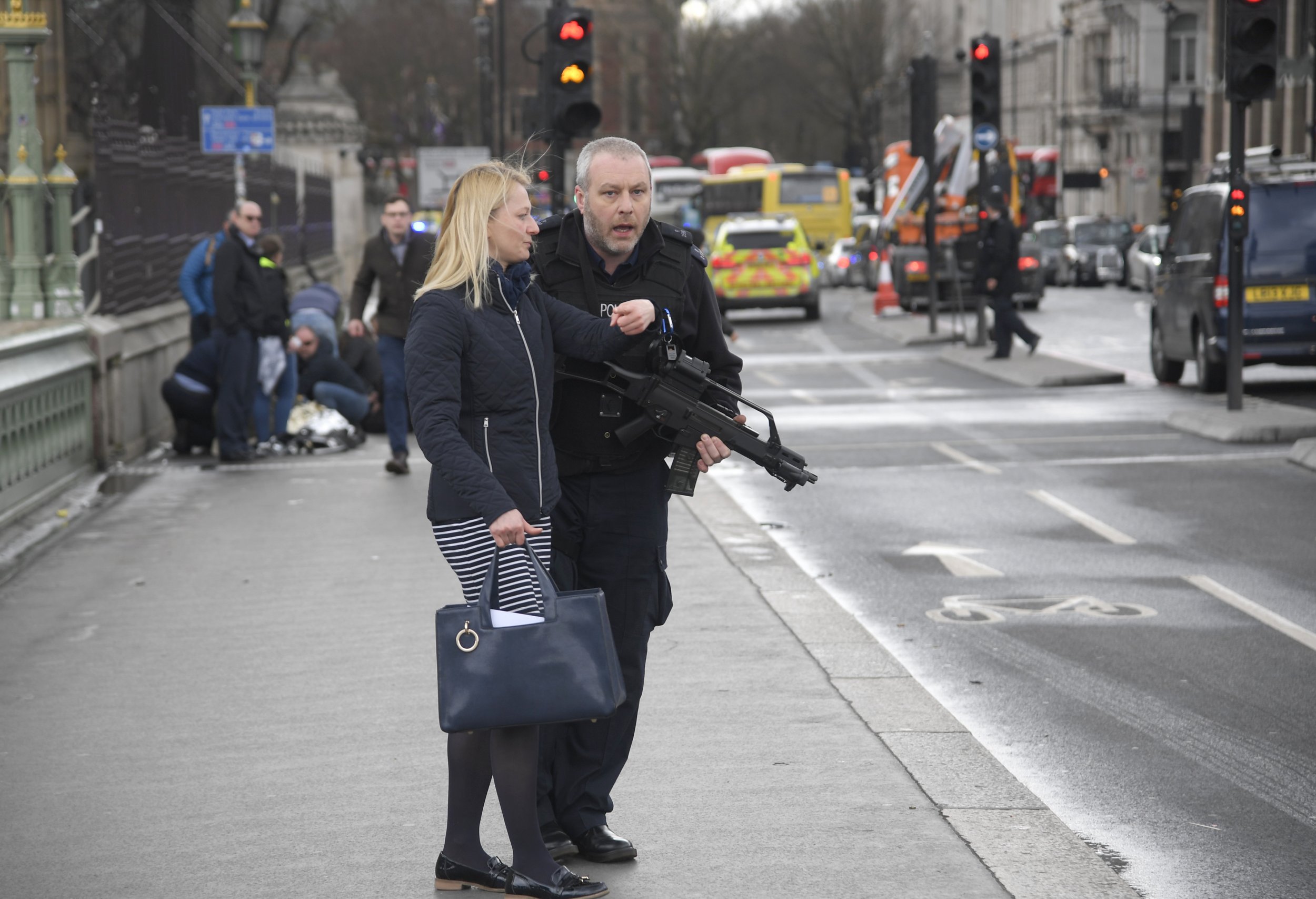 World leaders have united in condemnation of a suspected terrorist attack in London on Wednesday, which left at least three people dead and 20 others injured, according to police reports. A man thought to be the attacker died after being shot by the police.
U.S. President Donald Trump spoke with British Prime Minister Theresa May following the attack. "He pledged the full cooperation and support of the United States Government in responding to the attack and bringing those responsible to justice," said a White House readout of the call emailed to Newsweek .
French President Francois Hollande expressed his "solidarity" with the British people, while Belgian Prime Minister Charles Michel—whose country marked the anniversary of the deadly 2016 attacks in Brussels on Wednesday—said that his country "stands with [the] U.K. in [the] fight against terror."
German Chancellor Angela Merkel was "deeply shocked" by the attacks, according to a statement from the German Embassy in London.
The Metropolitan Police said that an attacker drove a car across Westminster Bridge, a site popular with tourists and close to the Houses of Parliament, mounting the pavement and hitting multiple pedestrians.
The attacker then crashed the car into the railings before exiting it and attempting to enter the parliamentary complex. He fatally stabbed a police officer and in turn, was shot by armed police. Metropolitan Police Assistant Commissioner Mark Rowley told reporters that the attacker has died and that police believed there was only one attacker.
Rex Tillerson, the U.S. Secretary of State, said in a statement that "the American people send their thoughts and prayers" to the U.K. "We condemn these horrific acts of violence, and whether they were carried out by troubled individuals or by terrorists, the victims know no difference," said Tillerson.
"Terrorism concerns us all and France knows what the British people are suffering today," President Hollande said in a statement. France has witnessed several deadly attacks in recent years, including attacks in Paris in November 2015 that killed 130 people.
Several leading candidates in the French presidential election, due to be held in April-May, also shared their condolences. National Front leader Marine Le Pen tweeted her "friendship and support" to the victims, while the center-right Republican presidential candidate Francois Fillon assured the British people of "my support and my solidarity" following the act of "barbarism."
Donald Tusk, the president of the European Council, said that his thoughts were with the victims. "Europe stands firm with the U.K. against terror and ready to help," said Tusk. Danish Prime Minister Lars Rasmuss said that he was "horrified by the images from London" and offered his support to our "British friends."
Canada's Prime Minister Justin Trudeau tweeted that Canadians "remain united with the people of the U.K.