London Bridge Attack As It Happened: Police Arrest 12 After Seven Killed in British Capital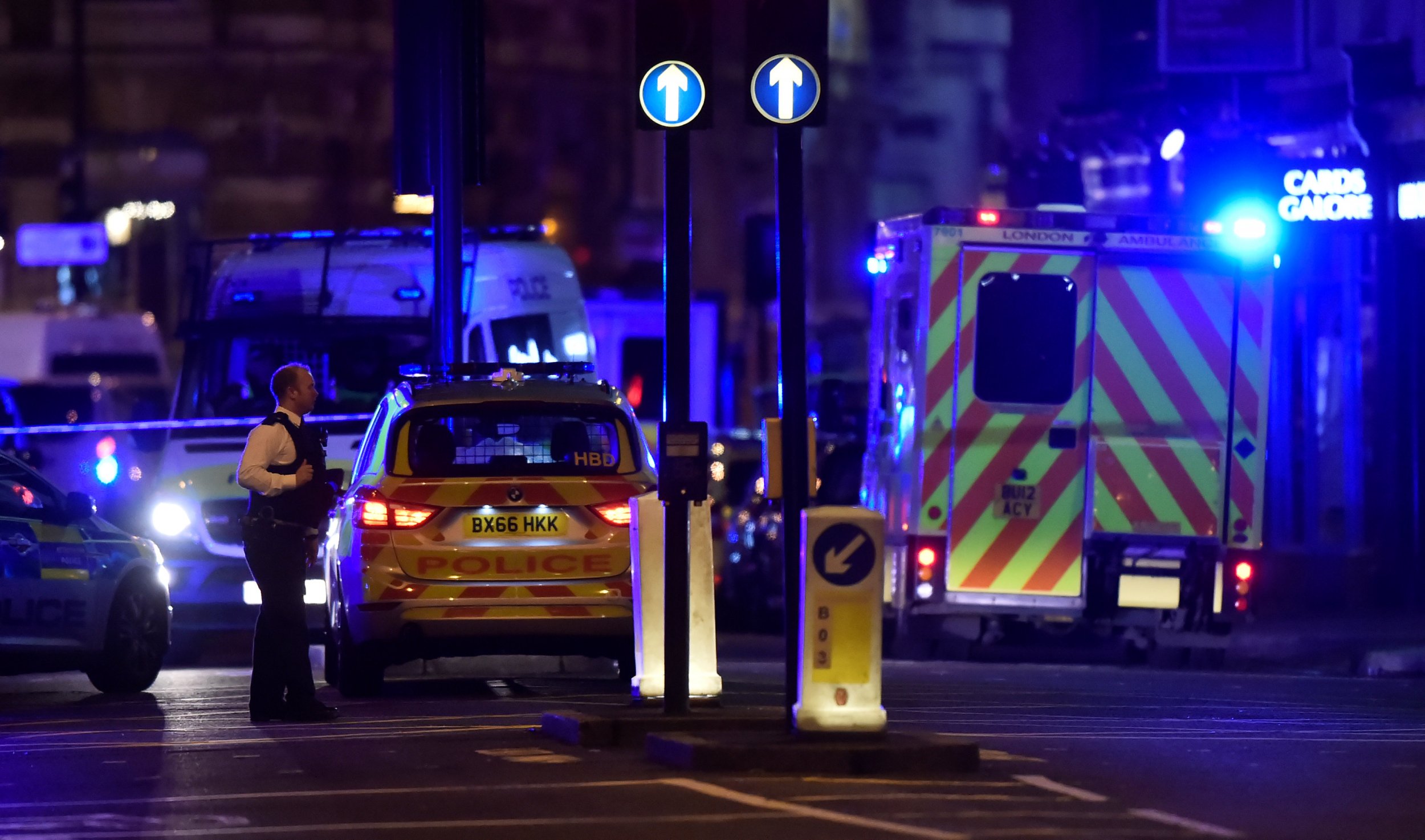 This live blog has now been closed. Please check out Newsweek for updates on the London attacks.
The attack was launched on Saturday night, with terrorists running a van into pedestrians on London Bridge, and stabbing several people in Borough Market before being shot dead by police.
Seven people were killed in what London police are calling two "terrorist incidents" at London Bridge and Borough Market late Saturday night.
Police believe three suspects, who have yet to be identified, were involved and they have all been shot dead. No one has claimed responsibility for the attacks.
Armed police responded to a van reportedly running into pedestrians at London Bridge before suspects exited the vehicle and began stabbing individuals at Borough Market.
At least 48 people have been taken to five hospitals across the capital to be treated for their injuries. Some are in a serious condition. Some wounded were treated at the scene or at a rescue center set up in a hotel in Liverpool Street.
Police say a stabbing in Vauxhall was not related to incidents at London Bridge and Borough Market.
Campaigning for the U.K. general election has been suspended, with the Conservatives and SNP announcing they will not campaign today, and other parties expected to follow suit.
Prime Minister Theresa May has spoken outside Downing Street and vowed a new battle against Islamic extremists: "Enough is enough," she said.
At least 12 people have been arrested in Barking, east London, in connection with the attack.
Related: Witnesses in London describe chaotic scenes: 'Everyone please be safe'
THE LATEST
15.12 p.m. - London's mayor Sadiq Khan said he had "more important things to do" than respond to Donald Trump's "ill informed" tweet criticizing him in the wake of the London terror attack.
14.32 p.m. - The BBC is reporting that one of the attackers lived at the address in Barking raided earlier.
Neighbours said the man was married, with two children, and had lived at the address for around three years.
14.14 p.m. - More accounts are emerging of the heroism of Londoners who tried to stop the attacks.
A taxi driver called Chris told London's LBC that after seeing a "young girl stabbed in the chest" on London Bridge, the driver told his customer he was "going to ram him".
Chris continued: "I turned around and tried, but he side-stepped me.
"I spun the cab round, I was about to ram one of them, but he side-stepped and three police officers came running towards them with their batons drawn, they didn't know what was happening.
"There was a guy with a really long blade randomly stabbing people. I told people to turn around and run away."
Chris said the attack sickened him "to the pit of my stomach."
Another taxi driver, Ashka Patel, told Sky News that a passenger had left his vehicle and managed to act as a barricade, preventing the attackers entering a restaurant.
Patel said she held the door for "a few seconds" befire being overpowered, allowing people to escape from the back entrance of the Black and Blue restaurant.
He said: "She knew they were bad people trying to break in."
"People managed to escape through the rear door possibly saving a good 20 people's lives."
13.56 p.m. Pope Francis called on Catholics to pray for the victims of the London attack.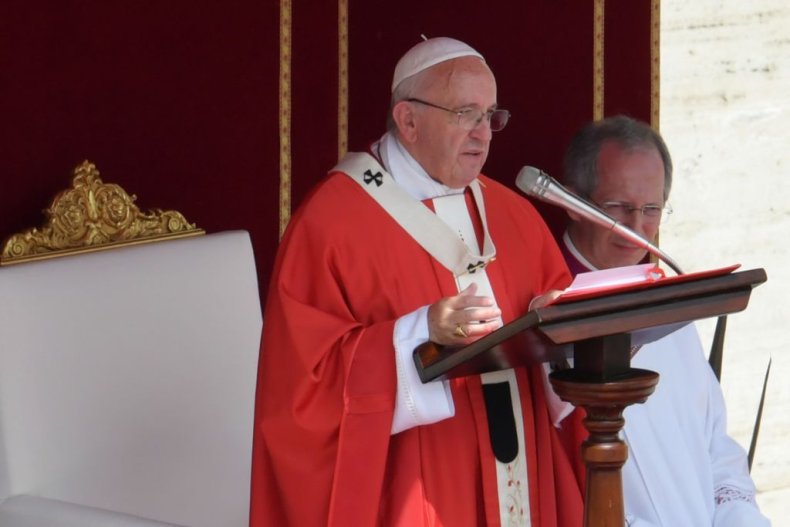 Speaking on the weekend of Pentecost in St. Peter's Square, with an audience of 60,000 people, he said: "The Holy Spirit may support the mission of the Church in the entire world and give strength to all missionaries of the Gospel.
"May the Spirit give peace to the entire world; heal the plagues of war and of terrorism, that even [on Saturday], in London, hit innocent civilians; let's pray for the victims and for their families."
13:31 p.m. - Meanwhile our reporter Jack Moore has more on the security implications of last night's attack and the comments from British Prime Minister Theresa May about a new battle against Islamic extremists at home and abroad.
13:28 p.m. - Our reporter Sofia Lotto Persio has been on the scene near London Bridge talking to those who were caught up in last night's attack. She has found Londoners and tourists alike keen to 'Keep Calm and Carry On'.
13:25 p.m. - Police have arrested 12 people in Barking, east London, in connection with the London attacks.
Earlier reports said an apartment block in Barking had been raided, and a witness told the Telegraph a suspect trying to escape shot by police.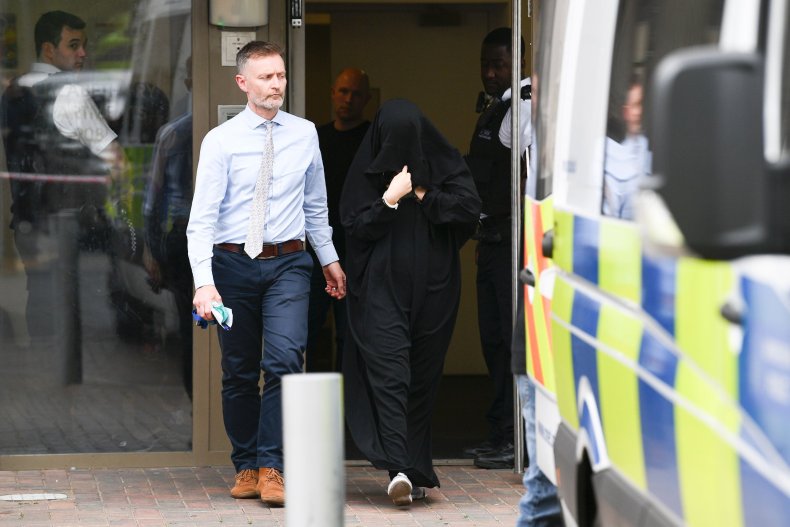 "The investigation into last night's horrific attack in London is progressing rapidly as the Metropolitan Police Service (MPS) continue to piece together exactly what occurred," the police statement reads.
"Officers from the Met's Counter Terrorism Command have this morning, Sunday 4 June, arrested 12 people in Barking, east London, in connection with last night's incidents in London Bridge and the Borough Market area. Searches of a number of addresses in Barking are continuing."
12.55 p.m. - U.S. President Donald Trump has again tweeted about last night's terror attack in London. In the wake of the attack Trump tweeted that the attack showed the necessity of imposing a "Travel Ban" and an "extra level" of security.
12.10 p.m. - The lights of the Eiffell Tower will be turned off a little at a quarter before 1.a.m. tonight in tribute to the victims of the London attack.
11.58 a.m. - Australian Prime Minister Malcolm Turnbull has conformed that two Australians are amongst those caught up in the attack.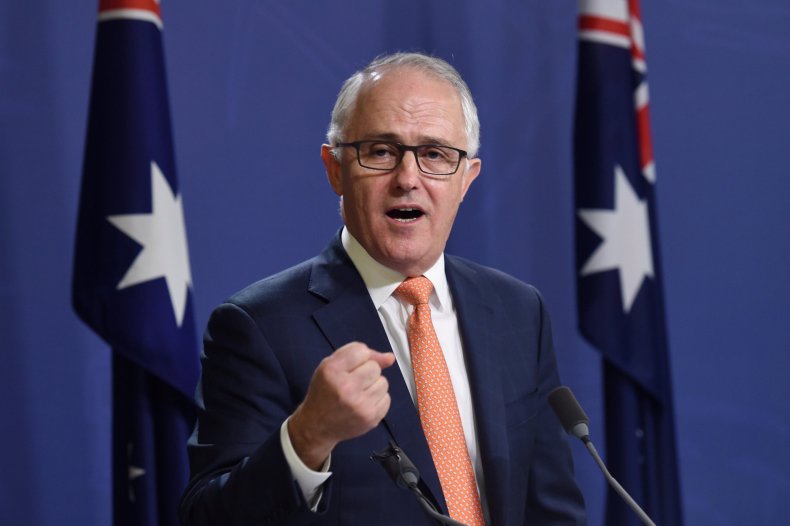 Candice Hedge, 31, is one of the victims, reported the Courier Mail. According to the report she was having a drink in a bar with her boyfriend when an attacker came up behind her, grabbed her head, and slashed her throat.
She has reportedly woken from a coma and is now awake and talking to friends.
11.44 a.m. - Police and security services are recommending the threat level is not raised from its current level of "severe," meaning an attack is highly likely, to "critical," meaning an attack is imminent, Home Secretary Amber Rudd said in an ITV interview, following an assessment by the Joint Terrorism Analysis Centre (JTAC).
She said: "We don't believe there are additional elements which could be carrying on the attack last night. JTAC has made that assessment, so they haven't recommended going to critical. We can't be 100% sure, the police are still carrying on their operation, but if JTAC thought there were more people out there who could be extending this attack I expect they would have considered raising it. We're staying at severe because we think they have caught all the main perpetrators."
In the wake of the Manchester attack, the threat level was raised to "critical," as investigators did not know whether or not other people involved in the attack were still free and preparing further attacks.
11.03 a.m. - According to reports, police have conducted raids in an apartment block in Barking, east London. Sky News is reporting that the raids are linked to the attack. The Telegraph is reporting that five people have been arrested.
A Met Police spokesman told Newsweek the force was providing no information on the raids at this time, and would not confirm if they were linked to the terror attack on Saturday.
Witness Tara Milan, 24, told the Telegraph a suspect was shot by police trying to flee. Footage and pictures show an ambulance outside the block.
10.53 a.am. - May said that that "we are experinecing a new trend" in terrorism, with terrorists inspired to act by other attacks. She said that police and security services had disrupted five credible plots since the Westminster attack in March.
"Our country has made significant progress in disrupting plots and protecting the public," she said.
"But it is time to say enough is enough. Everybody needs to go about their lives as they normally would.
"Our society should continue to function in accordance with our values but when it comes to taking on extremism and terrorism things need to change."
Mrs May said that General Election campaigning will resume tomorrow and that polling day on June 8 will go ahead as planned.
The Prime Minister struck a tougher tone than in her speech after the Manchester attack, and said that "things need to change" in the fight against terror and that the UK "cannot and must not pretend that things can continue as they are" and plans to bring in longer sentences of terror offences and to review the Government's counter terrorism strategy.
She said the attacks are connected in "one important sense".
"They are bound together by the single evil ideology of Islamist extremism that preaches hatred, sows division and promotes sectarianism," she said.
"It is an ideology that claims our Western values of freedom, democracy and human rights are incompatible with the religion of Islam.
"It is an ideology that is a perversion of Islam and a perversion of the truth.
"Defeating this ideology is one of the great challenges of our time but it cannot be defeated through military intervention alone."
10.44 a.m. - In a statement outside Downing Street, Prime Minister Theresa May said that there is too much tolerance of extremism in the U.K., and recent attack plots have all been bound together by Islamist extremism.
10.22 a.m. - Russian President Vladimir Putin has condemned the "cruelty and cynicism" of the London attacks and called for greater cooperation against terrorism.
"This crime shocks with its cruelty and cynicism," the Russian leader was quoted as saying later in a telegram to British Prime Minister Theresa May.
"The Russian president expressed his certainty that the common response to what has happened should be an increase in combined efforts in the fight against the forces of terror around the world," the Kremlin said.
10.12 a.m. -Here is the full statement by Met police chief Cressida Dick, who said officers "believe this incident is under control". She said it is a "fast-paced investigation" with "very significant resources deployed".
9.53 a.m. - Whitehall officials have told BBC security correspondent Frank Gardner that it is too early to tell if the attackers were "subjects of interest" to the police or the U.K's domestic intelligence agency, MI5.
British security services are currently monitoring 3,000 people, with 500 plots being investigated.
9.41 a.m. - A witness told the BBC that the attackers shouted "this is for Allah" as they stabbed victims.
"They were running up shouting, 'This is for Allah.' They stabbed this girl maybe 10 times, 15 times. She was going, 'Help me, help me,'" said the witness, Gerard.
Gerard said he chased the attackers, who were running into pubs and bars, and threw bottles, chairs and other items to try to stop them.
10.05 a.m. -Here is the full statement by Met police chief Cressida Dick, who said officers "believe this incident is under control". She said it is a "fast-paced investigation" with "very significant resources deployed".
9.35 a.m. - The death toll from last night's terror attack has risen to seven, Metropolitan Police Commissioner Cressida Dick said.
9.18 a.m. - Greater Manchester Police have confirmed that tonight's One Love benefit concert in the city for the victims of the Manchester attack will go ahead. A testimimonial match for Manchester United soccer player Michael Carrick will also go ahead.
22 people were killed in the attack after an Ariana Grande gig in Manchester Arena on May 22. Earlier, the singer tweeted her support for victims of the London attack.
"Praying for London ♡," she tweeted.
9.03 a.m. - German chancellor Angela Merkel expressed her "sadness and dismay" at news of the attack.
"Today, we are united beyond all borders in horror and sorrow, but also in determination.
In the fight against every form of terrorism, we stand firmly and with determination at Britain's side," said Merkel in a statement.
8.47 a.m. - Horrific accounts are emerging of last night's attack. Moments after the van crashed on London Bridge, a couple named as Ben and Natalie described to the Telegraph seeing one of the attackers "calmly" stab a victim.
Ben said: "I saw a man in red with quite a large blade, I don't know the measurement I guess maybe 10 inches. He was stabbing a man… he stabbed him about three times fairly calmly.
"It looked [like] the man had maybe been trying to intervene but there wasn't much that he could do, he was being stabbed quite coldly and he slumped to the ground.
The attacker and another man walked off quite "boldly".
"A table was thrown, a bottle was thrown at the individual with the knife and then we heard three gunshots and we ran," he added.
8.28 a.m. - U.K. government ministers are reportedly arriving at Downing Street for a meeting of the Cobra emergency committee. Amongst those attending is London mayor Sadiq Khan.
Earlier, Khan said that though campaigning was suspended today, Thursday's general election should go ahead.
"They [the terrorists] want to stop us enjoying the freedoms that we have … they want to stop us voting on Thursday in the general election … we can't allow them to do that.
"I'm not an advocate of postponing the election, I'm a passionate believer in democracy … One of the things these terrorists hate is democracy.
"People should remain calm and vigilant, carry about their normal business."
8.17 a.m. - The French president's palace has confirmed that French citizens were amongst those injured in the attack.
An Elysee Palace spokesperson said: "The attack which struck London, days after that which took place in Manchester, is a new abominable and cowardly attack against our free society. Fellow French citizens are among the injured. France is putting everything in place to assist them."
8.00 a.m. - Sky News now reporting that the attackers were killed 'within eight minutes' of the attack beginning.
7.00 a.m. - London's mayor, Sadiq Khan has spoken out about the attack in London.
"We don't yet know the full details, but this was a deliberate and cowardly attack on innocent Londoners and visitors," Khan said. "I condemn it in the strongest possible terms. There is no justification whatsoever for such barbaric acts," he added.
Britain's Conservative party has also announced that it is suspending its election campaign. The general election is due to be held in Britain on June 8.
5:00 a.m. - British Transport Police's Chief Constable Paul Crowther and Divisional Commander Chief Superintendent Martin Fry visited the British Transport Police officer seriously injured by attackers at Borough Market.
"Again, our thoughts and sympathies are with those who have been injured in and affected by this horrific incident, including one of our own," Crowther said, according to an official statement by the British Transport Police.
"We have implemented our strategic command structure and are working closely with the Metropolitan Police Service and other agencies in these early stages of the investigation," he added. "We would ask the public to remain calm, vigilant and alert, and to report any suspicious behaviour to the police on 0800 789 321."
4:4o a.m. - London police's assistant commissioner, Mark Rowley, gave an official sequence of events as authorities believe they transpired. At around 10 p.m., three male suspects in a van deliberately ran into people on the London Bridge and continue to drive to Borough Market. The perpetrators then exited the vehicle and began stabbing bystanders, including an off-duty British Transport Police officer responding to the vehicular attack at London Bridge. He reportedly sustained non-life-threatening injuries. Armed police then shot dead the suspects within eight minutes of the first call. Explosive vests worn by the attackers were later determined to be fake.
4:26 a.m. - London Ambulance Service has updated its previous figures, saying it has now taken in more than 30 patients to five hospitals across London, with additional patients treated on-site. In an official statement, the service said it dispatched over 80 medics in response to Saturday's attacks, including ambulance crews, advanced paramedics, specialist response teams and an advanced trauma response team from London's Air Ambulance.
4:14 a.m. - U.S. President Donald Trump, who earlier commented on the attacks via Twitter, has spoken with British Prime Minister Theresa May over the phone. According to an official White House statement, Trump "offered his condolences for the brutal terror attacks" and "praised the heroic response of police and other first responders." He said the U.S. offered its full support to help investigate the deadly incident, considered an act of terrorism by London police.
4:07 a.m. - Police say they believe three suspects were involved in the attacks, and they are all dead.
"Our current belief is that there were three attackers, but this is early on, so we still got some inquiries to work through to be completely confident about that," a police spokesperson said, referring to the attacks as "protacted incidents" that began on London Bridge and ended in Borough Market.
3:58 a.m. - Police announced that six people were killed and three suspects shot dead after Saturday's attacks at London Bridge and Borough Market, according to NBC News. Police also reportedly told reporters that explosive vests worn by attackers were fake.
3:42 a.m. - Three major London hospitals-Guy's, St. Thomas' and Evalina London-have been put on lockdown due to the attacks at the nearby London Bridge. The decision was made "to keep patients, relatives and staff safe," according to a social media statement.
3:22 a.m. - Sky News reports that police are still trying to locate one suspect potentially involved in Saturday's deadly attacks at London Bridge and Borough Market. Authorities continue to advise citizens to "run, hide, tell." No official figures have been released as to the number of suspects or casualties.
3:17 a.m. - BNO News advises those concerned about loved ones after the attacks to contact 0800 096 1233 or 020 7158 0197 (+44 20 7158 0197). The number leads to London police's Casualty Bureau and authorities said the line was "not for general inquiries."
3:14 a.m. - The U.S. Department of Homeland Security released a statement saying it was "closely monitoring the ongoing situation in the United Kingdom." The department said it was coordinating with authorities in the U.K. and that any U.S. citizens in the area could contact the U.S. Embassy in London for assistance. According to the statement, Secretary of State Rex Tillerson has been briefed on Saturday's attacks in London.
2:53 a.m. - New York State Governor Andrew Cuomo tweeted, saying his "heart goes out to the victims of the shocking incidents in London." He also said he directed local law enforcement to "step up security and patrols at high-profile locations across New York."
2:47 a.m. - London Ambulance Service Assistance Director Peter Rhodes released a statement confirming emergency services took in "at least 20 patients to six hospitals across London" as a result of the attack at London Bridge. Rhodes said first responders had also treated people on the scene for "less serious injuries."
2:27 a.m. - NATO Secretary-General Jens Stoltenberg tweeted in solidarity with the people of London and condemned the "brutal" attacks.
2:13 a.m. - Images have emerged on social media of what appears to be a man lying down near police with canisters strapped to his body. Reuters is reporting that a photograph shows one of the men suspected of carrying out Saturday's deadly attack on civilians, and that he had been shot and subdued by police. Police confirm in an official statement that shots have been fired.
2:10 a.m. - Witnesses and journalists describe the sound of explosions, one potentially much louder than others, on the London Bridge. Early reports suggest that they may be controlled demolitions by local authorities.
2:04 a.m. - French President Emmanuel Macron tweeted in solidarity with the U.K.. He said his thoughts were with victims and their loved ones.
2:00 a.m. - London Mayor Sadiq Khan in a Facebook post voiced outrage about the "deliberate and cowardly attack on innocent Londoners." He described the events as a "horrific terrorist attack," said his thoughts were with victims and thanked first responders for their efforts.
1:53 a.m. - Singer Ariana Grande tweeted that she was "praying for London." After the 23-year-old artist performed in Manchester late last month, U.K. citizen Salmen Abedi blew himself up outside the arena, killing 22 people and injuring over 100.
1:45 a.m. - New York City Mayor Bill de Blasio tweeted, saying his "prayers are with the victims, their families and the courageous first responders." The official Twitter account of the City of New York said "no specific, credible threats to NYC" and encouraged citizens to go about their Saturday night as normal.
1:40 a.m. - London Ambulance Service Assistance Director Peter Rhodes said emergency services had been dispatched to the scene at London Bridge and arrived within six minutes of reported violence. Rhodes also said that "an advanced trauma team from London's Air Ambulance" had also been dispatched by car.
12:57 a.m. - London police said a stabbing in Vauxhall was separate from the incidents reported at the London Bridge and Borough Market. The latter two have been declared "terrorist incidents" by authorities.
12:52 a.m. - U.S. Vice President Mike Pence tweeted, saying his thoughts and prayers were with "courageous first responders & all the people of London." He cited President Donald Trump as saying "we are with you."
12:40 a.m. - British Prime Minister Theresa May said in a statement that the "terrible incident in London is being treated as a potential act of terrorism." Police also said they believed the incidents were co-ordinated, and BBC News reported witnesses describing several stabbings.
12:17 a.m. Trump tweeted calling for the implementation of a travel ban:
11.59 p.m. - The State Department urged U.S. citizens in London to check in with family and friends following multiple incidents, according to ABC News,
11. 46 p.m. - London's police force issued security advice on its Twitter account after several violent incidents across the south of the city Saturday. It advised people to "run, tell, hide."
Police also confirmed that there has been "more than one fatality" in violent incidents in the London Bridge area. They were responding to an incident in the Vauxhall area of south London. The Metropolitan Police tweeted that it was the third incident after they had responded to reports of a vehicle running into pedestrians on London Bridge and a stabbing in nearby Borough Market.
British police had rushed to an incident on London Bridge on Saturday after witnesses said a van ploughed into pedestrians. Police said armed officers were also responding to an incident in the nearby Borough Market area of the city.
One witness told Reuters that she saw what appeared to be three people with knife wounds at London Bridge. Another witness told the BBC she saw a speeding white van veering into pedestrians. That witness said the van hit five to six people. Reuters television pictures showed dozens of emergency vehicles in the area around London Bridge.
Several witnesses also reported hearing gunshots though police have not yet confirmed those reports.
London's transport authority said London Bridge rail station had been closed at the request of the police.
The incident comes days ahead of a June 8 election, with polls suggesting the lead of Prime Minister Theresa May's Conservative Party has dropped sharply.
It also comes less than two weeks after a suicide bomber killed 22 people at a pop concert by U.S. singer Ariana Grande in Manchester in northern England.
The Manchester bombing on May 22 was the deadliest attack in Britain since July 2005, when four British Muslim suicide bombers killed 52 people in coordinated attacks on London's transport network.
This developing story has been updated with the latest available details.