Bystanders in London Bridge Attack Used Narwhal Tusk and Fire Extinguisher To Stop Attacker
A day after the London Bridge terrorist attack that killed two people and injured three more, media reports have emerged about the men who subdued the attacker to end the tragedy and, in one case, offer hope for redemption.
The rampage began just before 2 p.m. Friday at a conference on prisoner rehabilitation hosted by Learning Together, a prison education program. The alleged assailant, Usman Khan, was an attendee at the event, which was being held in Fishmongers' Hall, next to London Bridge on the north bank of the River Thames. Khan served six years in British prison on terrorism charges before his conditional release last year.
At the conference, Khan allegedly produced a bladed weapon and revealed himself to be wearing a fake suicide vest. After attacking several conference attendees, Khan exited Fishmongers' Hall, where he was chased by civilians and police officers.
Video from the bridge showed three men surrounding the suspect. One blasted a fire extinguisher at the knife-wielding terrorist while another swung at him with a 5-foot white pole, later identified as a narwhal tusk.
The spear-like tusk was mounted on a wall in the Fishmongers' Hall, according to reports, and was pulled for use as a weapon by a man initially identified as a Polish chef named Lukasz.
British newspaper The Guardian identified one of the other men in the video as convicted murderer James Ford, who pleaded guilty in the 2004 death of an intellectually disabled woman. Ford was out on day release and was also attending the Learning Together conference.
Khan was shot and killed by officers after being subdued by the men in the video.
"I express my enduring thanks to the police and emergency services, as well as the brave individuals who put their own lives at risk to selflessly help and protect others," Queen Elizabeth said in a statement released by Buckingham Palace Saturday.
Media outlets have hailed the men as heroes following the attack, though the family of Ford's victim has told the press the title does not apply to him. "I don't care what he's done today, he's a murderer," Angela Cox, the victim's aunt told The Independent.
Also on Saturday, the Islamic State (ISIS) terrorist organization claimed responsibility for the attack, saying Khan had acted as one of their fighters in an announcement on its Amaq news agency.
ISIS provided no evidence to support the claim, and London's Metropolitan Police suggested Khan likely acted alone. "At this time, we have found no evidence to suggest anybody else was involved in this attack. However, we are still making extensive enquiries to ensure there were no other people involved. Our investigative priority at this time is to ensure that there is no related outstanding threat to the public," Assistant Commissioner Neil Basu said in a statement Saturday afternoon.
One of the victims killed in the attack was Jack Merritt, a course coordinator at Learning Together. The identity of the other murder victim, a woman, has not been released.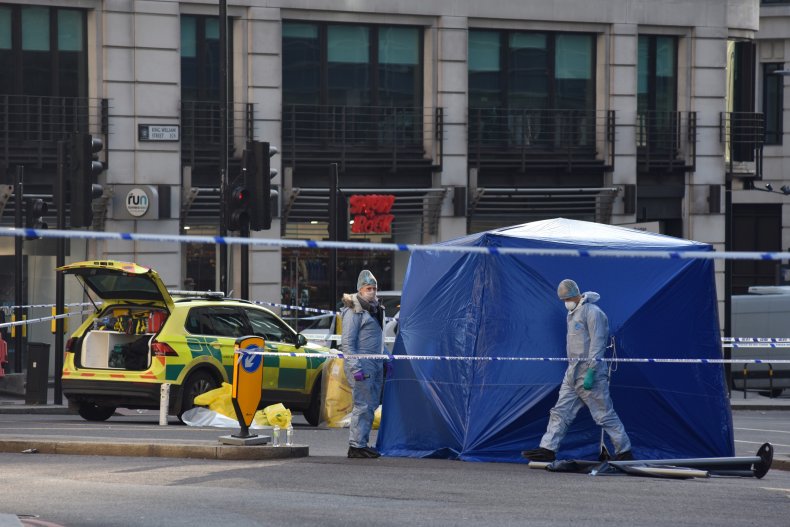 Update: On December 3, the Met Police issued a statement from Lukasz, whom the department identified as a porter working at Fishmongers' Hall:
"On the afternoon of Friday, 29 November I was working at Fishmongers Hall as normal when the unimaginable and tragic terrorist attack happened.
"I and several others tried to stop a man from attacking people inside the building. I did this using a pole I found. Someone else was holding a narwhal tusk.
"The man attacked me, after which he left the building. A number of us followed him out but I stopped at the bollards of the bridge. I had been stabbed and was later taken to hospital to be treated. I am thankful that I have now been able to return home.