London Buses Now Effectively Free Amid Coronavirus Lockdown
London buses are now effectively free until further notice after Transport for London announced that from Monday passengers will only be able to enter a bus through the center doors and will no longer be required to touch in.
The move is part of measures designed to improve safety for bus drivers and critical workers during the coronavirus pandemic.
A press release from TfL states: "The change to boarding will provide better protection for drivers, who are playing a vital role in helping other critical workers, like doctors and nurses, to tackle the virus.
"The safety boost follows a trial on nine routes to ensure that it was safe for all. From observing passengers across the 140 buses involved in the trial, TfL is also confident that the low number of people currently using the network can keep a safe distance when entering and exiting through the same door.
"During the period of these temporary arrangements where passengers enter through the middle-doors, they will not be required to touch in.
"Customers should not approach the card reader near the driver's cab."
TfL has been asked by Newsweek to clarify whether this policy is designed to offer free travel or if it just a side-effect of increasing safety measures for bus drivers.
It is hoped that lowering contact between drivers and passengers will lower the number of TfL employees hit by COVID-19.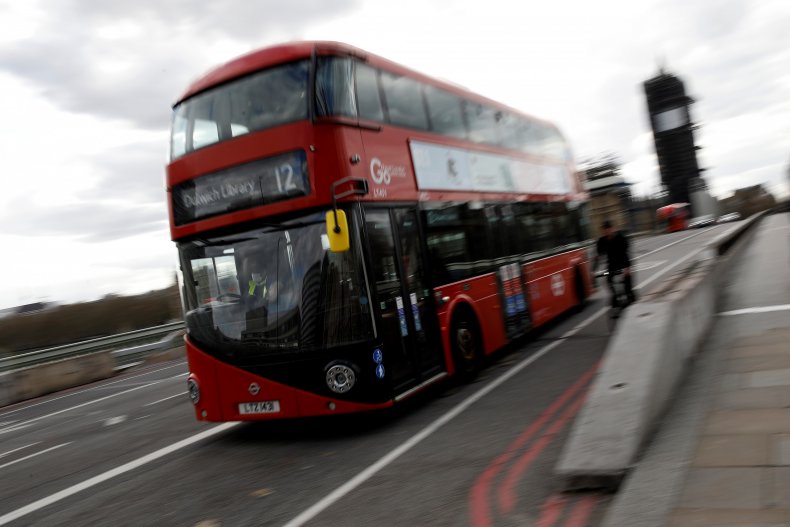 It comes as London Mayor Sadiq Khan confirmed that 20 London transport workers have died after contracting coronavirus.
Khan said he was "extremely grateful to all our heroic transport workers for the fantastic job they do day in and day out keeping our city moving and helping key workers get to where they are needed most."
He added: "I'm really pleased that TfL will be introducing middle-door only boarding across the London bus network from Monday following a successful trial. This will further protect drivers and follows on from enhancing the anti-viral cleaning regime across the network, adding a new protective film to the screens of drivers' cabs, and preventing passengers sitting next to bus drivers."
Claire Mann, TfL's Director of Bus Operations, said: "Bus drivers are pivotal in ensuring critical workers like NHS staff and grocery workers can perform the vital roles they do during this national emergency.
"Their efforts are nothing short of heroic, and it is essential that we leave no stone unturned when looking to protect them."