London Film Festival 2020: The Best Films and How to Watch Them Online
The London Film Festival is the latest to have to grapple with how to stage such an event in the age of the coronavirus. While Cannes was canceled this year and New York opted for drive-in screenings, London is opting for a digital-first approach. Alongside in-cinema screenings of movies like Ammonite, Nomadland and Pixar's latest Soul, BFI Player is making over 50 movies available for viewing at home.
These movies will be available to rent during the London Film Festival, which runs this year from October 7 to 18. Though the BFI Player has a subscription service, film festival films will be available as rentals on the website, costing £12 for the general public and £10 for BFI members. Each will be available for only a limited time, however.
Also, not every film in the festival's program are coming to the BFI Player, movies like Nomadland and Soul are getting cinema-only releases in London itself and in the selected cinemas across the U.K.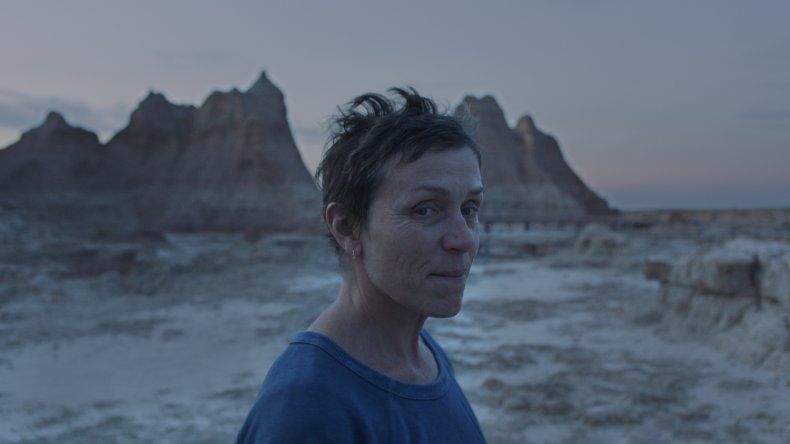 As BFI Player is a U.K.-only subscription service, only film lovers in Britain will be able to access these screenings on the website. However, a number of movies from the festival will be coming to the U.S. in the very near future.
The best films to watch at the London Film Festival
Small Axe
Small Axe is an upcoming series of five feature-length TV movies made by 12 Years a Slave filmmaker Steve McQueen. Two of these films, Mangrove, starring Letitia Wright as British Black Panther leader, Altheia Jones-LeCoint, and Lovers Rock, about an '80s dance party, are getting a cinema release during the festival.
How to watch in the U.S.: Small Axe will be released on November 20 on Amazon Prime Video.
Nomadland
Starring Frances McDormand, Nomadland is the story of a band of people travelling across the U.S. in vans looking for work. After winning the Golden Lion at Venice and the People's Choice Awards at Toronto, the Chloe Zhao movie is hotly tipped for success at the Oscars.
How to watch in the U.S.: Nomadland is coming to cinemas on December 4.
Mogul Mowgli
Riz Ahmed is starring in two films this year where he plays musicians dealing with medical conditions that stop them from making music. LFF is showing one of these this year in cinemas and on BFI Player – Mogul Mowgli, a magical realist take on 8 Mile in which the Venom actor plays a rapper haunted by his Pakistani heritage as he battles an auto-immune disorder.
How to watch in the U.S.: No U.S. release date set yet.
David Byrne's American Utopia
David Byrne once starred in perhaps the greatest concert movie ever made in Stop Making Sense, so expectations are high for American Utopia, a record of his concert of the same name directed by the legendary Spike Lee. The suits are smaller this time, but the music is just as big.
How to watch in the U.S.: American Utopia is airing on HBO on October 17 and coming to HBO Max the following day.
Kajillionaire
Miranda July's movies are on the spectrum being brilliant and weird (Me, You and Everyone We Know) and just weird (The Future). London Film Festival viewers will soon get to film out where her latest, heist comedy Kajillionaire starring Evan Rachel Wood, Gina Rodriguez and Debra Winger falls on that spectrum.
How to watch in the U.S.: In theaters now. Coming to video on demand on October 16.
Shirley
Elisabeth Moss has tackled led a horror movie already this year in The Invisible Man. Now, the Mad Men actor is on the other side of the page as she plays horror author Shirley Jackson in a film that's far from your standard biopic.
How to watch in the U.S.: Streaming now on Hulu.
Wolfwalkers
Irish animator Tomm Moore is beloved by animation fans across the world for his movies The Secret of Kells and Song of the Sea, both nominated for Oscars. With his latest, those fans are getting ready to fall in love with Robyn, a young English girl who falls in love with wolves as her father is sent to Ireland to kill the last pack of them.
How to watch in the U.S.: Coming soon to Apple TV+.
Supernova
Colin Firth and Stanley Tucci both have previous playing gay in The Devil Wears Prada and A Single Man respectively. In Supernova, the pair are brought together as lovers who have spent 20 years together and are dealing with early on-set dementia.
How to watch in the U.S.: No release date yet.
Relic
The London Film Festival's second dementia-themed movie is a Halloween-ready horror, starring Emily Mortimer as a woman trying to cope when her mother starts acting very strange indeed.
How to watch in the U.S.: Available to rent from Apple TV, Google Play and YouTube.
Herself
Mamma Mia director Phyllida Lloyd's latest is a very different movie for her: A social realist drama about a woman who tries to build her own house after escaping the clutches of her abusive husband. She is helped by Succession's Harriet Walter as a wealthy benefactor and an unrecognizable Conleth Hill from Game of Thrones as a gruff builder.
How to watch in the U.S.: No release date yet.
Soul
After the mixed bag that was Onward, Pixar is back in what looks like Inside Out mode with Soul, which tells the story of an aspiring jazz musician whose soul suddenly finds itself in the afterlife following an accident.
How to watch in the U.S.: Expected in cinemas on November 20
One Night in Miami
Fresh off of her first Oscar win for If Beale Street Could Talk, King is heading behind the camera for her directorial debut, the story of Muhammad Ali/Cassius Clay, Malcolm X, Jim Brown and Sam Cooke celebrating after the former's win against Sonny Liston.
How to watch in the U.S.: Coming to cinemas on December 25, 2020 and Amazon Prime Video on January 15, 2021.