'It Still Hasn't Sunk In:' Relatives and Neighbors of People Killed in London Fire Tell of Their Horror, Shock and Anger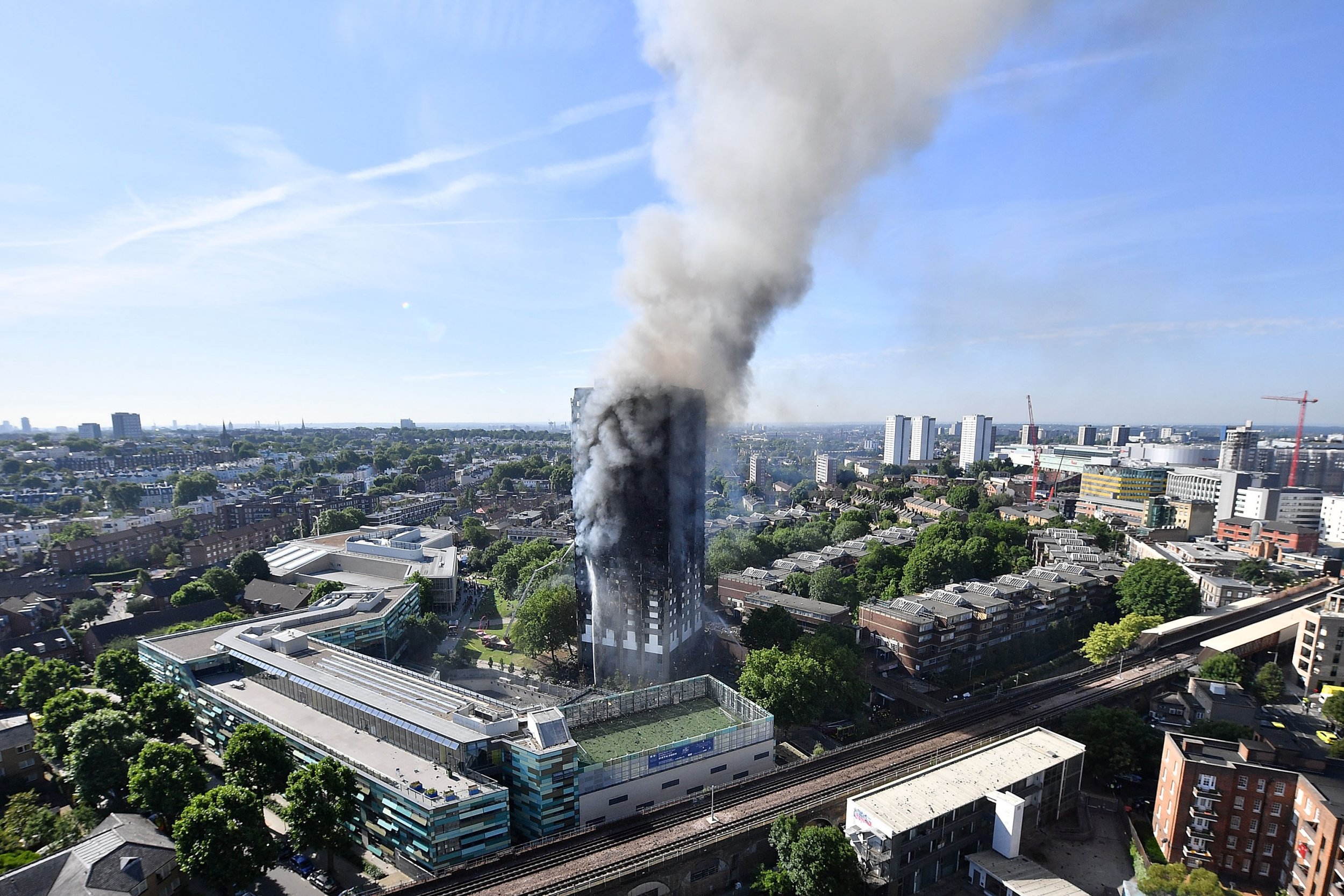 In an area of west London usually known for its white-fronted townhouses and their wealthy residents, there is now a blackened building on the skyline, a charred skeleton reminder of the shocking fire of Tuesday night. Grenfell Tower was an apartment block home to hundreds, that burned to a cinder in a matter of hours.
So far, the death toll stands at 17, but police expect it to rise—some reports suggest to over 100. But with smoke still rising from the wreckage, a full search of the building must wait. The foundations are still "not structurally safe", according to the fire commissioner, yet many wonder if the building ever was. British Prime Minister Theresa May announced Thursday that there will be "a proper investigation" into the fire, but that will be little comfort to the people who lost their homes.
In the hours after the fire had died down, with smoke billowing from the building, helicopters hover overhead and police vans sit at almost every corner. Crowds of people mill around, including children in smoke masks. Due to safety concerns, those who live in nearby streets have also been evacuated from their homes indefinitely.
Read more: A residents' group warned of the deadly London tower block fire in 2016
People congregate on corners or outside community centers. Some are fixed in animated discussion, others fixed to their phones awaiting news.
Awet and Biynan Barkhi are a 35-year-old couple standing outside Notting Hill Methodist Church, one of the many organizations that has transformed itself into an emergency support center overnight. The pair have lived opposite Grenfell Tower for 11 years; they saw the fire from their window in the middle of the night. As a team of volunteers move busily around them collecting and sorting donations, offering food and drink, the pair look shell-shocked.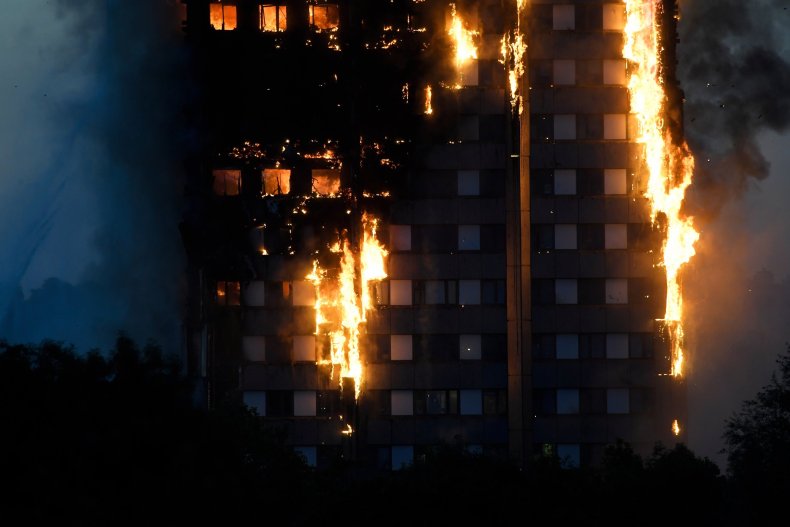 "Around 2.30 we saw the fire," Awet says. "We were woken up by helicopters and sirens. There were so many distressed people. Some were flashing torches trying to get attention, saying that they were still there, and the fire just spread so quickly. There was nothing we could do. We just had to close the windows so the smoke couldn't come in."
When Biynan first heard the helicopters, he says fire was the last thing that came to mind. "I thought something was happening like a drug dealer being caught or a terrorist attack," he says. "We didn't expect a fire. But then you open the window and you see: Wow. It was like you were watching a movie, a horror movie. People jumped from the building. It's a tragedy, you can't believe something would happen like that."
Over the course of our conversation, Awet every now and then taps her husband: "Check your phone, have they texted you?" She doesn't say who she is referring to, but Awet's concern is mirrored on many of the faces around her. The couple's children attended the nursery that was located at the bottom of Grenfell Tower. "The children haven't slept all night," Awet describes. "They can't sleep. They're worried about their friends." She looks around her and adds: "I don't think anyone has slept."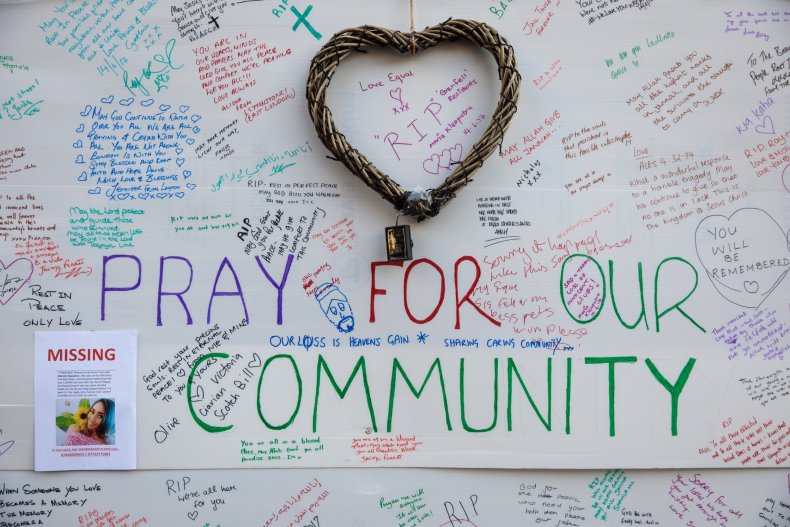 Dani Hixon, 23, works – or worked—in the nursery as a teacher. She cannot see the building from where she lives, but she heard about it after a friend called her. Hixon has spent the day scouring the streets trying to make sure all the families are safe. "A lot of the families [at the nursery] live in that building," she says. "I'm going around the different areas to try and find everyone. There's many I can't get in contact with. But you just don't know. Even ones who are safe won't have battery on their phone now." Hixon knows the building well and she begins to describe how rickety its structure was. "You could feel it move when it was windy", she says. "I'm serious." She ends our talk when she sees someone she knows, running to hug a mother and child.
Related: After the deadly London high-rise fire, people in similar apartment blocks fear for their own homes
A few roads away, the Latymer Community Center is crowded with people. It is the closest of the shelters to Grenfell Tower, and its entrance is piled high with donations. Piles of clothes are laid out across tables, while volunteers from a nearby mosque distribute bottles of water to the crowds gathered around.
Inside, there are tables, chairs and fresh food. A circle of young Muslim men and women are praying. Next to them, a young man sits quietly with an older woman at his side. I ask whether they can talk about what happened that night. The young man initially says no, barely looking up, but as I walk away calls me back. He would like to talk, he says, so long as we can go outside. The older woman walks with us and we go behind the community building; the charred remains of the tower come into view.
Connor is 17, and he's with Gill Tamplin, a public health worker. They met earlier that day. Did he live in the building? "No," he says, "but my parents did. They were on the 19 th floor."
Connor lives with his grandfather in Brixton. He found out about the fire when the older man woke him at two in the morning. "He's in a wheelchair," Connor says, "so he couldn't come down here himself. So I went out on my own to try and find out what was going on."
It wasn't until he saw the blazing building that he understood. "As soon as I got to the canal at Kensal Rise [a nearby area], you could see the smoke billowing out from the building, with flames like I'd never seen. That's when I came to the realization that the situation was a lot bigger than what I'd anticipated."
Connor spent nine hours going from "community center to community center," asking police officers for the hospitals victims were in, but was told they weren't allowed to say, "god knows for what reason," Connor says, clearly frustrated. It was during this search that he met Tamplin in the early hours of the morning. "He hasn't slept for 26 hours," she tells me.
It was a while before Connor heard anything of his parents. "At 12.30 [p.m.] I got a call from my grandad. He told me that he's at St. Thomas' hospital, that my mum and dad were taken there, that they're critically injured but not stable." About 30 minutes later he says, he received another call: "It was my grandad again—my dad had gone." "I didn't take it too well," he says. "Twenty minutes later I got another call saying Mum had gone. It still hasn't sunk in."
Connor says he wanted to talk to a journalist because he's not just upset, he's annoyed: "I want to complain about the way that the police have handled the situation", he says, visibly distressed. He describes trying to unsuccessfully make his way through police cordons to find his girlfriend.
More on this: Pictures from the scene of the Grenfell Tower fire in London
Connor says he lost his patience with the officers. "I said to them as bluntly as I could: 'either you take me in and escort me there or I go unescorted and you'll have to arrest me'. I mentioned: 'look, I've just had my mum and dad die. I don't need this. Surely you can see on a personal level instead of a professional level.' But they couldn't see it." Tamplin says she felt unsettled too, and promises she will take it up with local authorities.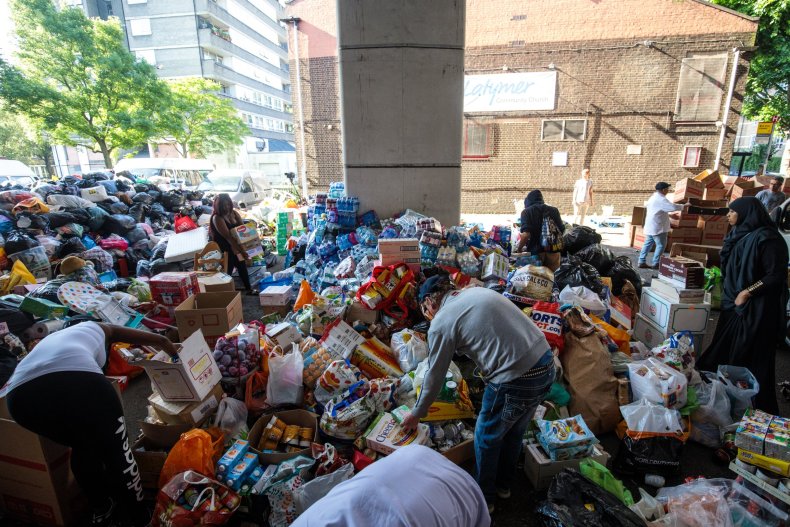 Neither are alone in their anger. Though there is sadness, and even some small pride—pride in the way their community and, in most cases, emergency services have responded—there is also anger among the people who lived in and around the tower. Anger that such a deadly fire could happen after residents had voiced concerns over the building's safety. Anger that it happened in London, one of the world's richest cities, in a borough of huge disparity, where incredibly rich meets poor.
For now people must wait to find out how the fire started, why it spread so rapidly and whether it could have been prevented. Whether austerity, poor planning or ineffective building regulations played any role in the fire will be for the investigators to find out. For now, the volunteers and donations from across the city continue to pile in, and the usual separation lines disappear as people do their best to address a devastating event still unfolding.