London Gardens Where Smoking Is Encouraged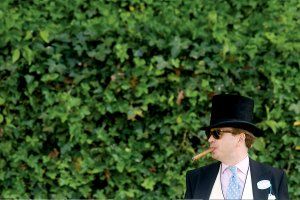 They are called COSAS—an acronym for Comfortable Outdoor Smoking Area. And according to Jemma Freeman, the sixth-generation owner of the London-based Havana cigar importer Hunters & Frankau, "They are opening up in London at the rate of one a week."
Havana may be the cradle of cigar making, but London is, arguably, the city where these golden-brown tubes of Cuban tobacco achieved their apotheosis as the gentleman's postprandial pursuit. The bon vivant Edward VII ushered in a new era of pleasure after the death of his austere mother, Queen Victoria, with the memorable words, "Gentlemen, you may smoke." A cigar was of course the constant companion of the greatest Englishman of the 20th century, Winston Churchill. And now it is Sir Terence Conran, the celebrated British designer, author, and restaurateur—seldom seen without a Hoyo de Monterrey Epicure No. 2—who wears the mantle of most famous living British cigar smoker.
Yet in 2007, Britain's cigar heritage seemed in danger of suffocating under some of the most draconian antismoking laws yet enacted. Smoking was outlawed in the workplace, in enclosed public areas, and in restaurants, bars, public houses, and private clubs. In fact, outside a Briton's home, cigars could only be ignited legally in a specialist cigar shop—and then only for tasting and testing purposes—or, curiously enough, in lunatic asylums and prisons. Even hotel rooms now need to be designated as smoking rooms and equipped with a separate ventilation system.
But barely three years on, London has reemerged as a cigar-friendly destination par excellence. In 2009, sales were up 18 percent in value terms over the preceding year. This is all the more impressive in the context of an overall decline in Cuban-cigar production and export. Exact figures are hard to come by, but from a peak of around 120 million handmade cigars in 2006, last year Cuba produced as few as 73 million.
To be sure, the rise of the COSA is not the only reason for the boost. A weaker pound has made the U.K. a much more attractive destination for cigar tourists than at any time this decade. And of course London is home to some of the world's most famous cigar stores, including the British luxury brand Alfred Dunhill, which still keeps a humidor at its new Mayfair store, and Davidoff on the corner of Jermyn and St. James's Streets. Now, thanks in considerable part to the outdoor lounges, summer has become cigar season in London. "It used to be that winter was the busy time for cigar sales, but now as the weather warms up, so do sales," says Davidoff proprietor Edward Sahakian.
Recent COSA openings include a Martell-partnered cigar-and-cognac zone at Dukes Hotel in St. James's and a pop-up COSA in partnership with Laurent-Perrier at the Langham Hotel. "There is a strong distinction between cigarette smokers and cigar smokers," says Freeman. "What we hear from bars and restaurants is that cigar smokers are civilized people who spend money and spend time."
Certainly that has been Geoffrey Gelardi's experience. Gelardi is the urbane managing director of London's Lanesborough Hotel, which used to do a brisk cigar business in its library bar, where visiting plutocrats would drop thousands of pounds on pricey cognacs and rare Havanas. When the antismoking legislation passed, Gelardi became worried that a very handy revenue stream was about to dry up. Then he remembered a small paved area off one of his private dining rooms, "which due to our English weather had virtually never been used," he recalls.
After 18 months of negotiating not just the strict smoking laws but also the historic hotel's protected status, Gelardi opened a sleek outdoor smoking lounge complete with a working fireplace. It proved a wise investment: the £15,000 he used to earn on his indoor cigar bar each month has doubled. On one memorable occasion, a single table of four people spent £40,000, which, even considering that the most expensive cigar offered was a limited-edition Cohiba Behike at £1,500 a stick, bears out the observation that cigar smokers like to linger, and when they linger, they spend.
It is a similar story over at Mark's Club, the Mayfair institution founded by the late Mark Birley, a noted cigar lover. Now it is owned by Richard Caring, who two summers ago converted a small, seldom-used terrace into an al fresco canopied drawing room with Persian rugs, upholstered chairs, and sofas, expressly for cigar smokers. It enables diners to complete their lunch or dinner at the leisurely pace Mark's Club dictates, enjoying cigars, coffees, brandies, and petits fours, as well as sustaining snacks like wild-boar sausages and charcuterie.
Caring has also been careful to incorporate arrangements for smokers at the Ivy Club, another private members' joint he owns, favored by publishing and media types. Here the emphasis is on a contemporary approach: while the cigar terrace at Mark's is plush, the one at the Ivy Club is minimalist, though comfortable, with such clever touches as heated marble seating to compensate for the notoriously fickle British climate.
Indeed, given that a COSA needs to be largely open to the elements, much thought goes into keeping customers warm and comfortable. Sir Terence Conran's Boundary Hotel and restaurant in fashionable Shoreditch features a splendid rooftop cigar garden, where guests can enjoy a good Havana and stunning views over the city while snuggling under Welsh wool blankets around an open fire.
Conran, who remains attuned to the needs of cigar smokers, has designed a special armchair for the garden, with an accompanying low table at just the right height for the large slipware ashtrays that are one of the signatures of this temple to tobacco. These rustic earthenware receptacles were made in South Africa, and it is therefore fitting that the garden's centerpiece is a humidor in the form of a monstrous wheeled pachyderm, from which cigars emerge when a handle is cranked.
However, if Conran has his way, this rooftop Eden for Havanaphiles is but a foretaste of what he describes as a vast "market" over several stories in central London. Although he does not specify the location, he describes his dream project as a reimagined department store that sells everything from food and fashion to, of course, cigars. And while he is reluctant to go into detail about his plans for the inside of the building, there is at least one part of the project that falls into focus with crystal clarity: large terraces that wrap themselves around the building, destined for a future as COSAs. Work has yet to begin on this grand project, but Sir Terence can already smell the fragrant blue smoke of his favorite Hoyo Epicure No. 2.