British Police Injured as Peaceful U.K. Black Lives Matter Protest Disrupted by Minority 'Intent on Violence'
Twenty seven police officers have been injured during anti-racism protests in London this week, as a top police chief vows "justice will follow."
Cressida Dick, commissioner of the capital's Metropolitan Police, said she was "deeply saddened and depressed" after a "Justice For George Floyd" gathering turned violent on Saturday, with a "minority" of protesters hurling bottles and flares at officers.
The chief said 14 officers had been injured yesterday, while 13 more were hurt in protests earlier this week. Thousands of people have taken to the U.K streets in masses following the killing of George Floyd, 46, by Minneapolis police officers on May 25.
Many attendees stressed that racial struggles are not limited to America, chanting "Black Lives Matter" and "no justice, no peace, no racist police" while walking past landmarks in the center of the capital city. "The U.K. is not innocent," some placards read.
Police said the majority of demonstrators were peaceful and had left central London after the planned event. But as evening fell, they said a small number of people who remained close to Downing Street clashed with police, including mounted officers.
"We have made a number of arrests and justice will follow," the Met Police chief pledged. "The number of assaults is shocking and completely unacceptable."
"I know many who were seeking to make their voices heard will be as appalled as I am by those scenes. There is no place for violence in our city. Officers displayed extreme patience and professionalism throughout a long and difficult day, and I thank them."
Officials said the "mood" of the protest changed at about 7 p.m. local time. Footage on social media showed protesters screaming expletives at officers.
"[Protesters] became angry and intent on violence, and began throwing missiles and flares at officers who were deployed outside Downing Street," the Met said. "Officers in protective equipment were deployed, to identify and arrest those who had committed offenses, and to clear the remainder from the area."
One incident that was partially captured on camera showed a police horse bolting into a crowd of protesters after an officer collided with a traffic light and fell to the ground. The officer was hospitalized. Her injuries are not believed to be life-threatening.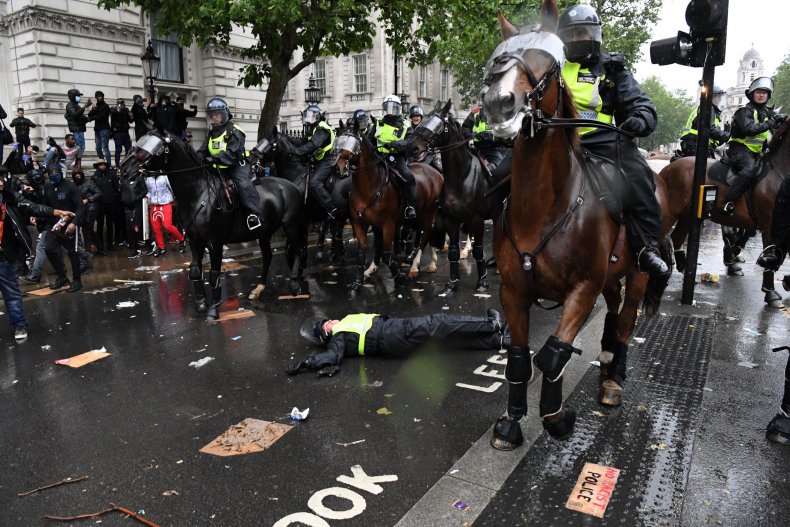 The horse made its way back to the nearby stables, officials said. A Met spokesperson said there had been 29 arrests made yesterday. London protests continued today, with crowds of citizens gathering outside the U.S. embassy, according to Reuters.
The arrests were for a variety of offenses, including violent disorder, public order offenses and assault on emergency service workers, London police said.
"The violent and hostile scenes officers faced yesterday were completely unacceptable. It is shocking that a number were attacked and injured," a spokesperson noted.
Alongside the top commissioner, British politicians warned today that the demonstrations could potentially result in a rise of COVID-19 infections in the city.
"I support very strongly the argument that is being made by those who are protesting for more equality and against discrimination but the virus itself doesn't discriminate and gathering in large groups is temporarily against the rules precisely because it increases the risk of the spread of this virus," said U.K. health secretary Matt Hancock.
The police chief said: "I would urge protesters to please find another way to make your views heard which does not involve coming out on the streets of London, risking yourself, your families and officers as we continue to face this deadly virus."
London mayor Sadiq Khan has said he supports the protesters, urging anyone who is on the streets to wear a face covering and keep two meters apart from others.
He said: "George Floyd's brutal killing must lead to immediate and lasting change in countries, cities, police services and institutions everywhere."
"We must root out racism wherever it is found. The vast majority of protesters in London were peaceful. But this vital cause was badly let down by a tiny minority who turned violent and threw glass bottles and lit flares, endangering other protesters and injuring police officers," the mayor continued. "This is simply not acceptable, will not be tolerated and will not win the lasting and necessary change we desperately need to see."