Protesters Are Marching in London, Hong Kong and Moscow Today, Here's Why
Multiple pro-democracy protests are happening across the world on Saturday, most notably in the United Kingdom, Hong Kong and Russia. Here's a look at what's happening:
United Kingdom
Demonstrations are taking place across the U.K. against Boris Johnson's decision to suspend Parliament in the run-up to Brexit. Thousands of protesters have taken to the streets to "stop the coup" not only London, but also in cities including Manchester, Leeds, York and Belfast.
In London, the Westminster district has been brought to a standstill, with demonstrators chanting "Boris Johnson, shame on you".
A small group of counter-protesters, marching in support of the prime minister, also appeared on the scene as marchers crowded streets surrounding government offices.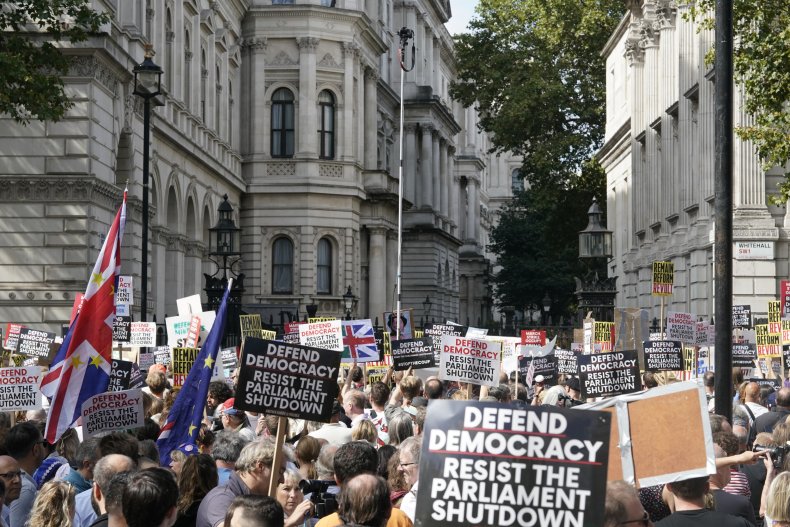 Johnson's plan to "prorogue," or suspend, Parliament prompted an angry backlash from members of parliament (MPs) and opponents of a no-deal Brexit when he announced it on Wednesday. When Parliament is prorogued, no debates and votes are held. (This is different to "dissolving" Parliament — where all MPs give up their seats to campaign in a general election.)
Critics view the length and timing of the prorogation as particularly controversial, as it comes just before the Brexit deadline on October 31.
If this prorogation happens as expected, it will see Parliament closed for 23 working days.
Jeremy Corbyn tweeted on Friday: "The public outrage at Boris Johnson shutting down democracy has been deafening. People are right to take to the streets – and I encourage everyone to join the demonstrations in London and across the country tomorrow."
One Facebook group involved in Saturday's protest, called "Stop the coup, defend democracy," said: "Boris Johnson is trying to shut down our democracy so that he can deliver on his Brexit agenda. We can't just rely on the courts or parliamentary process to save the day. We all have a duty to stand up and be counted."
Hong Kong
Hong Kong police have used tear gas, rubber bullets and water cannons on Saturday to disperse crowds who defied a ban on protesting.
The protest was planned to mark the five-year anniversary since Beijing ruled out fully democratic elections in China's special administrative region. Some demonstrators lit fires, threw petrol bombs at riot police and attacked the parliament building.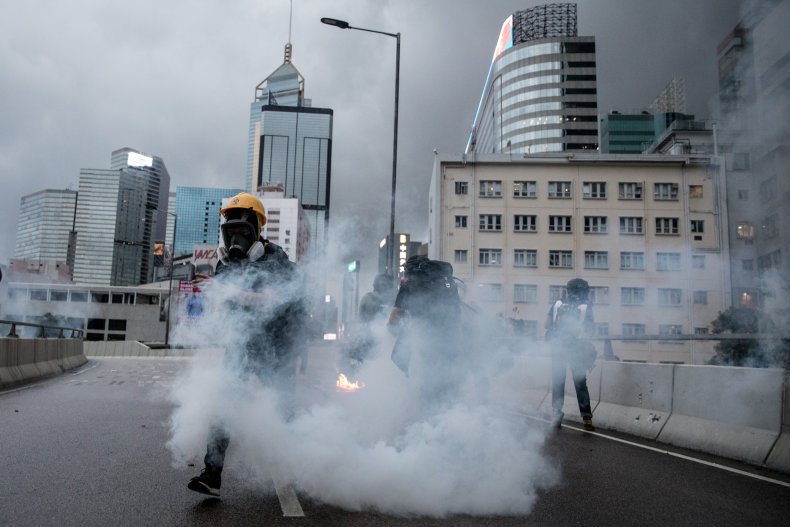 On the thirteenth consecutive weekend of protests, demonstrators—chanting "stand with Hong Kong" and "fight for freedom"—gathered outside government offices, the local headquarters of China's People's Liberation Army and the city's parliament, known as the Legislative Council.
Police had erected barriers around key buildings and road blocks, and retaliated to protester's actions by firing tear gas and jets of water containing blue dye from a water cannon. The coloured liquid is traditionally used to make it easier for police to identify protesters.
On Friday, several key pro-democracy activists and lawmakers were arrested.
The protest movement grew out of rallies against a controversial extradition bill—now suspended—which would have allowed criminal suspects to be sent to mainland China for trial.
Russia
Thousands of Russians took to the streets of central Moscow on Saturday to demand free elections to the capital's city legislature on September 8—defying a ban which has been enforced with violent detentions during previous protests this summer.
Up to 2,000 protesters marched through Moscow chanting "Russia will be free!" and "This is our city!"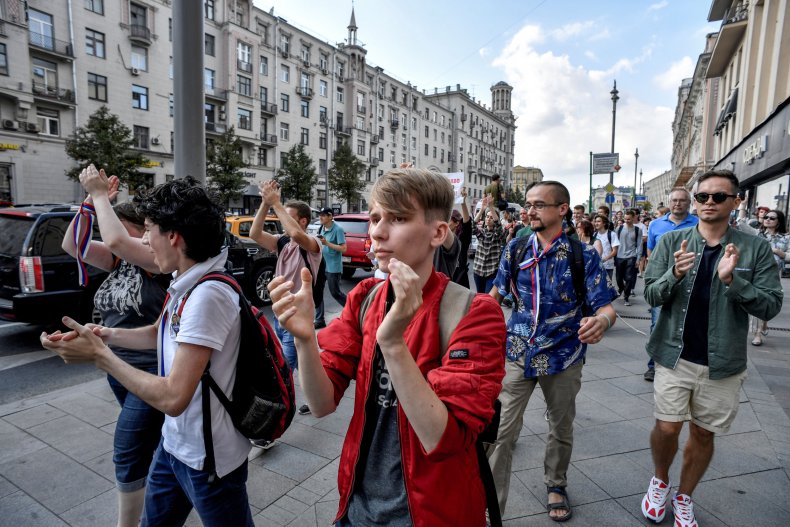 The demonstrators are demanding that opposition party candidates be allowed to stand in the election, after they were blocked from being put on the ballot.
Protesters are now also calling for the release of activists detained in earlier rallies.
"If we stop going out (and protesting) there will be no hope left at all," 23-year-old Alexandra Rossius told Reuters on Saturday. "We must show the authorities we are not just going to give up and accept the fact that innocent people are being jailed and elections are being stolen."
Weeks of demonstrations over elections for the city legislature have turned into the biggest sustained protest movement in Russia since 2011-2013, when protesters took to the streets against perceived electoral fraud.