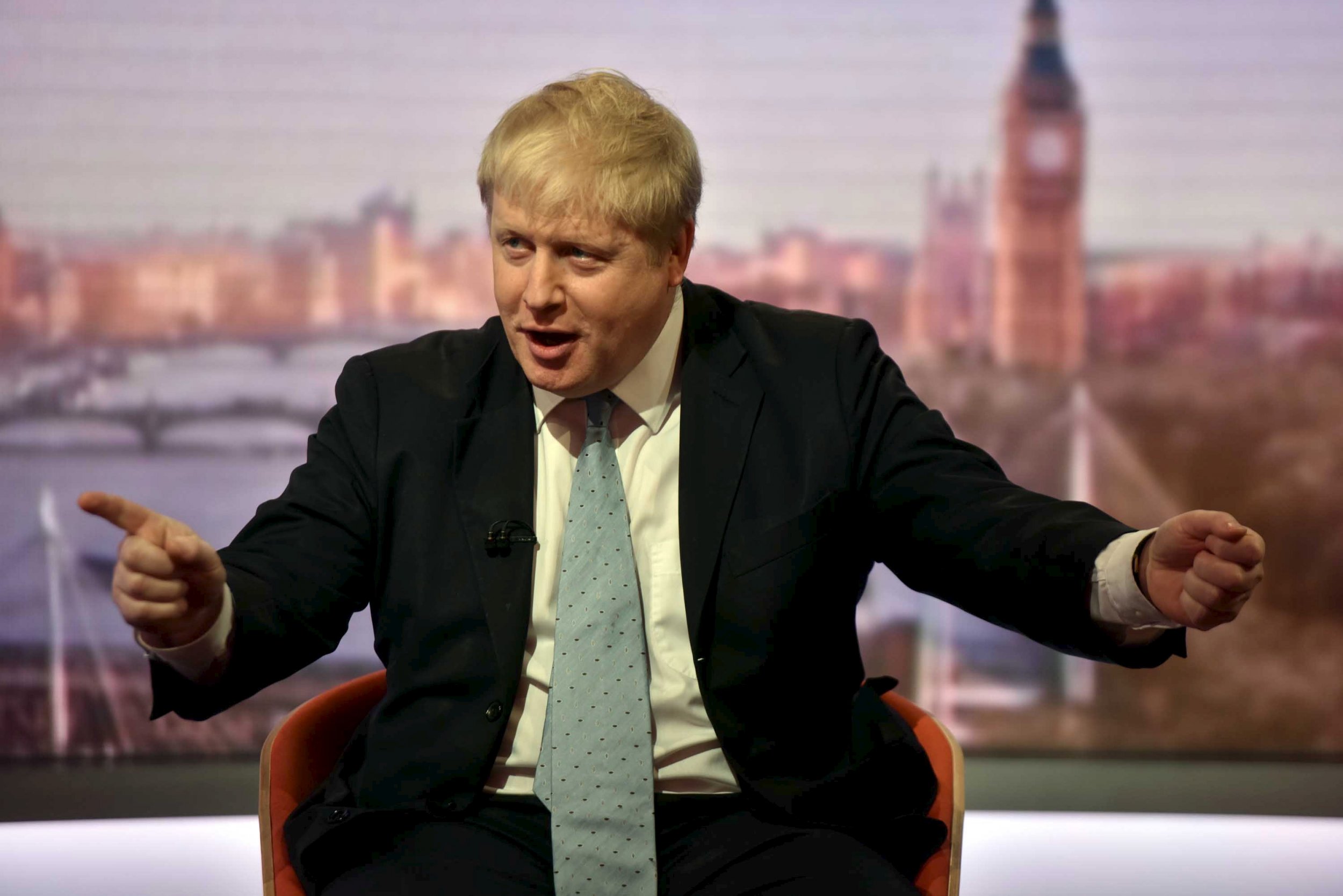 LONDON (Reuters) - London's influential mayor on Sunday denied personal ambition was behind his decision to campaign for Britain to leave the European Union and said it was a "golden opportunity" for the country to forge its own trade deals with the world.
Boris Johnson, whose backing for a so-called Brexit has angered Prime Minister David Cameron and highlighted the deep splits within his Conservatives over Europe, said he believed the risky option was to remain inside the 28-nation bloc when Britons vote in a June 23 referendum.
His comments came as German Finance Minister Wolfgang Schaeuble warned Brexit would lead to years of tortuous negotiations and create insecurity that would be "poison" to the British, European and global economies.
No country has previously quit the EU, and a British departure would deprive the bloc of its number two economy and leading financial center. Cameron says leaving would be a risky "leap in the dark."
But Johnson said it would be a "huge weight lifted from British business" and he did not believe banks' "threats" to relocate from London if it happened.
"For the last few years I have said clearly if we didn't get reform we should be prepared to walk away. I think we now have a golden opportunity to shrug off a regulatory legislative burden that is profoundly undemocratic," he said in a BBC interview.
"We have got a once in a lifetime opportunity, which will not come again, to strike a new series of relationships, free trade deals with the growth economies around the world, whilst maintaining...our free trade advantages with the European Union."
Cameron has said he will not run again at the next election due in 2020, and many believe Johnson took the gamble that campaigning for 'Out' would boost his chances of succeeding him. Twice elected to run London, he is among the country's most popular politicians and seen as one of the Eurosceptic camp's chief assets.
Asked if he expected to be the next prime minister, he responded: "Certainly not."
As both sides accuse each other of scaremongering in an increasingly acrimonious debate, another leading 'Out' campaigner, Justice Secretary Michael Gove, told the Sunday Times that the EU's treatment of Greece in its debt crisis had fueled the rise of far-right "Hitler worshippers" across the bloc.
In the same paper, Johnson said the EU made it harder for Britain to carry out surveillance on terrorists. He criticized as "scandalous" reports that the head of the British Chambers of Commerce, which represents thousands of businesses, had been suspended for backing Brexit.