There was a seemingly not-so-subtle message in London's fireworks display that rang in the new year.
The show seemed to express pro-European Union and anti-Brexit sentiments. The famous London Eye lit up to resemble the EU flag and the phrase "London Is Open" was heard in English, French, German, Italian, Polish, Romanian and Spanish, reported The Guardian on Tuesday.
Britain has spent the past couple of years in political turmoil after it voted in June 2016 to leave the EU. London Mayor Sadiq Khan said he wanted the fireworks to show the city was open and welcoming to people from all over.
"We, in my opinion, are one of the greatest cities in the world; one of the reasons we are one of the greatest cities in the world is because of the contribution made by Europeans," Khan said before the fireworks began, reported The Guardian. "I think diversity is a strength, and I think what tonight is about is celebrating that diversity. I hope that members of Parliament, members of the government will see the fireworks tonight, will listen to the soundtrack and will reflect on what sort of country they want to live in post-March."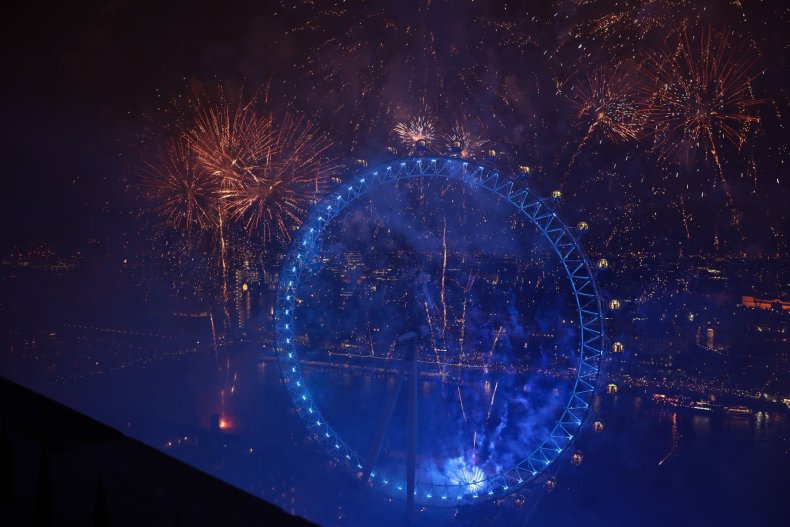 People noticed the EU flag in the display as it played out. A tweet by Buzzfeed U.K. editor Alan White went viral after he posted a picture of the blue-and-gold London Eye and wrote "2019 has barely begun and if I see a better act of trolling I'll be stunned."
On Tuesday Khan re-upped the message of support for the EU.
"To the one million EU citizens who have made our city your home: you are Londoners, you make a huge contribution and you are welcome here," he tweeted alongside a video of the display. "I'm proud that we welcomed in 2019 with a message of support to you."
Britain's Parliament is set to debate and then vote on Prime Minister Theresa May's Withdrawal Agreement in the coming weeks. May used her New Year's comments to urge Parliament to make her deal law.
"The Brexit deal I have negotiated delivers on the vote of the British people, and in the next few weeks MPs will have an important decision to make," she said in a video message. "If Parliament backs a deal, Britain can turn a corner."