London Terrorist Attack: Man Arrested in Westminster After Crashing Car Into Houses of Parliament Barriers
A man has been arrested on suspicion of terrorist offenses after a car plowed into pedestrians and crashed into the barriers outside the Palace of Westminster in central London, the home of the U.K. Parliament.
Several people were injured in the crash, although no one is believed to be in a life-threatening condition.
A spokesperson for London's Metropolitan Police said: "At 07:37 a.m. on Tuesday 14 August, a silver Ford Fiesta collided with a number of cyclists and pedestrians, before crashing into barriers outside the Houses of Parliament.
"The driver of the car, a man in his late 20s, was arrested at the scene by armed officers. He has been taken to a South London police station where he remains in police custody. There was nobody else in the vehicle, which remains at the scene and is being searched. No weapons have been recovered at this stage."
A wide cordon was put in place following the incident, with the nearby Westminster Bridge and Westminster Tube station closed to the public following the security alert.
Eyewitnesses said the car looked as if it was purposely driven into the barriers at high speed.
Jason Williams, 45, told Sky News: "It looked deliberate. It didn't look like an accident. How do you do that by accident? It was a loud bang."
Police confirmed they were treating the collision as terrorism-related, and the Met's Counter Terrorism Command was leading the investigation. Police said people in and around central London could expect to see extra officers—both armed and unarmed—out on the streets in the wake of the alleged terrorist attack.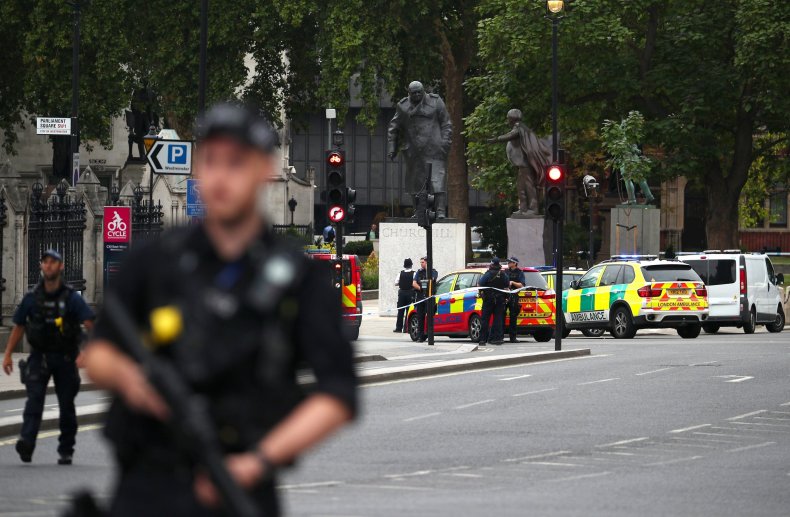 Following the collision, British Prime Minister Theresa May said: "My thoughts are with those injured in the incident in Westminster, and my thanks to the emergency services for their immediate and courageous response."
Peter Rhodes, assistant director of operations for the London Ambulance Service, said: "We sent a number of resources to the scene, including three ambulance crews, responders in cars and an incident response officer. We have treated two people at the scene for injuries that are not believed to be serious and have taken them to the hospital."
Parliament is currently in summer recess, with both the House of Commons and House of Lords not back in session until September 4.
Westminster was the scene of an attack in March 2017, when a car plowed through pedestrians on Westminster Bridge before crashing into the railings outside Parliament. The attacker exited the vehicle and attacked and killed a police officer using a knife before he was shot dead by armed police.
This incident has concluded, and this story is no longer being updated.