Breathtaking Sky Pool Allows People to Swim Between Buildings 10 Stories above Ground
An eye-catching swimming pool designed for those who have a head for heights is set to launch next month for residents of an exclusive complex in London.
In what is believed to be a world first, swimmers will be able to use the aquarium-style pool that gives them a view of the street below which lies 10 stories, or more than 114 feet, beneath.
The acrylic pool is 82 feet long and will link the 10th story of the new Embassy Gardens Legacy Buildings development at Nine Elms.
The development is right next to the U.S. Embassy and is part of the Battersea Power Station regeneration zone, in southwest London.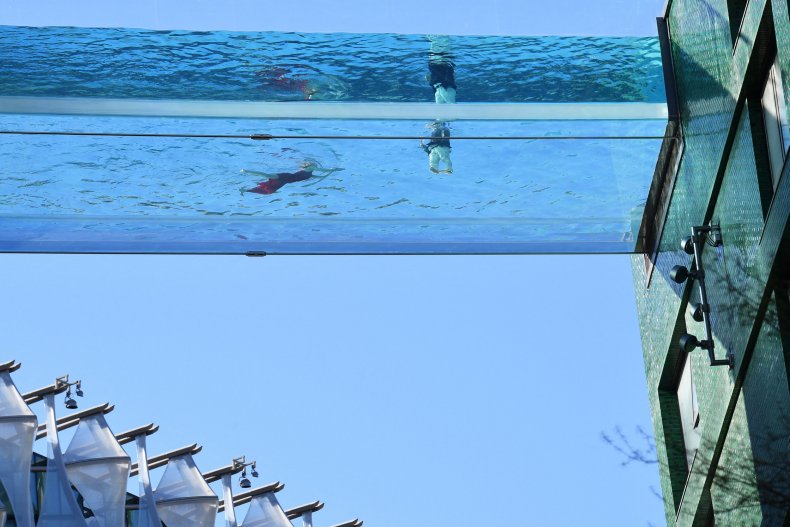 The area made international headlines in April 2018 when former President Donald Trump criticized the move of the American embassy there from Grosvenor Square.
Those taking a dip will also be able to get sweeping views of nearby landmarks in the British capital, including the Houses of Parliament, the London Eye and the city skyline, as well as the embassy.
"Once you swim off, you can look right down. It will be like flying," Brian Eckersley, one of the Sky Pool's engineers said, according to My London News.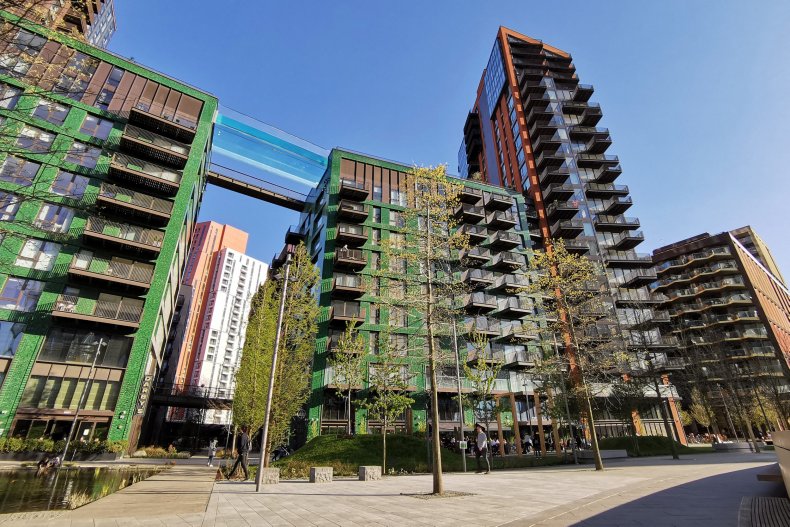 The pool was built in Colorado by HAL Architects and transported to Texas before being shipped across the Atlantic to the Netherlands where it was then transferred to London.
Believed to be a world first, the pool and its installation are considerable feats of engineering. The water alone weighs 375 tonnes.
Bringing such a concept to the British capital, was the idea of the complex's property developer Sean Mulryan. He told the Evening Standard he wanted "to push the boundaries in the capability of construction and engineering."
The paper said that the team behind the installation of the pool included architects Arup Associates, engineers Eckersley O'Callaghan and aquarium designers Reynolds.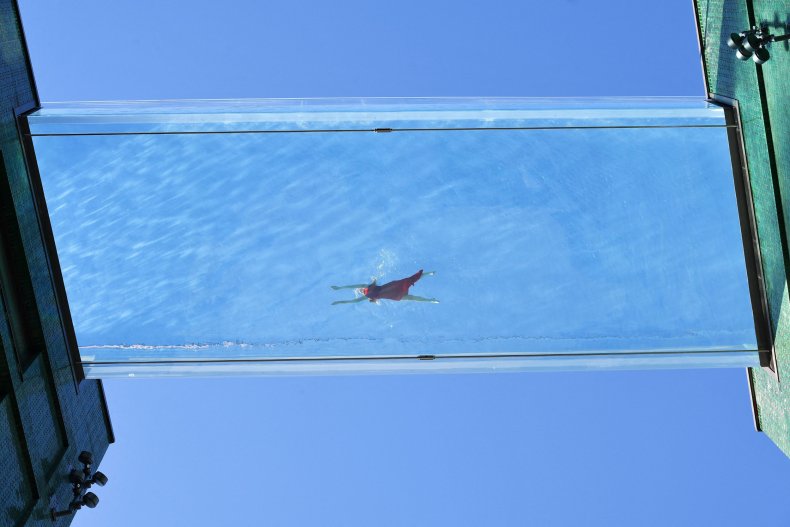 Use of the Embassy Gardens pool is free to residents of the 2,000-home £1 billion ($1.4 billion) development built by EcoWorld Ballymore. Starting prices for apartments in the complex are £897,500 ($1.24 million), the Standard reported.
"The experience of the pool will be truly unique, it will feel like floating through the air in central London," Mulryan added.
Alongside the pool will sit a parallel footbridge and in close proximity will be a lounge, oyster bar and orangery. The pool will officially open on May 19 in a launch that had been delayed from last summer due to the coronavirus pandemic.