London Woman Strangled, Shot to Death in Pakistan After Turning Down Marriage Proposals
Police in Lahore, Pakistan, are searching for two men after the fatal shooting of a woman who reportedly refused marriage proposals from each of them.
Mayra Zulfiqar, a 24-year-old Londoner and law school graduate, was found dead in a pool of blood in her rented flat in Lahore on Monday. The young woman had been threatened by two men, according to legal documents cited by the BBC, after she denied marriage proposals from each of them. Punjab Police Superintendent Sidra Khan, citing an initial post-mortem report, told reporters Zulfiqar bled to death after she had been shot in the neck and arm, and police believed she had also been strangled.
"We are also after two suspects and will share further details at a later stage," Sayyed Ali, an operations superintendent at Punjab Police, said to the news site Dawn. As of Wednesday, no arrests had been made but police were searching in the cities of Islamabad and Lahore, the case's chief investigating officer told the BBC.
Ali also said police were monitoring closed-circuit TV footage as well as analyzing Zulfiqar's phone, which was found near her body.
But police had reportedly been warned of the threats to Zulfiqar's life in the days leading up to her death, the BBC reported. According to a police report filed on April 20, Zulfiqar accused a man of abducting her at gunpoint and attempting to sexually assault her a few days earlier. While she had gotten away, the man had said to her, "You won't be able to escape, I will kill you."
Zulfiqar reportedly asked the police for protection following the alleged abduction. Residents in Zulfiqar's neighborhood in Lahore said police had taken measures to visit the area looking for the car in the alleged abduction. But neighbors reported to the BBC they often heard loud arguments from her flat and, in one case, saw men armed with knives threatening Zulfiqar in the street.
Zulfiqar's uncle, Mohammad Nazeer, said his niece had also warned him she was in a feud with two men who threatened her with "dire consequences" after she refused their marriage proposals, according to The Guardian.
Zulfiqar, a Belgian citizen, came to Pakistan from London about two months ago to attend a family wedding. When they returned to London, she decided to stay in Lahore, the capital city of the Pakistani province of Punjab. The U.K. Foreign Office has referred the family to Belgian Consular Services, the BBC reported.
Zulfiqar's is emblematic of prevalent violence against women in Pakistan, which is ranked by the Global Gender Gap Index 2020 as the third-worst country globally in terms of gender equality, with 85 percent of women experiencing gender violence in their lifetime. The country was ranked the fifth-worst country globally in terms of women's health and survival.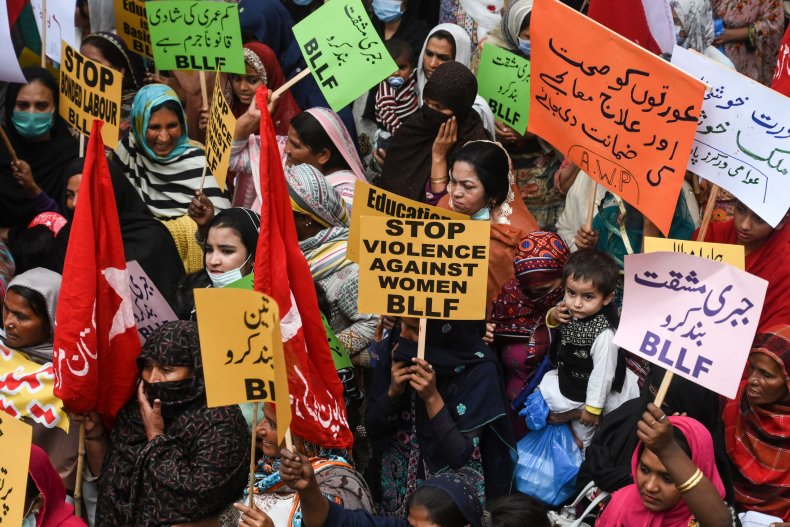 A funeral for Zulfiqar was held in Lahore on Tuesday, and prayers were offered near the family's home in West London.
Newsweek has reached out to Punjab Police for comment.