London's Oxford Circus Subway Station Evacuated With Armed Police on the Scene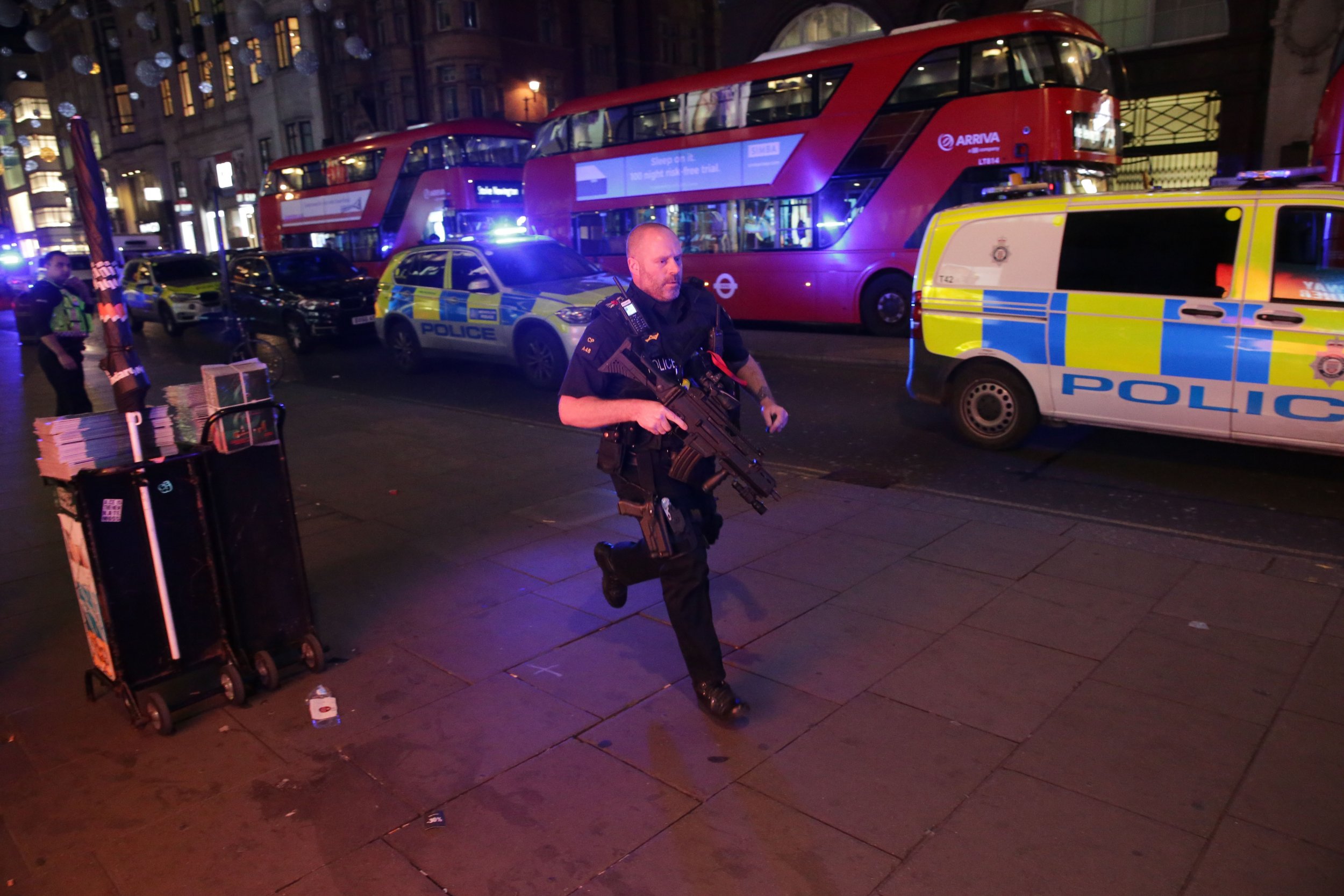 Updated | Authorities responded to a potential firearms "incident" at the Oxford Street underground subway station on Friday, British police said in a tweet, but later said it had found no evidence of gunshots and reopened the terminal.
"Officers are responding to reports of an incident at Oxford Circus station. Officers are on scene, more information when we get it," British Transport Police initially wrote.
The specifics of the incident in question are unclear but London's Metropolitan Police tweeted that officers had "not located any trace of suspects, evidence of shots fired or casualties." It cautioned that officers remained on the scene and told members of the public to remain inside if they were close to the area.
The station was later reopened and trains began to run as normal, authorities said. "Oxford Circus and Bond Street stations now both reopened and all trains are stopping normally," the transport authority said on its official Twitter account.
Police initially said officers had responded to "a number of reports of shots fired" on Oxford Street and its underground station at 4:43 p.m. local time (11:43 a.m. ET). The Metropolitan Police, London's police force, wrote in a tweet that it had responded to the incident as if it was "terrorist related."
Police then closed the station and warned those at the scene to "go into a building and stay inside until further direction." Authorities said they had recorded only one casualty as part of their operation, one woman who sustained a minor injury leaving the station.
Before the station was reopened, several eyewitnesses described scenes of panic in the area, telling Newsweek they saw people running from Oxford Circus and into nearby stores.
Monica Dumitrescu, a bar manager at the Finery Bar near Oxford Circus station, told Newsweek by phone that between 50 and 70 panicked people had rushed into her establishment after the incident.
"They were just saying everyone was screaming and shouting and they just ran to wherever they could see," she said. Police told her to leave one door open in the event that anyone else needed to find shelter.
One worker at a local Gap store said police told staff and customers to stay inside. "We had lots of customers running into the store," said the worker, who asked to remain anonymous. "We have locked everyone in."
Oxford Circus is one of the British capital's most popular retail streets and many would have been finishing work to enjoy a Friday evening out or Christmas shopping, particularly to take advantage of the Black Friday sales. About 98 million passengers passed through the station in 2014 making it the busiest in London, according to data analysis company Statistic.
Britain remains on high alert after suffering four ISIS-claimed attacks since the beginning of the year: A car-ramming attack on Westminster bridge in March, a suicide bomb blast at an Ariana Grande concert in Manchester in May, a van-ramming and knife attack in London Bridge in June and a partial explosion on a subway train in West London in September.
The attacks killed 35 people and wounded dozens more. In another extremist attack, a man ran down Muslims outside a mosque in north London in June, killing one.
According to the government, the threat level in Britain remains at "severe," meaning that an attack is likely.
This story has been updated with the latest police statements on the incident at Oxford Circus underground station.
London's Oxford Circus Subway Station Evacuated With Armed Police on the Scene | World