Lonely Penguins Visit Zoo 'To Get a Little Culture' and to 'Stimulate Their Days'
A group of penguins (Bubbles, 5, Maggie, 7, and Berkley, 8) from the Kansas City Zoo were the only visitors at the Nelson-Atkins Museum of Art in Missouri which has been closed during the coronavirus outbreak to all humans except for the animal's caretakers.
Julian Zugazagoitia, executive director and CEO of the museum, told NPR: "They seemed to react much better to Caravaggio than to Monet. We were speaking a bit in Spanish and they really appreciated art history."
He added: "Quarantine has caused everyone to go a little stir crazy, even the residents of the Kansas City Zoo. So several of the penguins decided to go on a field trip to the Nelson-Atkins, which is still closed, to get a little culture."
Zugazagoitia added they spoke a little Spanish to the Peruvian penguins and they "seemed to appreciate it."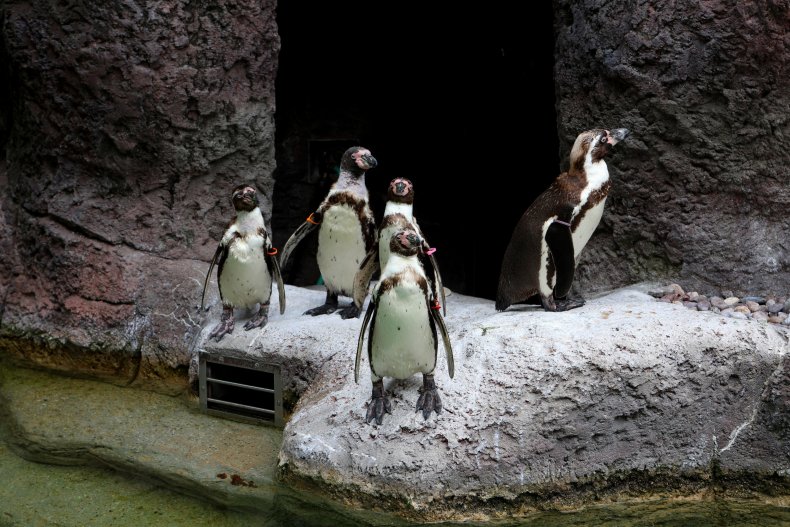 Randy Wisthoff, the zoo's executive director, said in the video that their Humboldt penguins have missed their regular interactions with zoo visitors.
"We're always looking for ways to enrich their lives and stimulate their days and during this shutdown period, our animals really miss visitors coming up to see them," he said.
There are more than 10,456 confirmed cases of COVID-19 in the state of Missouri and 576 people have died.
Governor Mike Parson ordered all Missouri residents to stay at home from April 6.
Gov. Parson recently unveiled the "Show Me Strong Recovery" plan, under which all businesses in the state may reopen, on the basis that they follow social distancing guidelines.
Beginning May 4, residents may return to churches, restaurant dining rooms, barbershops, gyms, and attend sporting events and social gatherings. Live concerts and other large events or gatherings are also permitted.
"All of Missouri's businesses, employers, and employees are vital to our state's economy and well-being," Gov. Parson said in a press conference. "Opening these businesses is going to look very different for awhile, but I'm confident Missourians will abide by the guidelines as we move forward."
Kansas City, Missouri, and Jackson and Platte county residents remained under a stay-at-home order through May 15.