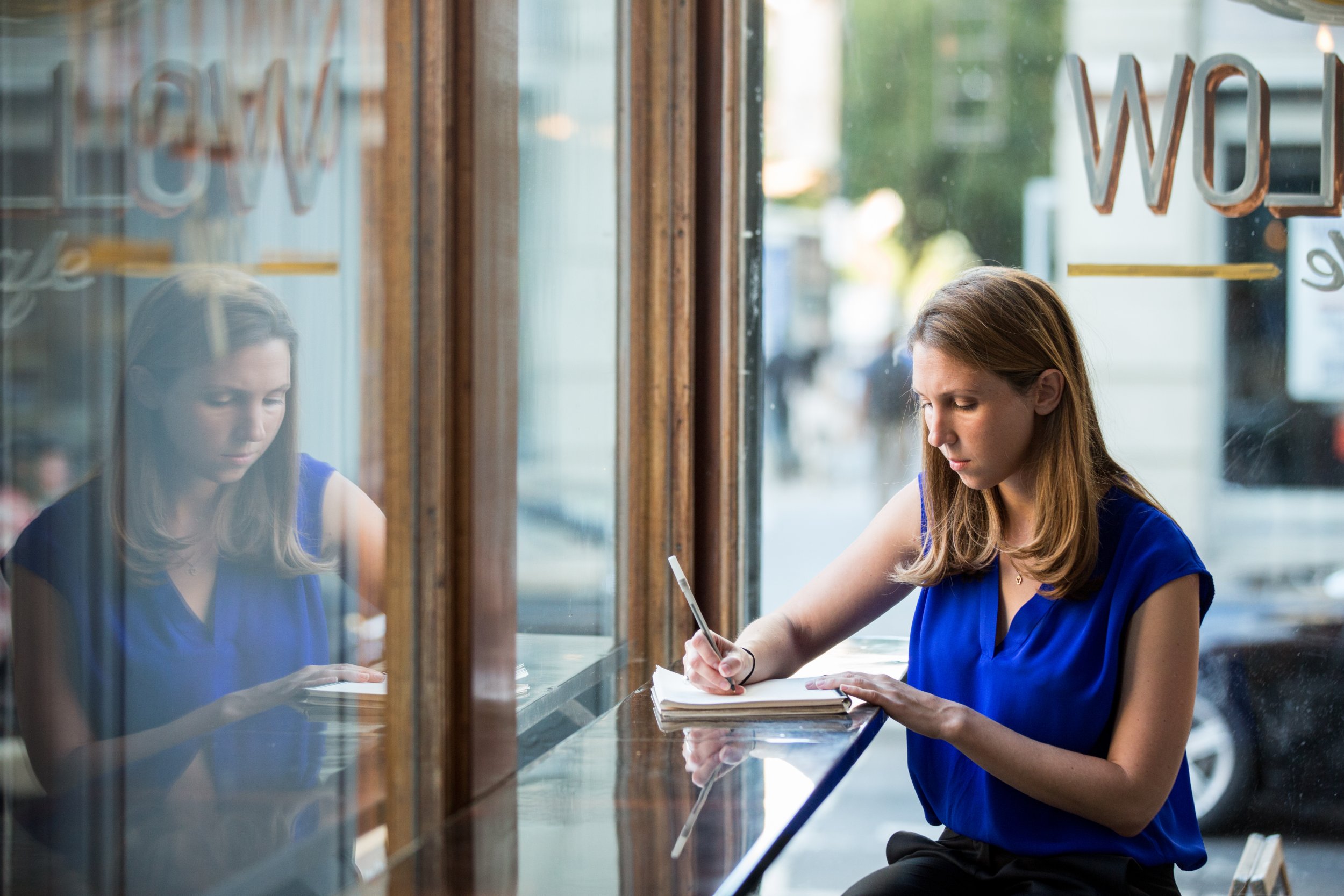 Sarah Stillman thought it must be some kind of hoax when she got the call from the MacArthur Foundation. But she really was one of 23 new fellows named Thursday who will receive what is commonly referred to as a "genius grant." At 32, she's the second-youngest recipient this year after the playwright Branden Jacobs-Jenkins.
A staff writer for The New Yorker, Stillman is known for her long-form deeply reported stories like "The Invisible Army" (2011) about low-wage workers on American military bases in Iraq and Afghanistan for whom "war can be hell"; "Taken" (2013) about the abuse of civil asset forfeiture; "Where Are the Children?" (2015) about kidnappings of undocumented migrants; and very recently, "The List" about people listed on the sex-offender registry for things they had done as juveniles, sometimes even before they became teenagers.
Stillman's work has also appeared in The Washington Post, the Nation, and the New Republic. She's taught nonfiction writing at New York University and Yale University, where she earned her B.A. and M.A. Her previous honors include a National Magazine Award for Public Interest, a George Polk Award and the Overseas Press Club's Joe and Laurie Dine Award for international human-rights reporting. She also serves as the director of the Global Migration Program at Columbia University's Graduate School of Journalism. The award is not only a personal honor, she feels, but also a nod to the kind of work she does.
"In bringing to light the plight of those at the margins," the MacArthur Foundation writes, "Stillman is changing the terms of debate around even well-covered issues and demonstrating the continued power and relevance of long-form, immersive journalism."
Stillman spoke with Newsweek on Wednesday.
Can you replay the moment you found out about being selected and what your initial reaction was?
I was in complete and total shock. I'll admit I was pretty certain it must be some kind of a hoax or a mistake. But I was honored beyond belief and felt like it was such an exciting affirmation of the field to which I belong, as well as a great chance to think about how I might be more ambitious in the kinds of reporting projects I take on. I was just about to sit down to what is inevitably the existential angst-inducing act of writing a piece and so it was a really wonderful feeling to think that MacArthur gave a vote of confidence both in the type of work I really believe in and the type of work many writers I admire are also striving to do in a journalistic landscape that's not always allowing that part of the field to flourish.
The fellowships go to people in a huge range of fields. What do you think is the import of journalism, and long-form in-depth journalism in particular, to be one of them?
I think often we don't give readers enough credit. One of the things that this work has taught me is that readers do have a tremendous appetite for deeply reported stories about hard-hitting issues. I think certainly in many respects newspapers and magazines have had to move away from the types of foreign correspondence and immersive projects that require so many resources. But I do think I'm lucky to be at one of the few homes that continues to invest in precisely these sorts of deep-dive projects. The New Yorker is a place that still continues to lavish care and attention on topics that require both long-term investment and a leap of faith that readers are going to want to come along with us on that journey, that readers want to know about very messy and complicated policy issues.
It just feels like an affirmation of idea that people really do want to invest in reading stories about things that are often traumatic and hard and complicated. It's not just the reporters who are investing time in them, but it's also readers who are willing to go through many pages in The New Yorker , pages that people told us five years ago were going to be disappearing that instead are actually flourishing precisely because it turns out that people actually really do have a deep hunger for this kind of material.
How do you think the award might affect your work going forward?
I think one of the great gifts they're giving all of us is the chance to think about how we could take big risks knowing that there is some kind of net beneath us, particularly in the world of investigative reporting, to leap into stories where the outcome isn't certain. I think a lot of the pressure on journalists sometimes comes from feeling like you have to have a sure bet on your hands. But the paradox of investigative work is that the whole reason you have to investigate is that the answer isn't there on the surface. And it requires a great deal of digging, persistence, open-mindedness and time. So I think one of the great honors and obligations of the MacArthur is to be willing to tackle complicated stories where you don't quite know what you're going to get and to be willing to take risks on stories that seem like they could have a meaningful public policy impact and spur the kind of public conversation that may not be happening.
Do you have any ideas floating around for projects that you might not have taken on otherwise?
I think in a world of a lot of intractable social problems, I feel excited to pursue stories in areas where there do seem to be clear policy failures and to try to dig into some of those. I'm eager to use the award to continue to look deeply at aspects of the criminal justice system that haven't been fully explored, particularly aspects where people's individual isolated stories are actually part of some deeper systemic and structural problem, even if they're being experienced in isolation. So I'm really interested in connecting the dots, for instance, between the privatization of probation and the trends we've seen in introducing the profit motive into other facets of the criminal justice system and also outside of that system, areas where we've introduced profit incentives into the provisions of public goods.
And also I hope to do some foreign correspondence with it. Our world is also in midst of the biggest refugee crisis since World War II so that's a topic I'm eager to explore. And it's certainly a topic that's going to be unfolding over the long haul. I'm also particularly interested in what one of my mentors calls "Act II" stories, stories that happen a few beats after the more sensational story that's all over the headlines. Because I think so often we have a tendency to look at the big story of the moment, whether it be the surge of unaccompanied minors at the U.S.-Mexico border or whether it be the wars in Iraq and Afghanistan at the moment when everyone was willing to give those attention. But the reality is that the long-term consequences of both of those are still unfolding, as is true with most major policy crises. They're not over in an instant and they're not over the moment they stop showing up on the front pages. So part of how I conceive of my job is really being willing to show up and pay attention over the long haul. One thing I would love to be following over the next five years is how the refugee crisis evolves in the Middle East, Europe and here at home.
What does this award mean to you, as you mull it over and get over the initial shock?
It's something for which I'm deeply deeply grateful as someone who does work that requires going down rabbit holes that are sometimes lonely. I'm deeply grateful to know that i'm part of a community of thinkers that the MacArthur is recognizing for our willingness to take a look at issues that are in the public interest. I think inherently the work of immersive journalism brings up doubt and confusion. Often that's a sign that we're doing our jobs well because I think the work requires that we be open minded, it requires that we be willing to stumble when we find that facts on the ground are not fitting preordained hypotheses. And so part of the gift of the MacArthur for me is an infusion of confidence that when I'm diving into those black holes that I can trust that whatever comes up the other side will be worth it. A simpler way to say that I guess would be a chance to trust my intuition on the reporting trail.
Anything else you want to add?
I'm really excited to get to read about the other fellows. It's especially neat to be part of that community and I'll be really excited to get to know what the other people are working [on] and to learn from them. That's one of the other biggest things I'm excited for is you know the cross pollination between disciplines. I also have a background in anthropology and ethnography and I think that's something that very much informs my reporting process with immersive stories, but also something that reminds me how much I love like getting to learn from other people's fields. So the MacArthur is just such a diverse array of people and research fields that I'm hoping will also inform the work I do over the coming years. Just getting to learn from the other fellows.