The Long, Happy Life of Tuskegee Airman Charles McGee | Opinion
Few Americans get to celebrate their 100 birthday above the ground, let alone in good health. Fewer still find themselves being honored in front of 37 million viewers on live television. But the life of Colonel Charles E. McGee is no ordinary American life. On the afternoon of February 4, 2020, he found himself in the Oval Office of the White House being promoted to brigadier general. That evening, he was a gallery guest at President Donald Trump's State of the Union address, where viewers learned more about this remarkable American life.
"McGee's successes started early on his military career," wrote Staff Sergeant Jeremy Mosier, secretary of the Air Force Public Affairs, "when on June 30, 1943, he earned his pilot's wings as one of the Tuskegee Airmen, the decorated unit of African American airmen famous for not only their combat successes, but the impact they had on the cultural shift in the military."
McGee was a social justice warrior of a very different kind. And at a very different time in our nation's history. He didn't join the military to change it. He joined to fly. And fight. And show the world that African American aviators could hold their own with any airmen in the world.
"His career spanned across three decades, where he flew 409 combat missions during three different wars—WWII, Korean War and Vietnam War," Mosier continued. "While serving, McGee was presented with the Distinguished Flying Cross, Legion of Merit, Bronze Star, Air Medal and the Presidential Unit Citation."
As discussions about race and opportunity proliferate in the weeks and months to come, McGee's life story is worth telling. And worth remembering, too.
He was born in Cleveland, Ohio, on December 7, 1919, where he experienced real tragedy early in his life. "My mother passed away at my sister's birth, when I was little over a year old," he told Aviation History magazine back in 1999.
His father worked at many jobs, from teaching to social work. Most important, his father was a man of God. "He was an African Methodist Episcopal Church minister," McGee explained. "We never had a lot, but I never remember being hungry or not being clean."
As for experiencing overt prejudice growing up, McGee didn't remember much. "I don't have any recollections of specific actions of bigotry, except that schools were segregated, and when we were in Florida, we lived in a small house that was out on the edge of town. Also, because of the level of schooling for Blacks in the South, when we returned to Cleveland, I had to repeat third grade."
Moving from place to place was a fundamental part of McGee's young life. He spent two of his high school years in the small town of Keokuk, Iowa, and became a Boy Scout in Illinois, where he learned important life lessons. "If everybody lived by the Scout oath and the 12 Scout laws, we would have a different country for sure," McGee told a reporter last year in the Washington, D.C., metropolitan area, a place he now calls home.
McGee finished high school in Chicago, graduating from Du Sable High in 1938—not an easy time to be a graduate. Or a young man. The Great Depression was raging, with unemployment rates at a staggering 19 percent. Worse, war clouds were rising in Europe and the Pacific.
"My family didn't have the money to send me to college, so I worked for a year with the Civilian Conservation Corps in northern Illinois, where I learned engineering and contour farming," McGee explained. "I was then able to attend the University of Illinois in 1940. I took engineering and was also in the Reserve Officer Training Corps program."
On Sunday, December 7, 1941—the day he celebrated his 20th birthday—McGee remembered where he was. And what he was doing.
"My father was preaching in a church in Gary, Indiana, in 1941, and I had taken a summer job in the steel mill there," he said. "I was also in the Coleridge Taylor Glee Club. We were driving to sing at a church in South Chicago at 4 that Sunday afternoon when we heard the news of the attack on Pearl Harbor. We went on with the show, but I knew that one way or another we were going to be involved in the war."
McGee never recalled seeing an airplane when he was young but did remember how he found his way to Tuskegee. "It was about the time I was in college that the Army was beginning to recruit nonflying personnel—communications, engineering, armament and mechanics—for a one-squadron Black experiment at Chanute Field," he remembered. "Word of that was spreading through the Black community. Well, I already had a draft card, so I filled in that pilot's application. I was sent over to a couple of places in Indiana to take the examination, and when I passed that, in April 1942, I had to take a physical. In my expectation of the call to arms, I did not go back to school in September."
Like most young Americans of his day, McGee was growing up fast. He met a girl, Frances Nelson, and married her, and not long after that, was sworn into the enlisted reserve. "A few weeks later,' McGee recalled, "I got the call to go to Tuskegee."
"The trip down was my first real experience of the South," McGee said about his trip to his training base in Alabama. "As the train left southern Illinois, you had to change your location in the car. You could feel the change in atmosphere and approach as you entered the Deep South—you knew that whatever happened, the law was not going to uphold whatever your position was. When you were a Black man from the North, you especially had to be careful what you said and did. You learned to be extra careful when stopping to fill up your car, and even avoid some filling stations."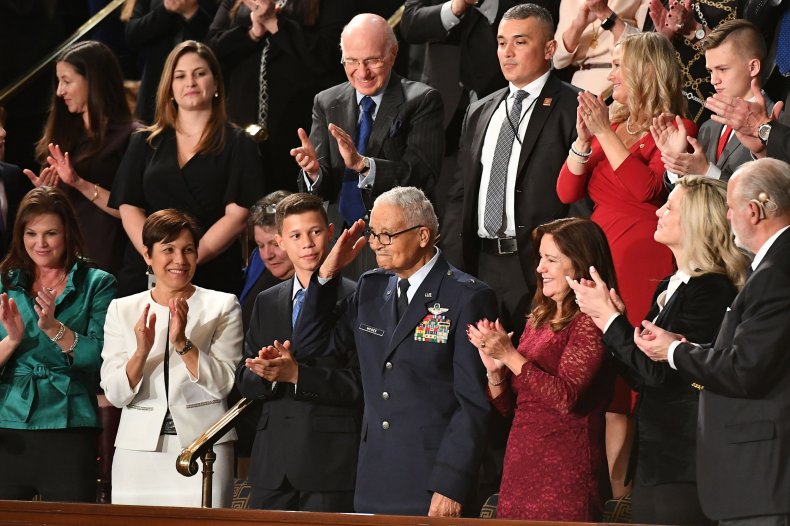 From Tuskegee, McGee made his way to more training, and soon, he was shipped off to Europe. And real-life war.
He remembers the first escort mission he flew over Germany. "That was a mission to Munich on June 13," he recalled, "and my feeling was, 'We're finally doing the job we came to do.'"
He also remembered his very first encounter with aerial opposition. "I first saw Messerschmitt Me-109s over Markersdorf on July 26, 1944," he said.
McGee would go on to fly a total of 136 missions during WWII: 82 were tactical and 54 were long-range, high-altitude missions.
His aerial combat talents would be deployed in two more wars: McGee was a part of 100 missions in the Korean War and 173 in the Vietnam War. "Some were over Laos and North Vietnam, but we didn't get to MiG Alley—the folks from Thailand got that run," McGee added.
After his tour in Vietnam, many assignments followed. And promotions, too. "I went on a wonderful year's tour in Heidelberg, Germany, as air liaison officer to Seventh Army Headquarters," McGee explained. "I was promoted to colonel and became chief of maintenance for the 50th Tactical Fighter Wing. Eventually, Major General Paul Stoney, commander of Air Force Communications Service, asked me if I'd like to take command of Richards-Gebauer AFB. I'd always wanted this administrative task, so on June 24, 1972, I got my opportunity, and with it came getting a 'key to the city of Belton.' It ended too soon, though. Due to a mandatory retirement policy based on 30 years unless you were made a general officer, I retired on January 31, 1973."
McGee then spent eight years in business, becoming vice president of real estate for Interstate Securities Company. "After the corporation was sold, I got a degree in business administration; then I became director of Kansas City Downtown Airport," McGee said. "After a second retirement, I was selected as a member of the Aviation Advisory Commission."
In 1994, the love of McGee's life—and wife for 52 years—passed away. "I moved east to live with my daughter, who is a television editor in Maryland."
When asked what he attributed his longevity to, he gave this simple answer: "Thinking positive and the good Lord's many blessings."
McGee believes everyone should be involved in mentoring future generations, especially young men. He has his own success formulation he calls "The 4 P's."
Perceive: Dream your dreams. Find out what you like to do that hopefully corresponds with your talents.
Prepare: Get a good education. Learn to read, write and speak well. Develop your talents.
Perform: Always do your best. Make excellence the goal in everything you do.
Persevere: Don't let the negative circumstances be an excuse for not achieving. Look ahead; stay positive.
In an interview for a local TV station, McGee described what he missed most about flying. He talked about the joy of taking off at sunset, and climbing to 40,000 feet, seeing the sun set again, and then flying beneath a canopy of stars. "We human beings," McGee concluded, "are just one small aspect in a mighty grand world."
Lee Habeeb is vice president of content for Salem Radio Network and host of Our
American Stories. He lives in Oxford, Mississippi, with his wife, Valerie, and his daughter, Reagan.
The views expressed in this article are the author's own.